Culinary-inspired flavors, sugar-free formulas and clean label ingredients helped make shelf-stable meat snacks a $3.5 billion category in 2019, according to research from Statista, which projects the category will reach $4.9 billion by 2022. High-protein content is an attractive feature, especially to the target consumer: on-the-go males, 18- to 30-year-olds, who are looking for a quick, savory satiating snack.
The meat snack category, which includes bars, chews, jerky and sticks, experienced a 4.8% compound annual growth rate over the past four years, according to Nielsen. Jerky dominated the sales thanks to the innovative approaches processors are taking to differentiate in the category.
Drying is what defines jerky. The common industrial approach to removing moisture involves marinating meat, either by soaking or injection, followed by a low-heat, long baking process to dry the meat rather than cook it. Commercial dehydrators are also an option. A more hands-on, artisan approach entails hanging the meat to dry. With both techniques, processors must carefully manage temperature, air velocity, relative humidity and dwell time.
Some meats may be cured, a technique that refers to a salting application with nitrates or nitrites. These chemicals undergo various reactions to produce a desirable red color as well as a zingy, tangy flavor. Curing also breaks down and tenderizes tough protein fibers, resulting in a compact yet tender texture. For clean label products, processors may use "natural curing" techniques. This involves the addition of ingredients that are inherent sources of nitrates and nitrites, most notably celery juice powder.
Some meats are smoked for extra flavor. Others may receive a topical application of seasoning. Herbs and spices not only add flavor, they also provide visual appeal.
To attract today's label-reading, health-and-wellness-conscious consumers, meat snack manufacturers are replacing traditional preservatives with clean label ingredients to ensure quality through shelf life. This includes adding select plant-based extracts, most notably rosemary and green tea, which are well recognized for their ability to conserve appearance, taste and quality of meat and poultry products. These extracts impart both flavor and antioxidant properties, the latter for delaying oxidation and increasing shelf life.
Acetic acid, usually in the form of buffered vinegar solutions, has been shown to retard mold growth in dried meat snacks. It comes in liquid and dried forms, for addition either via marinade or topical seasoning.
Plenty of innovation is taking place in the jerky segment. One of the newest players is Baja Jerky, Buena Park, Calif., which positions itself as the "world's most flavorful jerky." The company was founded in the summer of 2019 and in less than half a year, is rolling out fun and colorful bags of meat snacks in bold flavors such as churro, lime serrano pepper, salsa fresca and sweet orange. The churro is a first for the meat snack sector and features classic churro fried dough ingredients like cinnamon and sugar.
San Rafael, Calif.-based Two Chicks Specialty Goods LLC positions itself as better-for-you jerky. The meat is marinated in an all-natural, nitrite-free solution sweetened with honey rather than processed sugar. The company recently added classic turkey, spicy turkey and grass-fed carne asada beef to its lineup. The latter has a complex flavor from the house-made marinade of orange juice, cilantro, lime jalapeños, cumin, onion and tomatoes.
Pineapple pork is the latest flavor creation from Country Archer Jerky Co., San Bernardino, Calif. With zero grams of sugar, the flavor is reminiscent of a tropical vacation, as it contains bits of pineapple you can taste and see in every bite.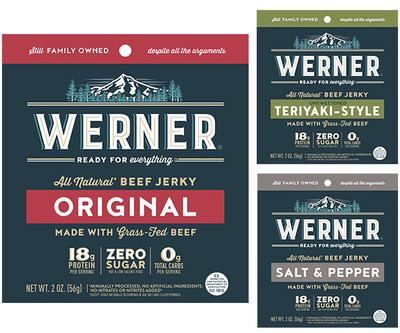 Werner Gourmet Meat Snacks Inc., Tillamook, Ore., has a new all-natural zero sugar, grass-fed beef jerky. Crafted in small batches, the jerky contains no artificial ingredients, added nitrites or monosodium glutamate. The zero-sugar formula appeals to those following a keto diet.
Greenwood Village, Colo.-based Perky Jerky offers many varied dried meat snacks, with one of its newer creations being Wagyu Beef Jerky, which comes in chimichurri and sea salt and pepper flavors. The company chose wagyu beef for its tenderness and extensive marbling and is sourcing only humanely raised, vegetarian-fed wagyu beef without antibiotics or hormones. To appeal to consumers following lifestyle diets, such as paleo and keto, the company developed a lower-sugar, lower-sodium marinade comprised of coconut aminos and coconut sugar.
In order to stay relevant to those following plant-based diets, the company is rolling out vegan jerky, which the company said looks, tastes and chews like its original jerky. The soy-based product comes in sea salt and pepper and teriyaki flavors.
Krave Pure Foods Inc., Sonoma, Calif., a subsidiary of the Hershey Co., also now offers a plant-based jerky that is made from peas and fava beans. With 8 grams of protein per serving, the new jerky comes in smoked chipotle and Korean barbecue flavors.
Sweet Earth Foods, Moss Landing, Calif., a rapidly growing plant-based foods innovator, now offers jerky that has seitan as its dominant plant ingredient. The jerky comes in three globally inspired flavors: Korean barbecue, spicy Kung Pao and zesty pizza. One serving contains 10 to 11 grams of protein.