KANSAS CITY, MO. – The chicken sandwich war started as a tit-for-tat competition between Popeyes and Church's Chicken. Competitors saw Church's and Popeyes reap the benefits of their Chicken Sandwich War and decided to get in on the action. By the time quick-service heavyweight McDonald's Corp. entered the fray, the battlefield was considerably crowded much to the delight of chicken-loving consumers.
"Fried chicken sandwiches have mass appeal across generations, with about half of Gen Xers and older expressing interest in fried chicken sandwiches at QSRs, although interest is still slightly higher among younger generations," market research firm Mintel said in its "Quick Service Restaurants: Including Impact of COVID-19" report from April 2020. "Younger generations are driving the growth of chicken across the menu, including on breakfast menus. Chicken – even fried/breaded chicken – on breakfast sandwiches is likely seen as a better-for-you and more sustainable alternative to more commonly found sausage and bacon breakfast sandwich ingredients."
Winner, winner
Chicken sandwiches continue to perform well for foodservice operators. Popeyes, one of the original combatants, generates an average of more than $1.8 million in sales per restaurant versus just $1.4 million prior to the Chicken Sandwich launch, Jose Cil, chief executive officer of Restaurant Brands International Inc. (RBI), parent company of Popeyes, told analysts during a call to discuss fourth quarter earnings for fiscal 2020.
"Popeyes US has been on an incredible run since the second half of 2019," Cil said, "and I'm sure you'll recall that we relaunched our Chicken Sandwich permanently in November 2019, posting a positive 38% comparable sales in the fourth quarter of 2019. Nominal sales in Q4 of 2020 continued at very strong levels driven by sustained sandwich sales and also success across the menu and in group and family occasions.
"In January, we continued to lap the early days of the relaunch of the Chicken Sandwich, but the business is back to flat and continuing to perform at healthy nominal levels," he said.
Joe Christina, CEO of Church's Chicken, attributed the brand's solid performance of 2020 to a combination of factors that included the chain's launch of a chicken sandwich. Church's recorded consistent positive same-store sales with many weeks beating the brand's best-ever sales in a decade since launching the chicken sandwich in October of 2020, according to the company.
Scaling service of Church's Chicken Sandwich required a modest acquisition of new kitchen equipment, but the investment was worth the effort, the company said, because sales of the sandwich "…quickly yielded sensational results that have more than recouped the cost of that equipment for almost all operators."
"We got big lifts from our family meals and delivery during the pandemic. We also had a blockbuster success with our Chicken Sandwich," Christina said. "However, when we looked at the sales figures – we realized that these were shining stars in an already bright universe. By working closely with our franchisees, vendors, and restaurant teams to build momentum throughout the year we were able to outperform 2019, one of our best years in a decade."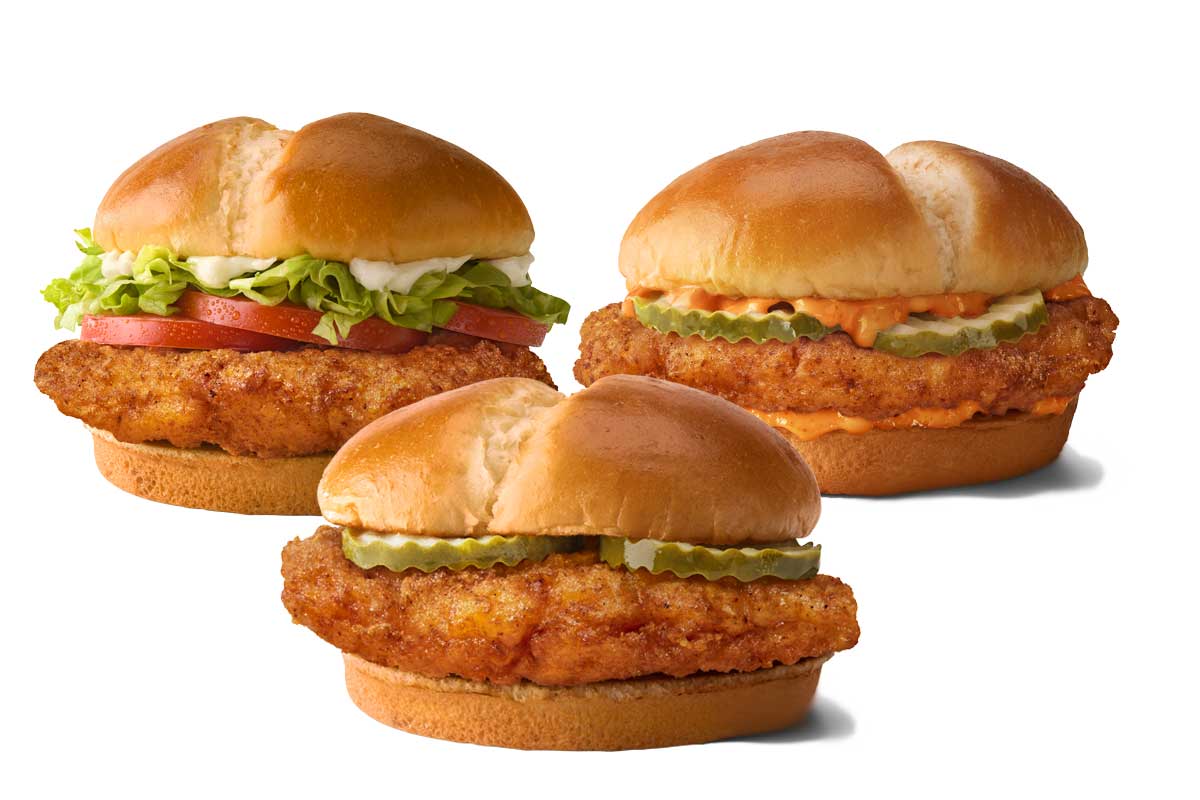 McDonald's Corp. launched three new chicken sandwiches in February after a series of market tests. Before the launch, Chris Kempczinski, president and CEO, sounded a positive note about the products during a discussion of the company's fourth-quarter earnings.
"We did have it in test market, and we were encouraged," he said. "I think our focus on tests was much more on the operation side than having it be sort of an advertised type of test. So, for us, it was about just getting the operation work through and confidence for us in being able to deliver it in a high-quality way. We feel good about that.
"So, we are optimistic as we head into February – despite what was referenced earlier, a lot of activity in this space – we think we're prepared well to generate demand from consumers on this one and then deliver on that as consumers come into our restaurants."
Poultry processors noted the uptick in demand for breast meat. Joe F. Sanderson, chairman and CEO of Laurel, Miss.-based Sanderson Farms Inc., said market prices for boneless breast meat manufactured at the company's processing plant for large birds for foodservice customers improved significantly in January and into February.
"We attribute much of that improvement to demand from quick-serve foodservice restaurants, promoting new chicken products," Sanderson said. "And we believe foodservice demand will improve even more when consumers return to restaurants in greater numbers once the COVID-19 vaccines are more widely distributed and we move into the spring and summer's warmer weather."
New and improved
"There are tons of quick-serve restaurants running chicken product features and I think there's going to be more to come," Sanderson told analysts. "The McDonald's thing is on now, Wendy's, Burger King … There's more to come with this."
Sure enough, by 2021 more foodservice chains – Famous Dave's, Checkers & Rally's Restaurants, Zaxby's and Pollo Campero, to name a few – introduced a new chicken sandwich, refreshed a previous offering or added to an existing product line.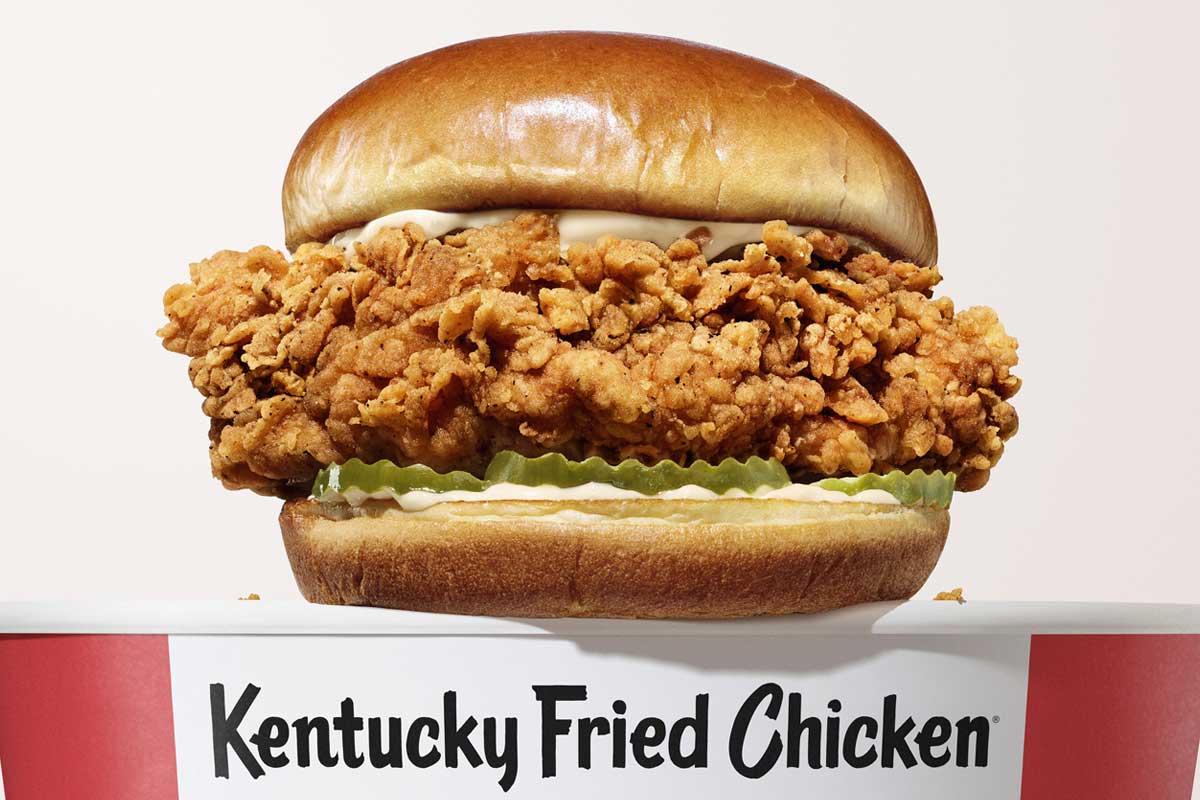 KFC, which already offered a chicken sandwich on its menu, began testing a reformulated sandwich in Orlando, Fla. in May 2020. The Yum! Brands Inc. subsidiary launched the new sandwich in January 2021.
"We tested the new KFC Chicken Sandwich in Orlando last spring, and we nearly doubled our sales expectations, so we knew that we had a winner," Andrea Zahumensky, chief marketing officer, KFC US, said at the time of the launch. "Many customers hadn't considered KFC as a part of the chicken sandwich conversation, but anyone who tastes this sandwich will know, without a doubt, that we're playing to win."
The company said the KFC food innovation team carefully crafted the sandwich to complement the brand's fried chicken. The team "…tested pickles with eight variations of thickness and they collaborated with six different bakeries on more than 10 recipes in order to find the right bun to hug the new quarter-pound, all white meat, double-breaded, Extra Crispy chicken breast filet in just the right way."
The Wendy's Co. added a Jalapeño Popper Chicken Sandwich to a menu already loaded with chicken offerings. Wendy's entry in the chicken sandwich war took its flavors from the classic jalapeño popper and featured a spicy chicken fillet, creamy jalapeño cream cheese and slices of jalapeños, three strips of applewood smoked bacon, warm cheddar cheese and shredded pepper jack cheese, all on a warm, premium toasted bun.
"While everyone else is playing catch up and distracting consumers with stale chicken drops, we are listening and bringing exciting flavors and bold ingredients forward to help fans avoid the McStake of settling for the same boring chicken sandwiches from other fast-food joints," said Carl Loredo, CMO for The Wendy's Co. "Our new Jalapeño Popper Chicken Sandwich casts a big shadow across the competition and really delivers an enhanced chicken sandwich experience. The innovation on flavor is unlike anything else out there."
Gunther Plosch, CFO at Wendy's, told analysts that the company's "Made to Crave" platform served as the anchor for the chain's chicken business and a platform for innovation.
"We are really happy with the re-launches of our classic chicken," Plosch said. "We are now in the Jalapeño Popper Chicken Sandwich and Salad. They're off to a good start in the first quarter, and we are going to continue to build that business."
Wendy's CEO Todd Penegor said, "We feel really good about our chicken offerings. You know, the revamp of the Classic Chicken Sandwich, it has helped drive our Made to Crave chicken premium lineup up north of 10%.
"We continue to bring news, so it's not just going to be chicken with the pickle. It's going to be great-tasting, craveable chicken, and you're seeing that with the Jalapeño Popper [Chicken Sandwich]. We'll continue to bring news to make sure that we really differentiate the way Wendy's can with some craveable toppings and differentiated chicken offerings."
Hats in the ring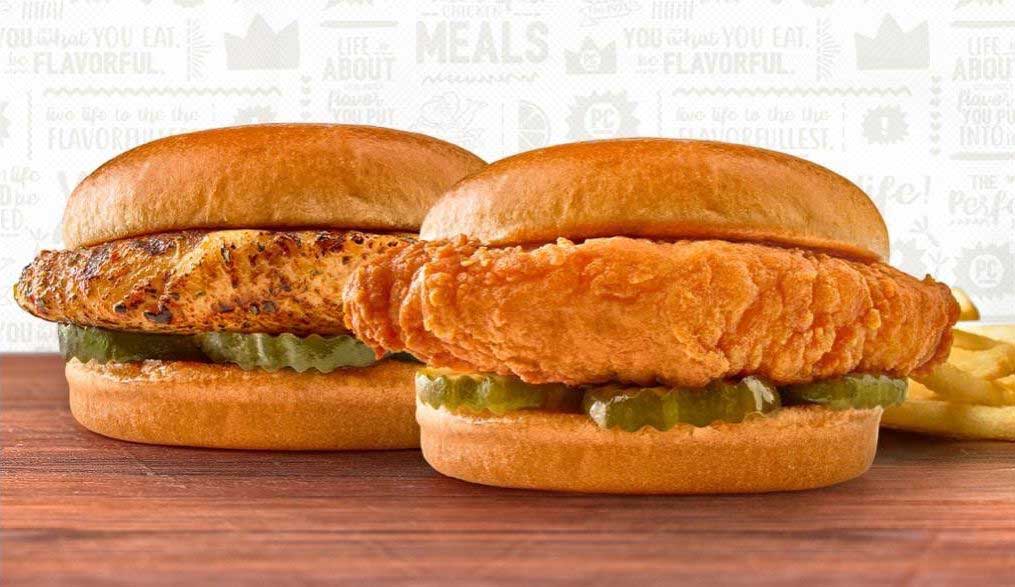 Pollo Campero, based in Dallas, claimed to "up the ante in the raging chicken sandwich wars" with a new sandwich and a limited-time, buy one, get one free meal deal in March.
The chain's new chicken sandwich promotion featured a hand-breaded fried option and a zesty grilled option, both served on a premium brioche bun with thick, sweet pickles.
"For almost 50 years, Campero has been bringing people together to share real flavor, so our new chicken sandwich isn't just part of a fad – it's bursting with flavor from the family recipe that has brought our brand to where we are today," said Federico Valiente, Campero USA director of marketing. "The BOGO deal allows guests to enjoy the new chicken sandwich – fried or grilled – and share the flavor with family or friends."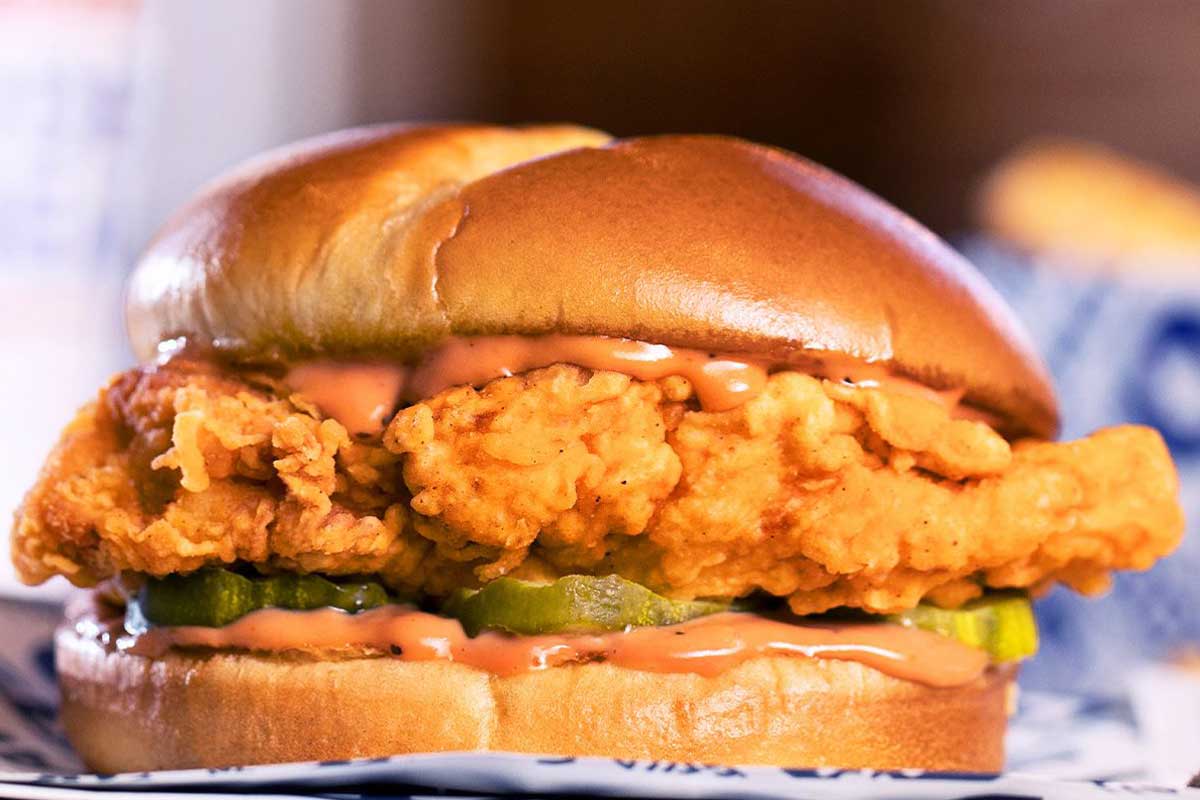 Declaring "The chicken sandwich war ain't over yet," Athens, Ga.-based Zaxby's announced the national rollout of the company's Signature Sandwich – a double hand-breaded fillet, with three thick-sliced, crinkle-cut pickle chips and served on a toasted, split-top potato bun with a choice of Zax sauce.
Zaxby's first launched the Signature Sandwich in test markets in October 2020. During the test, the company said the new Signature Sandwich exceeded the performance of the existing hand-breaded chicken fillet by 600%.
"When it comes to portion size, flavor and quality ingredients, Zaxby's is in it to win it," said Joel Bulger, CMO at Zaxby's. "While we may not be the largest brand competing in the sandwich war, I'm confident we have the right ingredients to win on taste and make chicken sandwich enthusiasts switch to Zaxby's."