While exponential growth of the global population shows no signs of slowing down, food companies are working to feed their customers using processing equipment to produce products with an emphasis on efficiency and speed. A lack of labor requires innovative solutions to produce the food necessary to meet demand.
Poultry offers a relatively inexpensive and healthy protein, and automation continues to make processing chickens easier and faster. Boneless cuts of chicken have reigned supreme in recent years and continue to be the most popular among shoppers. So, processors seek to debone chicken as quickly and efficiently as possible to serve the market.
Advantage automation
Traditional manual deboning puts large groups of workers on the production line in close proximity and wielding knives with intentions of separating bones from meat fast. This can create a number scenarios not ideal to processing safety and efficiency.
"The biggest advantage for automation is the significant reduction in labor and injuries associated with manual deboning," said Oliver Hahn, chief executive officer for Kansas City, Kan.-based Baader Poultry USA. "Additionally, automation delivers consistent performance where a manual process can lead to inconsistencies."
Larry Campbell, vice president of poultry sales for Lenexa, Kan.-based Marel, adds that current pandemic conditions exacerbate the scarcity of human labor and create an urgency to keep the number of people on the production floor to a minimum. Fewer workers on the floor provides space to maintain social distance and lowers the risk of contamination.
"Both circumstances almost force processors to automate all operations, which were mostly done manually until now," Campbell said. "This certainly applies to the deboning department, which is often a large room full of manually cutting operators. However, most deboning systems require manual shackling of the products to the line, which still means a lot of human workforce. Only the most advanced deboning solutions operate in-line, without the need for manual intervention. Keeping the entire process in-line, like Marel systems do, offers many advantages."
Adam McCoy, national account manager for Ball Ground, Ga.-based Foodmate agrees that automated deboning relieves the pressures of insufficient labor and increases product quality and added, "…having the ability to process product even on short-staffed days."
All the advantages an automated deboning line provides makes it a wise investment for chicken processors, but potential processing customers want certain things before they pull the trigger on what amounts to a major capital investment.
Expectations
Many processing customers understand reduced labor costs come with the installation of an automated line, as well as higher yields and safety, but the bottom line always rules when it comes to spending.
"The payback on a Mayekawa Toridas deboning system can be less than one year based on yield improvement alone, not including labor savings, which can also be a huge benefit," said Russ Stroner, global vice president of sales at Cantrell Gainco, Gainesville, Ga. "Finally, customers want low cost of ownership and ease of maintenance. The Mayekawa system has a lower cost of ownership than other dark meat deboning systems."
Hahn said his customers' primary concerns include labor savings and maintenance or improvement of current yields and adds, "Cost of ownership and the ability to maintain performance are a close second."
Marel customers have begun asking for ways to adapt deboning on the fly when situations on the line change. Along with automation, Marel adds digitization to solve for challenges of adaptation.
"A transition to data-driven processing is another answer to deboning issues of poultry processors," Campbell said. "Marel's software solutions make the connection between mechanical operations and process control. Adjustments of machine settings to a changed flock size aren't done manually anymore with levers or wheels, but digitally. The system's intelligence knows what kind of products are entering the machine and adjusts the settings all by itself, based on data gathered upstream."
Barry Jefcoat, area sales manager at Foodmate, echoes that customer requests for improved yields and reduced labor are real.
"As sad of a situation as this is, it is the reality of where we are in the industry; the labor force is a constant challenge," Jefcoat said. "At Foodmate, we create efficient and intelligent deboning systems that maximize yield and deliver higher product quality and labor reduction."
Foodmate's engineering manager, Travis Martin, added customer desires for "quick return on investment" as a factor in the equation of automated deboning purchase and installation. And customers must consider both installation and training personnel when considering automated deboning.
Setting up
According to Stroner, additional things a processor needs to allow for when considering whether to install automated deboning, beyond capital and ROI, include the area available and the size of that area, installation process and duration, and documentation outlining the electrical, water and air requirements for millwrights.
"A complete Mayekawa Toridas system for deboning dark meat can be easily installed in two days, so a new system can be built and operational in one weekend," Stroner said. "Pre-work that helps with an installation and operating the Toridas system includes offsite training available at the Cantrell Gainco Innovation Showroom in Gainesville, Ga., covering topics such as running product and troubleshooting."
Manufacturer support within the plant, after installation, can ease the mind of processors new to automated deboning, or going through a change of equipment and processes. Baader cites upstream processes as critical to a smooth implementation of automated deboning systems. Baader addresses challenges that arise through clear communication and support from an experienced service force from the beginning phases through the life of the system.
"Today's automatic deboning systems are more technically advanced, requiring a higher level of maintenance support compared to a manual deboning line," Hahn said. "There will always be logistical challenges when changing a process, but our project department works closely with customers to mitigate these issues. Baader has vast experience in automatic deboning systems worldwide and understands that a successful implementation requires not only innovative technology, but also a skilled service force and strong customer commitment and partnerships."
An emphasis on training those tasked with running the system will lead to better overall function of a line throughout its life. Also, an understanding between manufacturer and plant on how raw material enters and exits a system for efficiency adds to solid ROI and gains in yield, safety, etc.
"Training the employees is the biggest hurdle, you have to stay consistent with training," Martin said. "Another challenge is maintaining a good product flow, so collaboration with the plant and our engineering department is essential to develop an efficient layout that can improve workflow and performance."
The coronavirus (COVID-19) pandemic changed everything. The "new normal," and "before COVID," now permeate the global vernacular. One change the poultry processing industry faces is leaving the traditional and comfortable for the new and innovative.
"The pandemic has forced everyone to be open to change – a change like deboning breast caps versus traditional methods," Campbell said. "This can be challenging for poultry processors. Breast caps may be a new idea to the North American market, but this process has been around globally for over thirty years. The rest of the world began processing breast caps due to similar labor shortages that North America is facing today."
Processors might also fear a loss of control in the absence of human workers. Managers could walk the floor and view a worker up close, correct any mistakes and encourage with praise.
"In today's automated and digitized world, it is not useful anymore to walk around," Campbell said. "Instead, looking at the screens in the control room gives all the control a plant manager needs.
"Processors may be used to investing in people instead of machinery. Yes, it is a considerable investment to automate the deboning department. Simple calculations, however, will show that the return on investment will only take a very short time."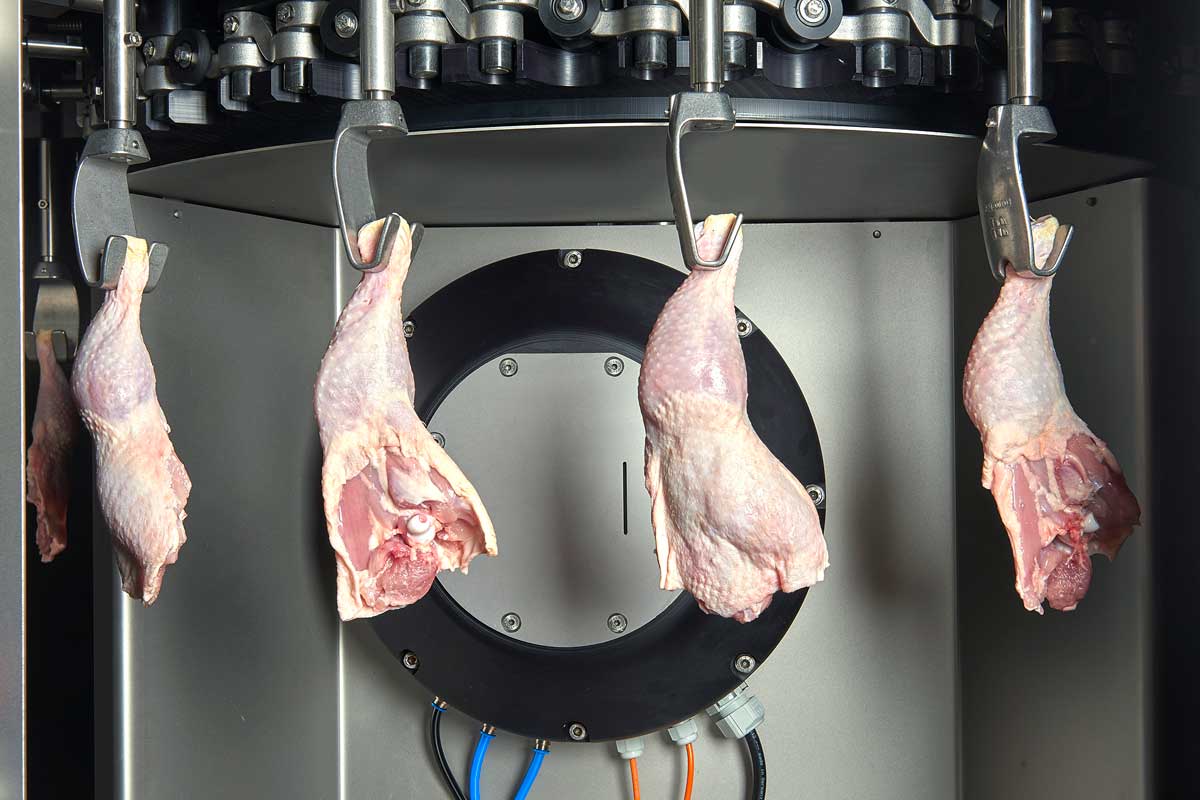 Today and tomorrow
Cantrell Gainco expresses the ability of the Mayekawa Toridas leg deboning machine to meet or exceed the quality level of meat deboned manually with respect to consistency, yield and labor reduction. That quality of whole-leg meat from the Mayekawa Toridas provides an additional value of being portion cut into fajita strips and other value-added forms and to meet Japanese boneless-skinless whole leg meat specifications.
"North American fast-food purchasers that have stringent requirements have gravitated to Mayekawa Toridas equipment," Stroner said.
He added, "Technology has advanced to the level where yield on Mayekawa whole leg deboners can actually be better than manual deboning. The improved yield in deboning operations will improve the poultry plant's bottom-line, which is why the technology is so beneficial."
The ability to make precise cuts to carcasses based on differing bone lengths, yet independent of bird size with an automated machine is a result of today's vision and X-ray technologies. Adam McCoy, national account manager for Foodmate, said in the future processors will implement equipment that will "think" for itself.
"Our intelligent thigh and leg deboners, with X-ray technology, have been exceptionally well received in the market," Martin added. "We believe that trend will continue. I think the future in our industry will be in artificial intelligence robotics to replace humans."
Technology will continue to evolve and improve, and automated deboning will be right there with it. Automated deboning for legs and thighs has caught on for the most part, but many processors still believe manual deboning of breast meat beats automation, according to Hahn.
"Technology has improved automatic deboning by implementing advanced electronics and measuring components that allow machines to self-correct and self-audit," Hahn added. "The future will continue to follow other industries with the addition of advanced learning capabilities and data collection systems."