Relationship building, problem solving and figuring out a better way are just a few attributes that have allowed Robert Garlington to thrive in what has been a 34-year career in the poultry processing industry. Garlington, the senior vice president of operations with Springdale, Arkansas-based George's Inc., grew up on a farm in East Texas. He learned early that a willingness to work harder is important but working smarter is a sure way to succeed in most careers.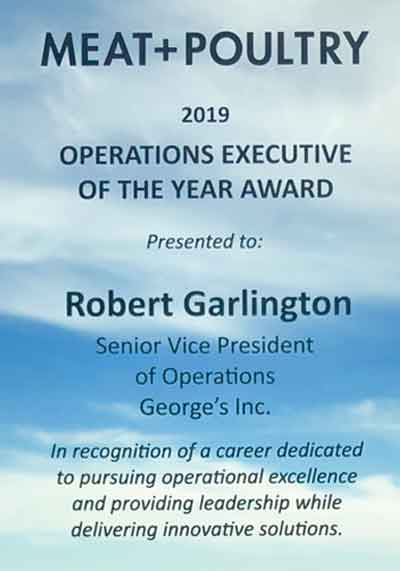 The recipient of MEAT+POULTRY's 2019 Operations Executive of the Year award admits he never dreamed of a career focused on increasing throughput, enhancing yields and bolstering profitability at some of the country's largest poultry operations. If anything, he was groomed to work in education, given the fact that his parents and both of his older sisters all pursued careers in education. And he followed in their path, earning a degree in agricultural education from Stephen F. Austin State Univ. Looking back, education has been the foundation for much of his success, but the teaching and learning wasn't classroom based.
He grew up with the expectation from his parents that "a college degree was a must." His parents also instilled in him the values of honesty, integrity and a strong work ethic.
"We lived in the country, had land and my parents had as many as 200 head of cattle. I always helped my dad with the cattle and helped with the hay business in the summer." He remembers well working in the brutal Texas heat putting hundreds of square bales of hay up in an even hotter metal hay barn.
Ready or not
In 1985, days after graduating from college, Garlington remembers his plans to take some time to reassess his future, consider career options and do some measured soul searching. His mother had other ideas. By the time he had moved back home, she had already applied for a job on his behalf at the Pilgrim's Pride poultry processing plant in Lufkin, Texas. "You have an interview Tuesday morning," he recalls her saying. During that Tuesday morning visit to the facility, one of the last interviewers was Elray Woods, a longtime manager at Pilgrim's who recently passed away. The two connected when they realized Woods was a former student of Garlington's father. Looking to fill a position for a QA supervisor on the night shift, Woods offered the job to Garlington after the two had visited and said he could start working the very next day. "I'll never forget the pay scale," he says, "it was $350 a week, which is $18,200 per year."
"I've always said, 'God will open doors and God will close doors.' I guess he opened that door for me."
After just one week of training he began working in the role he hoped wouldn't be too overwhelming. "I wasn't comfortable with it at all, but I just jumped in with both feet and started learning," he says. The sights, sounds and aromas of the slaughtering plant faded after just a few shifts, as his attention was soon drawn to nightly operations issues. Working at night was something he'd grown accustomed to during the blazing hot summers when he was in school working with his dad. Back then, Garlington learned to beat the Texas heat by cutting hay after sundown, so the night-owl routine was familiar. Even then, he was figuring out ways to work smarter. While he didn't foresee a career path that included working in chicken plants, he was eager to learn new skills and be part of a team.
Garlington's eagerness to jump in and help wherever needed served him well too, including during his first week at the plant, when he was enlisted to fill in as a live bird hanger for several days. "I have an appreciation for the people who do that job, trust me," he says. Through the years, he's found that learning by doing makes his job easier no matter the role. And figuring out how one process impacts the end-product is important. The learning curve was steep initially and the days were often long.
"It involved a lot of hours," he said, "Seventy-hour weeks were not uncommon."
But that didn't deter Garlington. "I was really young, energetic and I was learning something new every day so to me it was very challenging and fun," he says of the process of learning what it takes to operate a plant the best possible way.
Step by step
He worked in that initial position for about two years before being promoted to manager of secondary processing at the Lufkin plant, still on the night shift. With practically no knowledge about the tray-pack operations he was assigned to oversee, the plan was for Garlington to be trained for two months by a longtime manager who planned to retire.
"I knew very little about second processing," he says, and unfortunately, that two-month training plan was clipped to about four days when his predecessor resigned. "So, I was running second processing and didn't have a clue what I was doing," he says, and relied on watching and listening to the people he oversaw to learn about the operation he was responsible for.
What he lacked in job knowledge he made up for with a fiery determination, which would become an attribute that would serve him well in the years to come. He recalls the first few days in his new role when he took home a list of dozens of tray-pack SKUs produced at the facility and studied the details of every item. "After working a 12-hour day I went home and memorized all that one night so when I came back the next day, I was very familiar with those tray-pack SKUs."
"I have been fortunate in my career to learn from people I consider to be the best in the industry." — Robert Garlington
He recalls Rick Rhodes, the shift manager at the time, helped him navigate what could have been a very challenging learning curve. Rhodes recognized his innate knack for learning quickly and shared his industry knowledge about how to become a more effective manager of what was a complex operation with many moving parts.
"At a tray-pack plant there's always a reason you're cutting the chickens up," Garlington says, "maybe for the wings one day, maybe for the drumsticks on another, it could be the breast, thigh or whatever." Managing the particulars of all the varying processes requires an effective manager. After six months in that role, Garlington's responsibility was expanded to the labeling and shipping operations, still at the Lufkin plant.
Asked to describe how he was able to realize success early in his career, Garlington relates that in the early years, while still at Pilgrim's he committed to tackling a nagging problem with the plant's chiller, which caused hours of downtime each shift. By watching and learning from hourly workers Garlington figured out how to eliminate the ongoing chiller breakdowns, another example of his hands-on approach and willingness to put in extra hours to achieve a goal. Demonstrating his commitment to the process and respecting the people involved in the processes early in his career would become a secret to his success later. Of the hourly partners and the supervisors he learned from and later supported, Garlington says, "to me, they are the experts," he says. "They always have a lot of ideas; a lot of really good ideas," but they often aren't asked to share them. Many supervisors might not listen, but Garlington did.
Stepping back (and forth)
After working at the Lufkin plant for about three years, Garlington married Stacey, also a Stephen F. Austin graduate and now his wife of 31 years. Early in their marriage, Garlington was still working the graveyard shift while Stacey worked as a teacher. As newlyweds, their time together was limited due to their schedules and Garlington made the decision to change careers, going to work for a wood manufacturing company where the hours were more reasonable. The new job took them from Lufkin to Monroeville, Alabama.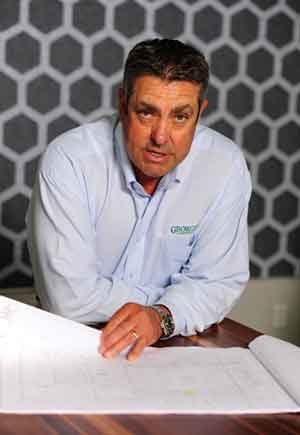 Each day in his new job, Garlington would tell himself, "What I'm doing today is just not as challenging as the poultry industry was." Looking back, he says there was a kind of intangible pull drawing him back to the poultry industry. "It just kind of gets in your blood," he says, and after several months in Alabama he became restless and returned to the field he knew best. He and his then-pregnant wife packed their bags and moved again, to Mount Pleasant, Texas, where his former mentor, Rick Rhodes, was working as plant manager.
Rhodes hired Garlington as a shift manager, where he worked for several years before another opportunity arose, this one at the now defunct, Hudson Foods plant, in Hope, Arkansas. With his then-pregnant wife at his side, the couple moved again as the 28-year-old Garlington became a shift manager in charge of the Hudson operation, which was much larger than he was used to, with more than 1,200 employees working at the plant.
In 1997, Tyson Foods acquired Hudson, so Garlington joined the Tyson team. His career growth paralleled his family's growth, as the couple would go on to have two daughters and a son.
Moving on up
Having met David Purtle and Blake Lovette, two executives at ConAgra, during his short and eventful career, Garlington next made the leap to work at the ConAgra poultry plant in Farmerville, Louisiana. After touring ConAgra, "I became very excited about the opportunities I could see in this short visit. I knew it would take a lot of hard work, long hours and teamwork, but I always loved a challenge. I had worked under Joe Menefee at Hudson Foods and learned many things to take with me in my next endeavor. Garlington also looked forward to working under Purtle and Lovette.
"I have been fortunate in my career to learn from people I consider to be the best in the industry." However, moving from the Hope facility, he says, "was like leaving family. I have had this same feeling after each move over the years." Garlington took the challenge and went to work at Farmerville as the assistant complex manager and was promoted to complex manager after just six months. He and his team started measuring performance and looking for underlying causes for lagging performance, including the growers and the live handlers.
It was then that he really realized the value of maintaining good relationships with growers. "If your birds are healthy, you make more money as a grower and when healthy birds come in the plant, I run well and the plant runs at a lower cost," resulting in better yield and higher profit. "Everybody wins when we have good birds and when we have bad birds everybody loses."
At Farmerville, he worked very closely with the growers, some of who were mom-and-pop operations and once they got their production process in line, the results were good for them and good for the plant's operations. "It took a lot of teamwork," he says, and the turnaround of that operation was one of the most gratifying accomplishments of his career.
During his time at Farmerville, Pilgrim's Pride acquired ConAgra's chicken business and he was back with the company that hired him for his first job. Soon thereafter, an opening for an operations manager position became available in Nacogdoches, Texas. Knowing the position was a step down, the prospect of moving closer to the couple's family was too appealing to pass up. Garlington worked there for several years before being promoted to complex manager and then to vice president of operations of prepared foods and finally vice president in the pack group before his most recent opportunity presented itself about five years ago.
Opportunity really knocks
"The opportunity to come to work at George's really kind of fell in my lap," says Garlington, who was still working at Pilgrim's in Nacogdoches in 2014, where he had a home, owned land and was maintaining 12 chicken houses. "I had planned on spending the rest of my life in that area," he says. After a recruiter approached Garlington with information on coming to work at George's, he took the opportunity to go to the Springdale, Arkansas, headquarters to meet with co-CEOs and twin brothers, Carl and Charles George, and their father, Gary, the company's chairman.
"It was about a four-hour interview process, I'll never forget," he says. After the interview, Garlington couldn't ignore the appeal of George's family-owned culture and its solid reputation throughout the industry. He said the willingness of the George's executives to listen resonated with him and he was struck by the commitment he sensed in Carl and Charles to continue growing the thriving company, which was founded by their great-grandfather nearly a century ago. "They wanted to do the right thing and they just needed help with operations and to continue growing the company. That's what really excited me the most." Plus, he adds, "They had a lot of the same beliefs and thoughts that I had."
He was hired in 2014 as George's vice president of operations and was promoted to his current position in 2017.
When he started at George's, Garlington oversaw three facilities: Kansas Street and Porter Street in Arkansas and the Cassville, Missouri, plant. He first focused on the Kansas Street plant, utilizing key performance indicators to monitor yield and improve throughput.
"I have found that a good team working together and sharing ideas is the key to any successful operation."
"I'm very big on yield," he says. "In any operation I go into I'm trying to figure out how to improve yield." Getting the flow right was a matter of tweaking processes, training and teaching people and holding the line workers and supervisors accountable. After the Kansas Street plant, he turned his attention to operations at George's other Springdale plant, Porter Street, where he noticed an opportunity to decrease downtime. Putting the right people in the right positions has been a key to the success Garlington has brought to George's too. Looking at the operational evolution of the Porter Street operation over the years, he says, "I think that's one of the best further-processing plants I've ever been associated with."
Now, after five years with George's Garlington has been on the front lines of its continued growth, which has included the acquisition of Campos Foods in 2017 and the purchase of Ozark Mountain Poultry (OMP) in 2018. He now oversees operations at seven poultry plants across three states.
"OMP has got a lot of good people, and I thought it would be a good fit with our operation."
He says OMP is in somewhat of a separate market as it is focused on premium, no antibiotics ever, non-GMO, tray-packed poultry. "My objective is to figure out how we can improve it, from product flow to customer satisfaction." He has learned the value in being the No. 1 supplier to customers and that the payoff is, "they will grow with us. That's the company that comes to us and says, 'we need to grow, can you do more business?'"
This has been a recurring theme and a positive sign that a growing proportion of George's customers are demanding an increasing amount of product. Garlington continues to apply what he's learned through the years at George's but also continues to learn and grow in his role.
"When I walk into an operation, I'm looking at ways to improve it," he says, including enhancing product flow, improving efficiencies and yields and cutting costs while reducing customer complaints.
Similar to the days when he looked for a smarter way to bale and load hay as a kid, and later, his approach to learning all he could about the intricacies of poultry processing plants, Garlington remains committed to improving operations through building teams.
"I have found that a good team working together and sharing ideas is the key to any successful operation," he says. In his long career, he feels fortunate to have learned from great leaders and to have been surrounded with many strong team players. "Once this industry gets in your blood co-workers become family."