An October 2019 food market trends report titled, "North America Meat Snacks Market to 2027 – Regional Analysis and Forecasts by Type; Nature; Sales; Flavor; Source and Country," by The Insight Partners forecast the North American meat snacks market to grow 7.2 percent (compound annual growth rate) through 2027. This includes jerky, sticks, strips and bites, bars, sausages and others with demand for meat snacks coming mostly from an interest in protein-rich snacks to support a healthy lifestyle.
The continued growth and popularity create a huge market with many players. Large-scale manufacturers and boutique companies alike all compete in the meat snack arena. Regardless of company size, the first thing a consumer sees when making a purchasing decision is packaging. Equipment and materials suppliers must provide goods and services that put their customers at an advantage when it comes to impressing consumers.
New and improved
Just as meat snacks come in a variety of shapes, sizes and configurations, so too does meat snack packaging. Consumers first experience product through its packaging. With the variety of meat snacks available, and the wide variety of companies bringing them to market, meat snack packaging continues to evolve alongside the market. While this evolution occurs, certain attributes do, and will, remain integral.
"Ease of use is a highly desirable attribute for consumers of meat snacks," says Drew Lericos, senior director of marketing at Kansas City, Missouri-based Multivac. "Features such as portability, easy peel and resealable substrates, and increasingly a focus on sustainability, resonate with today's busy consumer."
Lericos adds, "More recently, the evolution in sustainability includes marrying cardboard containers with down-gauged plastic to minimize the plastic waste. New polypropylene substrates are evolving such that they can be recycled for use outside the food industry."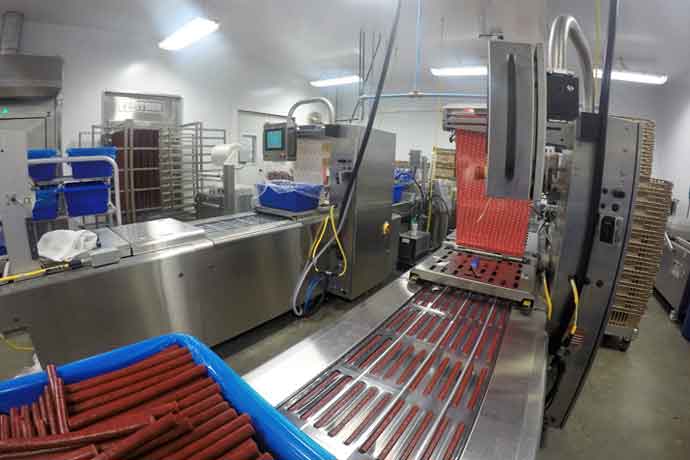 Doug Hankes, vice president of Galesburg, Illinois-based Thrushwood Farms (recently acquired by Western's Smokehouse, Greentop, Missouri) says Thrushwood focuses on safety, sanitation and sound investments relative to capital expenditures when considering equipment purchases.
"It's just so important to what we need out of packaging equipment moving forward," Hankes says.
For traditional jerky, pouches remain the go-to for processors, but pouches need to be versatile for the ever-changing market. Innovations in ingredients, species choice, alternative proteins, as well as size, graphics and label claims require constant flexibility in packaging.
"Processors are looking for flexibility in their equipment where changing package design or producing shorter runs are more cost efficient," Lericos says. "Traysealers offer lower initial cost and faster tooling changeovers that allow meat processors to pivot with their customer demands."
Hankes agrees with Lericos, stressing the importance of equipment and material flexibility. He cites the need to adjust sizing, bag versus rollstock and thermoforming. Thrushwood needs the flexibility to run different film thicknesses and structures effectively and efficiently. "We want to make sure we don't take packaging and turn it into a bottleneck in the facility," Hankes adds.
Meat snack processors pay close attention to their customers when making decisions about purchasing packaging equipment. Lee Coffey, marketing manager for Oshkosh, Wisconsin-headquartered Amcor Flexibles North America (Amcor recently acquired Bemis), says processors continually ask for packaging that provides convenience, portioning and portability for the consumer.
"Packages that win at retail need to incorporate features and benefits such as easy-open, recloseable, maintain appropriate shelf-life requirements and using high-impact graphics to position brand to stand out on shelf," adds Pete Bruehl, another marketing manager at Amcor.
Messaging matters
The popularity of meat snacks runs parallel with a new-found consumer interest in the story behind where the product came from, how the animals were treated and what may or may not be part of the product recipe. All of these consumer interests bring new facets and innovations to packaging. Producers and retailers have started adjusting packaging with new graphics and claims to support the trend.
"Consumers are undoubtedly drawn to unique, high-impact graphics," Coffey says. "Packaging designed to provide the necessary billboard space allows brands to quickly and effectively grab attention and communicate their message to consumers."
"Packaging graphics must effectively communicate claims like certified organic, animal welfare, grass-fed or free-range, etc., giving the consumer a perception of higher quality for a premium price," Lericos says. "To this end, artisan packaging appearance through high quality print and tactile feel of the package shape, combined with freshness code-dating impresses consumers that the contents are wholesome and safe for their family."
An on-the-go lifestyle dictates quick consumer decisions when faced with an abundance of choices in front of them. Clean, clear, purposeful graphics appeal to those choosing a grab-and-go snack in a short amount of time. In addition, consumers also pay more attention to labels for nutrition and sustainability information, says Rebecca Casey, senior vice president of Marketing & Strategy at TC Transcontinental Packaging.
Hankes notes the pouch side of packaging provides the greatest flexibility when it comes to incorporating and changing graphics and textures. The ability to switch the look and shapes of, sizes, textures, finishes, holographic capabilities, etc., with efficiency and cost effectiveness are important considerations when Hankes makes an equipment purchase.
"We want to make sure that whatever equipment we purchase can handle all those different things for the brands we co-pack and private label for," Hankes says. "We want to make sure that we can offer them as many options as they need. We want to make sure that canvas is as open as possible when they go to create their products."
Moving forward
When considering any process that involves labor, automation immediately becomes a topic of conversation. As the pool of manual labor continues to lose volume, packaging equipment with the ability to operate with less human interaction becomes more attractive.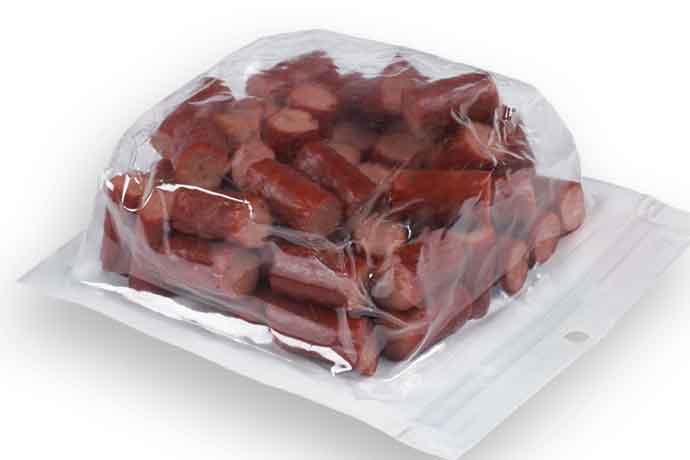 "Another trend in snack stick packaging is to reduce packaging costs by automating the loading and pack off in cartons," Lericos says. "Multivac's Systems and Automation Group is well established as a leader for automating snack stick production, while reducing labor costs."
An additional factor affecting the complex meat snack industry is different run sizes that use differing materials and the need to make those changes quickly. The flexibility of equipment and materials benefits processors with varying runs and multiple customers.
"We've invested in custom thermoforming technologies for small, medium and large runs across a variety of material substrates," Coffey says. "In addition, we continue to expand our print capabilities with unique offerings such as tactile/textured inks, paper-like and soft touch that engage consumers on a sensory level (touch) beyond just appearance."
Partnering with customers means suppliers continually communicate and know needs in real time.
"At TC Transcontinental Packaging we utilize our Customer Technical Support (CTS) Group to observe and make recommendations to 'right size' and 'right spec' packaging based on our customers products and processes," Casey says. "We recommend the correct size/spec for the product to minimize packaging and maximize performance."
For processors, food safety and quality remain top of mind. Any packaging materials and equipment must provide the highest levels of safety to both consumers and those working with the equipment in the plant.
"It's neat that we put a shelf stable meat product inside of a pouch or a vacuum sealed thermoform package and we can transport that anywhere in the country and maintain food safety," Hankes says.