When circumstances and progress converge, a new way of doing things often follows. Put another and familiar way: necessity is the mother of invention.
That's the case in the meat and poultry processing industry, where the need for skilled, regular labor and advances in technology are combining for a shift in how plants run, from the movement of cattle into slaughter facilities to deboning on the line to package auto loading. A growing use of automation and robotics is at the center of that shift.
While an economy with low unemployment is generally a good thing for a nation, it's tough on industries that pull from local pools of potential employees, and that includes meat and poultry facilities with often-demanding tasks and environments. "This is very much top of mind for processors in the meat industry – almost every conversation we have with processors right now starts out with labor," reports Michael Rosinski, marketing director for Cryovac Division, Sealed Air Corp., Charlotte, North Carolina, noting that unemployment in rural areas where many red meat and poultry facilities are located is as low as three percent. "The meat industry has always been a high-turnover industry anyway, and it's just a very tough situation for them to find labor."
Melissa Fischer, director of sales automation for Kansas City, Missouri-based Multivac Inc., cites similar feedback from processors facing a market fraught with challenges in attracting and retaining laborers. "It's not necessarily that they want to get the labor savings – they can't get enough labor to run their lines," she says.
Automation and robotics can ease the labor situation, not just in replacing humans with machines but in providing jobs to employees that are less laborious in nature and more of an oversight and management of systems. "The use of automation does make many tasks physically easier. And you can take someone and make them successful on a line with one year of experience versus three or four years," Rosinski notes.
By taking the human factor – and with it, human error – out of some steps in the process, meat and poultry companies can gain other advantages. "There is the hygiene aspect, too. Processors want fewer people to touch the product," Fischer remarks. An additional benefit is a reduction in injuries stemming from hazards on the line, such as knife cuts from deboning or repetitive use injuries.
That said, not every process can or should be automated or handled by a robot. "The challenge, especially in the meat industry, is that you don't always have consistency of portions. Shapes, weights and sizes can vary, even dramatically, depending on what you're doing," Fischer points out.
As with other systems, determining where automation can truly help with operations and labor is based on the specific needs and setup of a plant. "If you step back and look at it how our customers do, they want to be as productive as possible with the labor they have. It's about maintenance labor, too – are maintenance issues part of the problem? What are those issues? Those are some of the things we work on," Rosinski says.
2020 Tech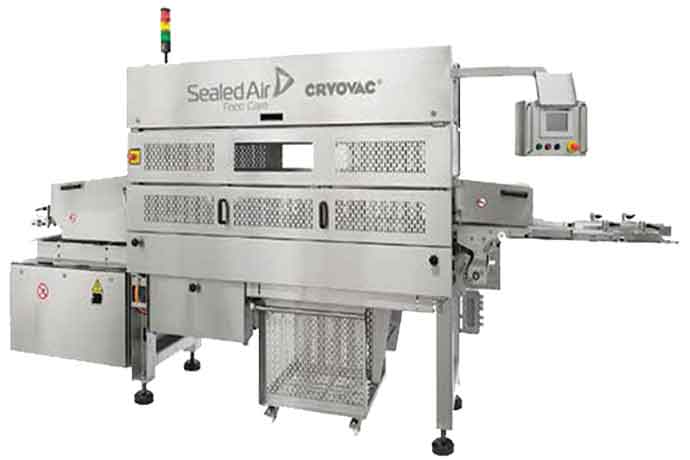 Where it makes sense from production and investment standpoints, processors are embracing automated systems and robots that that deliver a favorable total cost of ownership.
Because other parts of the world experienced tight labor earlier than the US, some systems have been in place longer in different countries. "We've had automated solutions in the industry for many years, many of which found acceptance in Europe, primarily because of the labor situation there," Rosinski notes.
Innovations in these kinds of systems continue, especially as the pace of installations in this country picks up. Multivac, for its part, has added a series of Delta robots and linear access robots to help with loading tasks and simultaneously enhance food safety by limiting contact. According to Fischer, the use of automated systems including robots, is decided after the equipped provider works closely with a processor to best determine their needs and then conducts specific testing.
Automation can be done all at once or in phases, depending on budget and goals. "We work with them on being able to retrofit existing lines for phasing in automation. We can do one robotic portal over there for loading, and then the next capital year, add a case loader or palletizer," Fischer says.
Cryovac also continues to enhance its capabilities in automation. Rosinski reports advances like the recently introduced BL75 fully automatic horizontal bag loader to be shown at the International Production and Processing Expo (IPPE) this month. That system is in addition to Cryovac's BL101 and 88 system that combines autoloading and a rotary chamber in one unit.
Improvements in maintenance and machine operations also help processors maximize their capabilities with automated systems. In addition to its preventive maintenance program, Cryovac has introduced a new tool for its 8600 rotary chamber system. "Think of it as an Internet of Things tool to allow for remote monitoring of equipment," Rosinski says, adding that staff at Sealed Air's tech center evaluate equipment on a real-time basis to check key performance indicators.
Another example of the convergence of new technologies and industry needs comes from Harpak-Ulma, Taunton Massachusetts, which offers robots and fully automated loading belts in addition to a newer use of augmented reality (AR) for remote monitoring, diagnostics and re-tooling, provided through a smart manufacturing software partner. The AR creates a digital "twin" of the machine that can be used on devices to show work flow and to serve as a digital re-tool aid.
While robots help improve hygiene by reducing human contact with product, they are also designed to withstand the rigors of processing plants. Stäubli Robotics, for example, has a food-grade robot for meat processing, handling and packaging that self-washes, with a fully enclosed and pressurized structure.