In virtually all markets, it is a legal requirement to chill carcasses immediately after evisceration to prevent the growth of harmful pathogens. The temperature to which products must be cooled varies from country to country but is never more than a few degrees above freezing point.
Roy Driessen, industry marketing manager, poultry, for Marel Poultry, with US operations in Lenexa, Kan., noted chilling, air-chilling in particular, is about much more than cooling down carcasses.
"It will also largely influence yield, presentation and shelf life," he said. "Doing the job properly ensures that processors have a safe, attractive product, which they can sell for a good price and which consumers will readily buy."
Proper and safe chilling implies that the core of the product is cooled down too, as opposed to superficial cooling that doesn't reach internal parts. The core temperature is therefore the key indicator.
For example, Driessen noted a processor may ask for a chicken cooled down to 35°F [2ºC] core temperature, with minimal loss of yield, maximum tenderness and perfect shelf appearance. This requires more than just blowing cold air; the proper techniques have to be applied so that the deepest parts of the product are reached without freezing the small exterior parts of the chicken.
Although the process of cooling a chicken is still very much the same as it's been for years, Tom Rozendaal, product manager for Netherlands-based Foodmate B.V., noted the latest trends in chilling systems revolve around low energy usage, quick freezing and food safety.
"Mainly the technology of the components used has become more energy efficient, more efficient motors, cooling appendages, etc.," he said.
Scott Sechler, owner of Bell & Evans, Fredericksburg, Pa., notes the company has been utilizing 100% air-chill technology since 2005.
"Air chilling is all about time, temperature, and humidity," he said. "The real benefit of air chill to the consumer is a more tender, flavorful chicken without unwanted water pickup. A longer, slower air chill tenderizes the bird more than a quick cool down, similar to aging beef. Our chickens cycle through air chill for 2.5 hours, and that time will increase by 20% at our new chicken harvesting facility that will begin operations late this year."
That's why Bell & Evans focuses on the length of time of air chill, having the longest chilling lines in the industry.
"While some other producers have incorporated air chill into their process, most poultry processors still use water chilling or a hybrid of the two because of the cost, space and yield loss (water weight) of converting to 100% air chill," Sechler said. "I believe we'll continue to see increasing consumer demand for 100% air-chilled chicken because of the quality differences in taste, texture and appearance."
Duke Vaughan, sales manager and clean air chill product manager for Kansas City, Kan.-based Baader Poultry USA, noted poultry processors are continuously looking for ways to improve on their processing solutions for environmental, economic and consumer reasons with the goal being the ability to produce the highest quality product, while meeting or exceeding industry standards.
"Baader recognizes the consumer demand for a superior product from poultry producers," he said. "This may consist of Grade A whole birds as well as high-quality cuts and premium deboned products. Our objective is to get the birds to a low core temperature as well as produce the safest and most superior quality product, which is a vital part of the end process."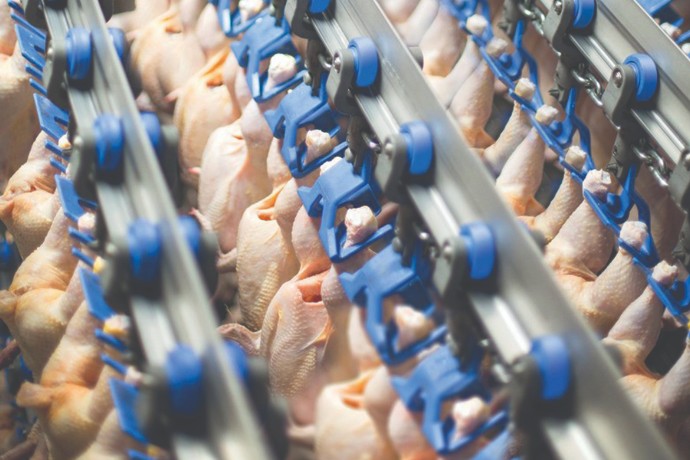 Air movement
While the industry standard in the United States is water chilling, consumers are driving processors toward better quality attributes that can be produced by air chilling. According to Vaughan, air-chilled chicken tastes better, cooks consistently, and contains less bacteria than water-chilled chicken.
"Air chilling is also environmentally friendly, saving considerable amounts of water while providing a superior product," he said. "The Baader Clean Air Chill unique single-layer design prevents cross contamination from overhead dripping. Furthermore, our separate Low Temperature Room reduces bacteria, such as Campylobacter and Pseudomonas, for increased shelf life."
In-line air chilling uses no additives, cuts water usage drastically, does away with the need to re-hang product manually from a counter-flow immersion chill system and, being in-line, allows full product-by-product traceability.
That's why Foodmate only offers air-cooling systems. Rozendaal noted this is the better option for food safety reasons as there is less of a chance of bacterial growth.
"You do lose some weight by using dry air, but with a small water spray, you can gain that loss back," he said. "We place the birds closer to each other on the chain to save footprint and that results in a quick and safe chilling process on a small footprint."
Driessen said it's essential that the footprint taken up by the air chilling system is as compact as possible and that evaporator and fan design ensures that chilling all carcasses to the same core temperature happens effectively, using as little energy as possible.
"Each Marel air-chilling installation is fine tuned to precise customer requirements in terms of an optimally chosen balance between energy use and footprint," he said. "In every chilling tunnel design, Marel looks for a technically optimized balance between the best possible use of the space available and an ideal energy-efficient chilling result without compromising yield or product presentation. Energy consumption can be optimized by varying details of the technical execution, such as air speed. Footprint optimization is about adapting the size of the tunnel to hourly capacity, product weight and desired core temperature."
Processors using air chilling cannot reckon with the water picked up during immersion chilling. An air-chilled product can dry out and needlessly lose weight. To prevent this, Marel developed its DownFlow+ technology, which allows processors to manage yield and color.
"It consists of misting cabinets installed at various points in the chill line overhead conveyor, which can apply a thin film of moisture to an external or internal surface," Driessen said. "Once installed, the processor will be able to switch misting cabinets on or off at will, thereby effectively managing presentation, yield and color of the final product."
A recent Marel development introduces an initial water chill stage, which makes good use of water's superior chilling ability.
"In this combined immersion chill/air chill system the conventional counter-flow immersion chiller is replaced by a multi-stage water bath, through which products are transported on an overhead conveyor," Driessen said. "After the immersion chill phase product is conveyed to an air chilling installation, often installed immediately above the multi-stage water bath. Additional benefits are that water does not collect in pockets in the carcass and the ability to manage water pick-up and color."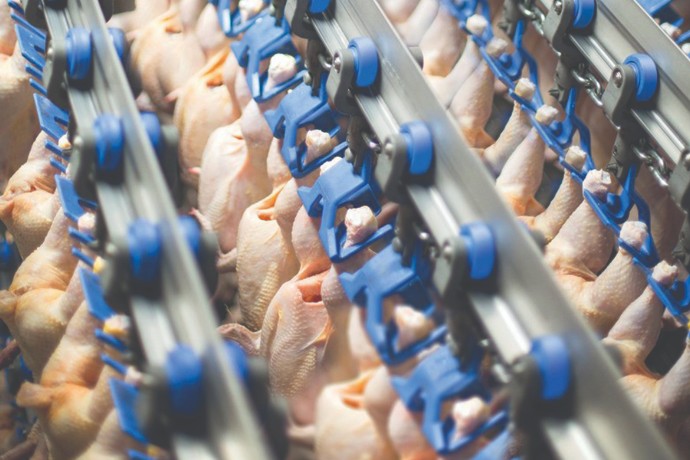 Innovations in chilling
Foodmate is constantly testing new technologies in its R&D facilities, and Rozendaal explained that when new technology becomes more common, prices usually decrease and the company is one step ahead of releasing it in its systems because the department has already familiarized itself with the new technology.
Baader's R&D process consists of listening to its customers' needs and expectations and then designing and developing technology to enhance their continued growth and success.
"Air chilling will continue to grow in North America as it is commonly driven by the consumer," Vaughan said.
Most companies believe the future of the category will be in accomplishing better energy savings, and designing systems that impact the quality of flavor, appearance and meat texture to the extreme. Plus, air chilling will only continue to become more of the norm.
"Experience has shown that in many markets, which have made the move from off-line water chilling to in-line air chilling, have no regrets," Driessen said. "None would want to turn the clock back."