May is National Burger Month. With the weather warming, and most Americans staying close to home, they will likely be firing up their grills and looking for more creative approaches to enhancing burgers. Meat and poultry processors can assist by offering formed patties in innovative blends and with flavorful ingredients.
Golden West Food Group, Los Angeles, is ready to assist with its new Meat District retail line of butcher-crafted premium burgers featuring gourmet blends of meat and flavorful ingredients. With 11 varieties, there's something for everyone. The line includes:
The O.G. – Angus beef brisket, chuck and short rib mix blended in the just the right proportions, so each burger is perfectly tender, flavorful and juicy.
The Steak House – Made from Angus beef tri tip blended with garlic peppercorn seasoning.
The Pitmaster – Angus beef brisket blended with hickory smoked bacon, brown sugar and molasses.
The Kanpai – A blend of whole muscle meat cuts, including rib, sirloin and brisket, that is rubbed with a mild, roasted four chile seasoning.
"Just like consumers distinguish between different varietals of wine or coffees from different
regions of the world, we believe our burgers will offer more variety to the category," said Zack Levenson, chief operating officer for Meat District. "Grocery shoppers will realize they have a lot more choices when it comes to burgers and will enjoy discovering all the different and flavorful ways they can indulge in one of their favorite foods.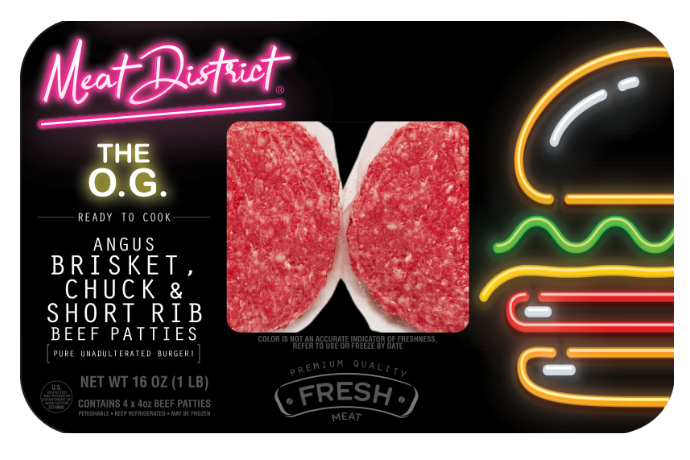 "Instead of ho-hum hamburgers packaged in generic white Styrofoam, we're breaking out of the mold by bringing an exciting family of highly branded, exceptional blends to the meat case."
Blending meats to make hot dogs and sausages – often with spices or other flavorful ingredients – is standard practice. While chefs have been known to mix up meats in the burger world – offering these specialties at their restaurants – it's not common to find such culinary creations at the supermarket. Blending premium cuts of meat or varied species of meat with plant-based ingredients, with or without inclusions like grilled onions and diced cheeses, presents an opportunity to liven up the packaged branded burger business as well as the fresh offerings sold at the butcher counter.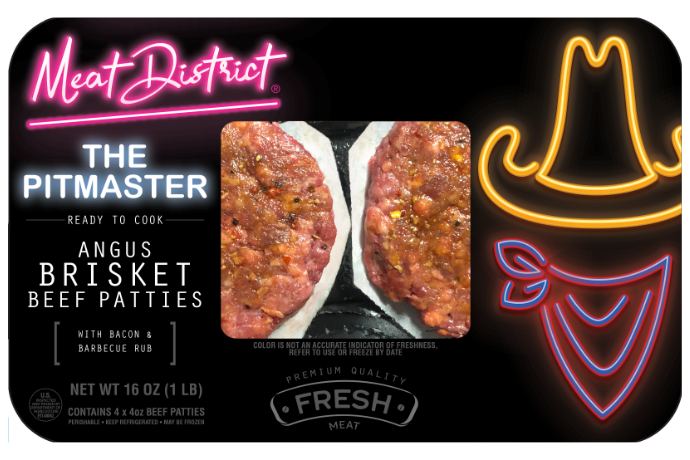 Whole beef chuck is the most common cut used in premium beef burgers. Adding some brisket provides a buttery taste, while short rib contributes beefy richness.