Call it a combination of strong work ethic and top-shelf training, but when Casey Weber took over a former Goodyear Tire shop in Columbia, Tenn., with the intent of opening a meat business, he was already positioned to lap the competition.
His Tallgrass Meat Co. was just a dream when he decided to take over the 2,500-square-foot site for his retail and custom meat shop location. The dream moved closer to reality in May 2018, when he actually opened the doors to his own business.
"In some ways it was hard to imagine a meat shop in a structure that was full of tire marks, oil stains and cinder block walls," Weber said. "I wanted to create an intimate, well-trusted and community-driven marketplace where people could shop for quality meats and engage in a market with local fare and friendly faces."
As with all ventures, great partnerships form a great foundation and Weber had a landlord who was able to see the vision and completely overhauled the building to fit his plan.
The 35-year-old entrepreneur tapped into his Mound City, Kan., roots where his father (Richard Weber) had owned and operated a meat locker and later down the road a meat market in Fort Scott, Kan. Weber was trained by his dad, who also trained a knowledgeable and affable butcher named Norman Bockover, who he brought to the new shop just 35 miles south of Nashville, Tenn.
Weber studied food science at Kansas State University, received a bachelor's degree and then a master's degree in food safety. He topped it off with a doctorate in human nutrition. But degrees aside, it is the mental and physical energy that he brought to the new business that has put him on the map of specialty meat businesses.
He admits there were many friends and family members who lent their knowledge, encouragement and faith to help him realize his dream.
Supporting local
Weber incorporates a relational, holistic, yet simple approach to his vision, which includes buying from and supporting local livestock producers and farmers when possible.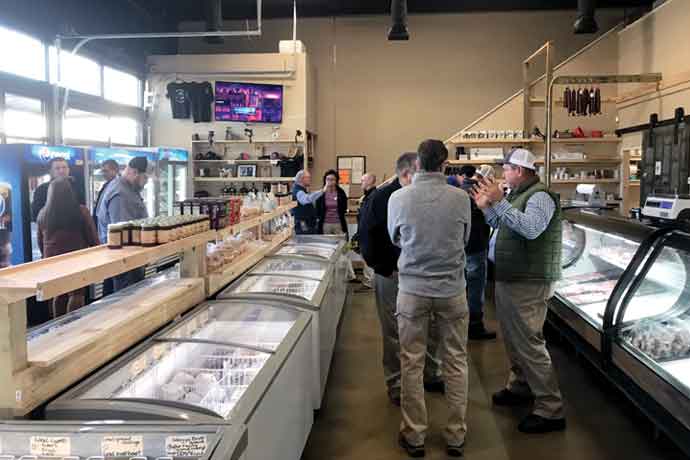 "There is a lot of emphasis on creating the everyday farmers market, therefore the provenance is there and your customers feel comfortable engaging in the process of their food," he said. "We buy from local ranchers (Spring Valley Farms, Neale Family Farms, Taylor Family Farms and Scissortail Farms) and many others, have the animals harvested at a US Department of Agriculture inspected establishment. Once harvested under USDA we bring the animals to our shop and process them for retail. The local partnerships with producers and local establishments such as Light Hill Meats and USDA stamping are a critical need to begin that journey."
The rough-cut lumber decor in the retail shop is also a testament to his wish to keep things basic, intimate and open for his customers, in addition to the simple start of his business.
Yet it would be brats, bacon and hamburger (in that order) that Weber lists as his best sellers.
Even meat specialists with generations of tradition behind their aprons would have a tough time outdoing both the quality and variety of bratwurst featured at Tallgrass.
Customers can preview the list of brats, which can be found on the company website at tallgrassmeat.com. It doesn't take long to run across some intriguing flavors: chili cheese dog, gummy bear, habanero, jalapeño and cheese, mushroom and Swiss, Philly cheese steak, pizza, Polish sausage, pulled pork, Rueben, Sheboygan, cheeseburger, beer, cheese, Cajun bacon, bourbon brown sugar, breakfast burrito and Tallgrass brats. And, those are just the brats.
Peruse the bacon selection and find up to a dozen versions on any given day, including pepper, jalapeño, Cajun and the seasonal variety called cinnamon roll bacon, made with maple syrup, sugar and cinnamon and formed in a round shape. They also present an Arkansas style bacon (which they affectionately refer to as Hillbilly Bacon) that is shorter and leaner and is cut from the pork shoulder. The website also offers a visual tour of the facility that allows viewers to go in any direction they wish to direct the camera and even zoom in on an item that piques their interest.
Weber's shop operates under state inspection currently, but he has visions of eventually moving under USDA inspection to widen his marketing area.
The Tallgrass specialty meat shop was built on a foundation rich in tradition using award-winning recipes and creating a host of new ones that have already drawn attention. If the suggestion or aroma of cinnamon roll bacon doesn't make customers' pulses quicken, Weber's team questions if they even have one.
"We strongly believe in our mission to be part of the community, both in how we operate and how we give," he said. "We sell local honey, eggs, pimento, and cheese, goat cheese and produce that support our local agriculture."
In addition to local fare, Tallgrass also carries cuts from traditionally raised sources and chopped to request. The craftsmanship they insert into specialty items like turducken, snack sticks or even jerky creates an exciting and educational experience for customers.
Top-shelf service
It is truly a location where their four employees (some still in high school) and Weber and Bockover have created a welcoming, family atmosphere with five-star service.
Weber and his team promote meat bundles and even gift boxes to keep their customers coming back.
"Maybe the most important part of it all is being able to talk to customers," he said. "We are in the best position to be able to answer their questions or find out their needs or give them ideas. That's what we mean about being community oriented...we sell one steak at a time.
"From the time I was 12 years old and worked with my dad doing those odd jobs and learning through experience, I knew that those who came in the locker had some connection with where their food came from and how it was prepared and those people who produced it."
He added, "In life, we take many paths and have many opportunities, many we don't expect. It's hard to tell where they are going to lead us, from the Mound City Butcher Block, Kansas State, Cargill and then to a job as a high school teacher. Now it's hard to imagine doing anything else. I'm excited to see where Tallgrass Meat goes from here, but I'm more passionate about how it impacts the people and the community we live in and how we can foster it and ingrain ourselves together.
"Columbia's people make the difference. You could feel that right away they were hungry for something more and something new and they gave us a shot."
He pointed out that the large sign in his retail area with the name Tallgrass is missing two "s's" because they used everything they could from the prior building. Since Columbia is known as "Mule Town" they wanted to maintain that community spirit and plan to put a rustic looking mule head at the spot where the "s's" would normally be. They've even incorporated the old tire shop lights into the decor.
So, while the retail appointments at Tallgrass reflect the community itself, so do the customers, some of whom are agricultural extension agents who gather inside to help others in the area realize what can be done with the products they produce.