There are plenty of youngsters whose first introduction into the world of business came in the form of a lemonade stand. But for 11-year-old Matt Kuplack, it was the dream of opening a beef jerky company that sparked his entrepreneurial spirit.
Then a resident in northeastern Pennsylvania's Jefferson County, young Kuplack grew up hearing about his grandfather's homemade jerky.
"Everybody loved it and asked him for the recipe," the now 13-year-old shares. "He gave it out to a select few of his friends and advised them that it was a secret recipe that they should not pass on to anyone else. The friends compared their recipes and found that no one had been given the real secret recipe after all. Grandpa still makes me smile to this day."
Kuplack's grandfather died in 2013, so he never got to try his jerky firsthand, but he fell in love with the jerky his dad made. His dad said they could work on recreating the recipe.
His father, Matthew, confesses that the idea of making and selling the family recipe jerky was completely his son's idea. He says that he helped him with preparing and slicing the first small batches and instructed him on using a home dehydrator, but that his son took the concept and ran with it.
"My twin sisters Kayla and Katrina helped me package the jerky in Ziploc bags and sell them to friends, classmates and teachers at school," Kuplack recounts. "We sold it in 3-oz. bags and began selling it door-to-door in the neighborhood. We might have sold 10 or 20 bags a week. Now my sisters are 17 years old and also help with marketing and getting the word out on Facebook, Twitter and Instagram."
Business expansion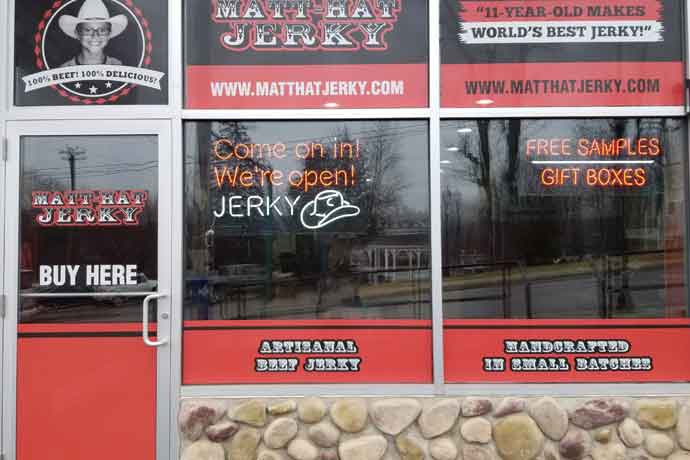 More recently, the Kuplack family moved to Moscow, a small community southeast of Scranton, Pennsylvania. With some financial assistance from their father, they were able to lease a 2,000-sq.-ft. former delicatessen last August that had some equipment they could use, including cutting tables, refrigeration and room for storage and packaging.
"We had 25 area retail locations that wanted to sell our product," Kuplack says. "We found out that we could only retail our jerky directly to consumers. We came under the jurisdiction of the Pennsylvania Dept. of Agriculture and with our new location we were also able to open a retail sales area."
Most of their sales today are a result of the internet and social media marketing. They ship their product via the US Postal Service. Their 20-year-old sister Holly assists with marketing and does some of the driving to get supplies.
"All of our earnings have been put back into the business," Kuplack explains. "We obtained some much better packaging with re-sealable film bags and a high-resolution picture of me in my cowboy hat. The bag also has ingredient statements and informative labeling."
A candid cowboy hat photo of Kuplack gave rise to the name Matt-Hat Jerky and this small family business enterprise now sells close to 300 of their 3-oz. packages weekly.
The siblings are the work force for the company although some school friends come over on occasion to help out. Kuplack says his school friends think the jerky business is a "cool" idea.
I plan to stay with this business and do whatever it takes to help it grow. I see it as my career. — Matt Kuplack
Information about the Matt-Hat Jerky company appears on their website, matthatjerky.com.
It may seem to be a pint-size business to many in the meat industry, but these youngsters have hit on some major league concepts in marketing and have thought things through in a way that belies their years.
They have introduced a monthly subscription program that features a Silver Membership offering three bags of jerky for under $22, a Gold Membership that sells a five-bag plan for about $33.50 and a Platinum promotion that sells seven bags of jerky for under $42. All orders come in 3-oz. bags and ship free to the purchaser.
"We are adding other flavors including a black truffle and spicier versions of our jerky," he says.
Kuplack says they buy their beef locally and do not smoke the product. It is a whole muscle product and there are no plans to offer any restructured varieties in the immediate future.
"Our customers like it that way," Kuplack says. When it comes to research and development, he says his ability to predict future flavor success is a simple one. He takes samples to area restaurant cooks, chefs and food department managers and asks them what they think, what their likes and dislikes are and then welcomes their suggestions. You might call it R&D 101.
Best of the best
Their new packaging promotes their jerky as the "World's Best." When asked how he validates that claim, he politely responds that the measurement comes from "those who have eaten our jerky."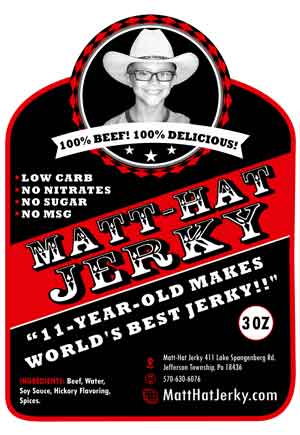 "Customers have told us it's the best they've ever eaten," he says.
The ingredients are basic beef, water, soy sauce, hickory flavoring and spices; the soy imparts a saltier flavor, but Kuplack had the product evaluated and learned the salt content is low. The label on the bag reads, "no MSG, low carbs, no sugar and no nitrates." Each bag also includes a dental flosser.
Long-range planning for a small company less than three years old might seem a bit premature for some, but not Matt Kuplack.
"I plan to stay with this business and do whatever it takes to help it grow. I see it as my career. Right now, we are not thinking about other meat items or products. We want to manage well and improve constantly and make sure we always offer a quality product. We may do things differently in the future. Maybe when we produce more in the coming years, a larger building is something we have to think about. But for now, I can only say we've come a long way and my family has been behind me and beside me every step of the way."
Just think about it...not many 13-year-olds are running a business after school and doing clean-up work on weekends and holidays and making a go of a fledgling business, all while trying to plan for the future. For that, Matt Kuplack certainly deserves a "tip of the hat."