KANSAS CITY, Mo. – The foodservice industry remains resilient despite considerable headwinds. While weak same-store sales and declining traffic continue to put pressure on operators, US restaurant sales are projected to grow 3.6 percent to top $860 billion in sales in 2019, by the National Restaurant Association (NRA). Sales at full-service restaurants hit $285.3 billion, up 3.8 percent from last year, while the quick-service segment grew 3.2 percent to $246.7 billion.
Investments in delivery and technology continue to provide avenues for growth in a market marred by fierce competition, tightening margins and labor shortages. Off-premise business now accounts for 60 percent of foodservice occasion and nearly 80 percent of restaurant operators say it's a major strategic priority, according to the NRA and Technomic. More than one in three consumers used delivery more this year than in 2018, and 79 percent used the service at least once a month.
Around half of foodservice operators now offer delivery through internal staff, and 66 percent offer it through third-party partnerships, according to the NRA. A growing number of foodservice operators are ending exclusive delivery agreements, looking instead to multiple platforms to gain access to additional customers. McDonald's, Dine Brands and Restaurant Brands International are expanding delivery to more than one provider. Even restaurants that offer self-delivery, like Panera and Pizza Hut, are getting into the third-party game.
The move toward hybrid delivery models comes as major restaurant chains struggle to keep up with changing consumer expectations. Forty-three percent of customers want to order directly through a restaurant's app, for example, but only 18 percent of operators offer the service, according to the NRA.
Integrating off-premise technology with existing point-of-sale systems is another major challenge, as is maintaining food quality.
"Delivery still is not perfect overall," said Joe Pawlak, managing director at Technomic. "Think about things like fried foods, keeping those products with the food integrity that consumers expect when they go to restaurants, or keeping hot foods warm through delivery. Think about delivery times. There's still a lot of imperfections in the system."
With fewer people eating food in the store, restaurants are rethinking both front- and back-of-the-house designs. McDonald's, Burger King, Firehouse Subs, Dunkin', Pizza Hut, Subway, Caribou Coffee and others are rolling out smaller formats to better accommodate delivery and takeout. Others, including Starbucks and Chick-fil-A, are investing in ghost kitchens, or restaurants dedicated to delivery only.
The technology push extends beyond off-premises  business, with digital menus, kiosks, mobile software and artificial intelligence emerging as major investment themes. 
"Tech appears to be the new battleground," Pawlak said. "Operators are turning to tech as a differentiator, whether it's front-of-house for consumer interface and revenue enhancement, or back-of-house for efficiency."
Restaurants also are doubling down on value to bring in more guests.
"Driving traffic is on the top of everyone's minds. 'How do we get more people in our seats, and how do we get them to spend more and come back?'" said Pat Noone, executive director of business development at Technomic. "We're seeing more deals out there, more LTOs, more bundling offers."
More restaurants are embracing better-for-you and better-for-the-environment foods to align with changing consumer preferences. Nowhere is this clearer than in the rise of plant-based foods, which saw a 30 percent year-over-year sales increase in the food service channel this year, according to The NPD Group.
While meat alternatives have been well received in the full-service segment, the bigger story in 2019 was the explosion of plant-based foods in the QSR space. Hardee's, Subway, Dunkin', Carl's Jr., Del Taco, KFC and Taco del Mar are just some of the companies that partnered with Beyond Meat, while Burger King, Little Caesars, White Castle and Qdoba have teamed up with Impossible Foods.
The alternative meat strategy so far has proven successful for fast-food chains. Burger King saw sales in its test market grow 28 percent when it rolled out the Impossible Whopper, and KFC sold out of its plant-based chicken in a matter of hours during its one-day test. Strong performance by several chains suggests plant-based menu offerings have real staying power. The Beyond Taco helped reverse a steep slide in traffic at Del Taco, for example. Carl's Jr.'s Beyond Famous Star burger, now a permanent menu item, was the chain's most successful launch since 2016. White Castle similarly expanded the Impossible Burger to all its stores after sales consistently beat expectations.
"This isn't just a fad," Noone said. "It's a trend that's staying on, and it isn't just with the Beyond Meat and Impossible Foods types of offerings. We're also seeing it, for example, with Noodles and Company with their zucchini noodles. It's about something different, something customers can try."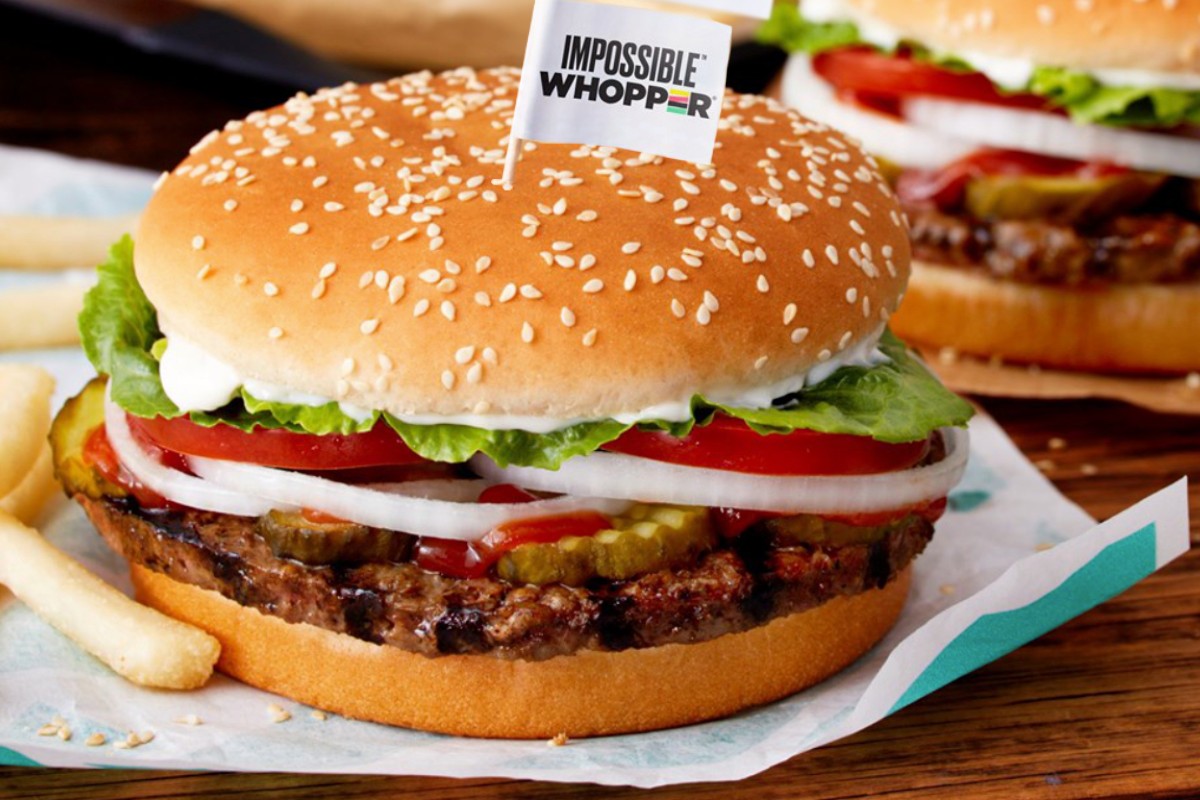 The rise of plant-based alternatives doesn't mean consumers are abandoning traditional proteins. Beef burgers are still the top sandwich ordered at US restaurants, though growth was flat compared to last year, according to The NPD Group. Strong year-over-year growth in plant-based orders primarily was driven by trial on the part of beef burger buyers, who made an average of 18 beef burger purchases and two plant-based burger purchases this year.
"Plant-based burgers allow consumers to substitute without sacrifice," said Darren Seifer, food and beverage analyst at The NPD Group. "They have not given up on beef burgers but are willing to mix things up every now and then."
Chicken remains the most popular protein in foodservice. Led by Chick-fil-A, quick-service chicken chains grew at 8 percent. Fast-casual chicken players, like Raising Cane's and Wingstop, also are benefiting from higher sales and traffic.
Growth in fast casual outpaced all other segments, largely due to strength in chicken-centric chains. Other categories, including Mexican, Asian and coffee, also are growing above the industry average, though there are signs the segment is slowing down.
"Fast casual has been the darling of the industry for the past 15 to 20 years, where we've seen tremendous growth," Pawlak said. "Despite still leading all segments of the industry, there seems to be a maturation happening. Previously we've seen double-digit growth. Now we're starting to see high single-digit growth numbers."