Packaging is essential to keeping meat and poultry products safe. Safety that could be compromised by damage that could occur during shipping to foodservice or retail customers or even to the end consumer, as well as safety from contamination, adulteration or potential food safety risks. Packaging is also the key to shelf-life extension in meat and poultry products.
For processors, choosing the right style of packaging and the right equipment supplier to partner with depends on a number of factors including: the type of product being packaged; the desired shelf life for the product; on-package printing needs; equipment footprint requirements in the plant and the existing production process upstream and downstream of packaging.
When it comes to packaging meat and poultry, processors have a lot of suppliers, equipment and technologies to consider. Tray sealing is a popular option for processors looking for shelf life and food safety packaging advantages. Unlike thermoformers, tray-sealing machines require pre-existing trays. The product is placed in the tray and then the plastic film is sealed over the tray.
"Tray sealing enables manufacturers and retailers to perform several shelf-life extension processes on each individual package, however, for proteins, a hermetic shrink process is most recognized," said Patrick Innes, sales manager for Proseal America, a JBT Corp. company based in Richmond, Va. "This sealing process means that the product can be sealed tightly with a stretch film in a shallow tray. It allows the product to reflect the shrink-wrapped style that consumers are used to while providing a fully air and water-tight seal."
Tray sealing is typically considered a more economical alternative from a capital expenditure perspective since the machines are usually less expensive than their thermoformer counterparts. However, the cost of materials – preformed trays versus forming materials – can be higher with tray sealing.
Aesthetically meat sealed in tray packaging looks more appealing to the end consumer.
"Tray packages allow for great display of the meat items," said Mike McCann, packaging specialist with Canton, Mass.-based Reiser. "The packs display and stack well at retail and in the consumers' refrigerator or freezer as well. They also offer good labeling and code-dating surfaces."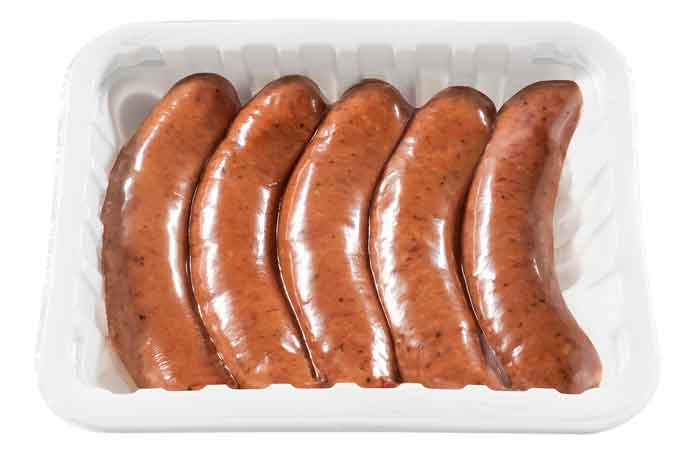 Jason Angel, vice president of sales and marketing at Battleboro, NC-based Ossid LLC, a ProMach company, agreed that customer appeal is one of the primary reasons processors turn to tray-seal packaging.
"Customers are used to seeing this type of packaging and stores are familiar with it as well," Angel said. "Retailers can quickly and easily stock shelves with tray pack meat. Other machines that use thermoforming techniques may have slightly different stocking requirements and customers may find the packaging unusual."
Tray sealing options vary depending on the size and material of the trays used. Tray-sealing machines can be used to hermetically seal meat and poultry in rigid trays made from a variety of materials including foam, polypropylene, PET (polyethylene terephthalate) plastic, as well as pulp and paper-based materials.
"Tray materials are wide ranging in appearance, ease of performance, strength and barrier capabilities, and sealing compatibility," McCann said. "Microwaveability, as well as recyclability, are also characteristic of some structures used for tray sealing."
Innes added, "One of the primary benefits of tray sealing when packaging proteins is the usage of materials that can be recycled, such as A-PET and R-PET. These materials provide an alternative solution that is much kinder to the environment than polystyrene. PET materials also serve as a more rigid type of packaging, which stands up better to the rigorous demands that each phase of the supply chain presents."
Knowing the best tray material for the product depends on the specific meat being packaged, the shelf life desired and the durability needed. Many tray materials available today are produced from sustainable or recyclable materials.
"Choosing a rigid tray package allows processors to ensure their product is protected, and delivered as intended," said Carlo Bergonzi, assistant product manager – Tray Seal for Taunton, Mass.-based Harpak-Ulma. "The rigid walls of a tray maintain the shape of product and protect it against deformation. This durability also serves the product well through the distribution process. Rigid containers can easily be stacked geometrically in boxes and can maintain an upright orientation. They also stand up well in all shipping environments."
Speed and accuracy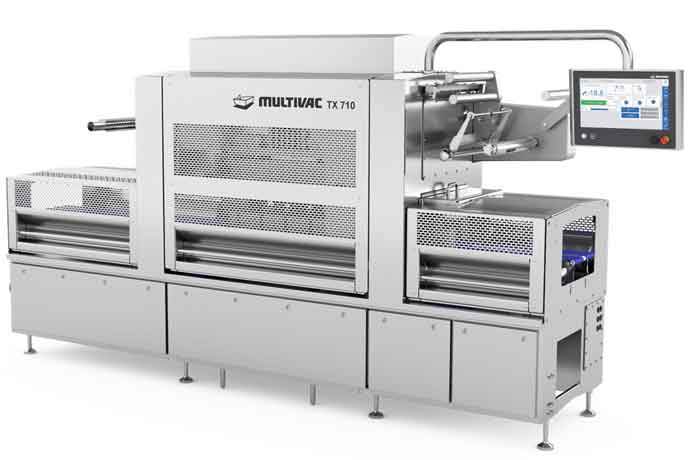 The speed of any tray-sealing packaging machine will depend on the tray size and type of seal the processor is trying to achieve. Options range from a basic seal with oxygen still left in the package to a gas flush modified atmosphere package where the oxygen is pushed out of the package. In addition, tray sealers can also create skin packaging where the machine seals the film directly to the product itself.
"Multivac offers 14 tray sealer models from table-top models to high-speed integrated lines," said Steve Dickson, product market manager for Multivac Inc., Kansas City, Mo. "In all tray sealers, the tray with the product inside comes in with an open top, it moves into the tool, the tray moves up from the bottom section to the top and all the air is evacuated. If it's gas flushed, the gas will be purged into the tray to push the oxygen out. Then it is sealed and the tray is pushed up one more level for a cut.
"Depending on the seal, our machines can run up to 25 cycles per minute with a seal only; 18 cycles per minute with gas flush; and 10 cycles per minute with skin packaging.
"Our old tray sealers are as fast as anyone's on the market, our new tray sealers are the fastest on the planet."
Harpak-Ulma offers a line of Mondini tray sealers called the Trave. Trave tray sealers are offered in a variety of sizes, and the length of the tooling cavity ranges from 400 mm up to 1,400 mm depending on tray size and output requirements.
"The Mondini Trave can seal up to 120, 1.25-lb ground meat packages per minute, with a high residual oxygen gas mixture," Bergonzi said. "The same machine can also seal 66 family packs per minute."
Time and space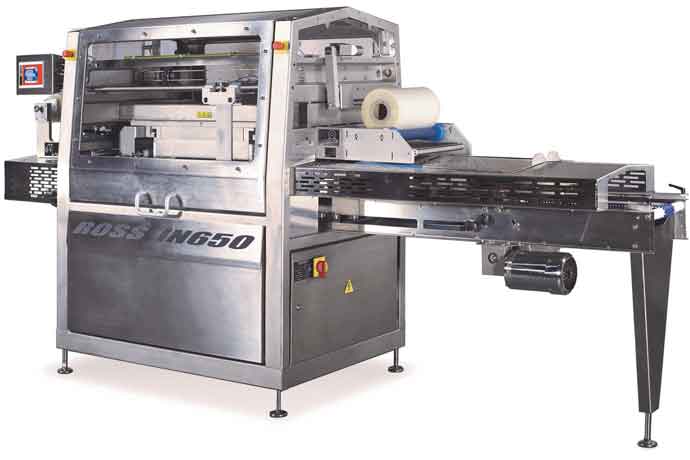 The time it takes to run packages through the machine isn't the time concern processors have when considering which tray sealer to purchase. Depending on the number of product sizes or varieties a processor is producing, the more possible changeovers the machine could go through during production. And down time can equal production lost.
Whenever a new tray size or configuration has to run on a tray-sealing machine, the die tooling must be changed.
"Tray-sealing lines are easy to change over and can accommodate many different packaging designs," Bergonzi said. "Several of Harpak-Ulma's customers are running over a half-dozen unique package designs on the same line. This flexibility is ideal for certain processors."
Ossid boasts a changeover time of two minutes or less for its tray-sealing machines.
"Proseal's tray-sealing machines are completely equipped for lines with frequent product changeover in addition to ones that are used for a single product line," Innes said. "With the 5-minute tool changeover, and effortless cleaning requirements, it makes it a seamless process switching from one product to the other. In addition, Proseal offers an additional piece of equipment called a Preheat which will warm the tool prior to entering the machine making it an even smaller margin of time for the tool changeover."
In addition to saving time, tray-sealing machines can also offer processors a way to save space. Typically these packaging machines have a smaller footprint than larger thermoformers or other machine options.
"The key to all areas of the food production environment is space utilization, and because of this Proseal's equipment offers the smallest footprint versus capacity on the market today, allowing producers to maximize their throughput in the space available within their factory," Innes said.