MIAMI — Burger King is putting a plant-based spin on its signature sandwich with the new Impossible Whopper. The meat-free burger is available at 59 Burger King locations in the St. Louis area as part of an initial test that may lead to a nationwide roll-out, the company said.
To create the new offering, Burger King parent Restaurant Brands Internationals Inc. partnered with Redwood City, California-based Impossible Foods, manufacturer of the Impossible Burger. The Impossible Whopper features a flame-grilled, plant-based Impossible Burger patty topped with sliced tomatoes, lettuce, mayonnaise, ketchup, pickles and white onions.
The limited-time offer makes Burger King restaurants the first coast-to-coast quick-service restaurant to serve the plant-based meat from Impossible Foods. The company in January unveiled its Impossible Burger 2.0, a new iteration of its burger made with soy protein rather than wheat protein that contains no gluten, animal hormones or antibiotics. Additionally, the new recipe was designed to be steamed, seared or sizzled on slats over an open flame, opening up the possibility for this debut at Burger King, which is known for flame-grilling its burgers.
The Impossible Burger handles, cooks and tastes like ground beef from cows but is made entirely from plants, Impossible Foods said. The burger's crucial ingredient is leghemoglobin, or "heme," which gives the Impossible Burger its bleeding attribute and creates the flavor in raw and cooked product. Heme reacts with the proteins, amino acids, sugars and vitamins in the blend.
The Impossible Burger generates about 87 percent fewer greenhouse gases, the company said, and it uses 75 percent less water and requires about 95 percent less land than conventional ground beef.
"The Impossible Whopper is all Whopper, no beef," Burger King said. "It's as juicy, craveable and delicious as the original Whopper."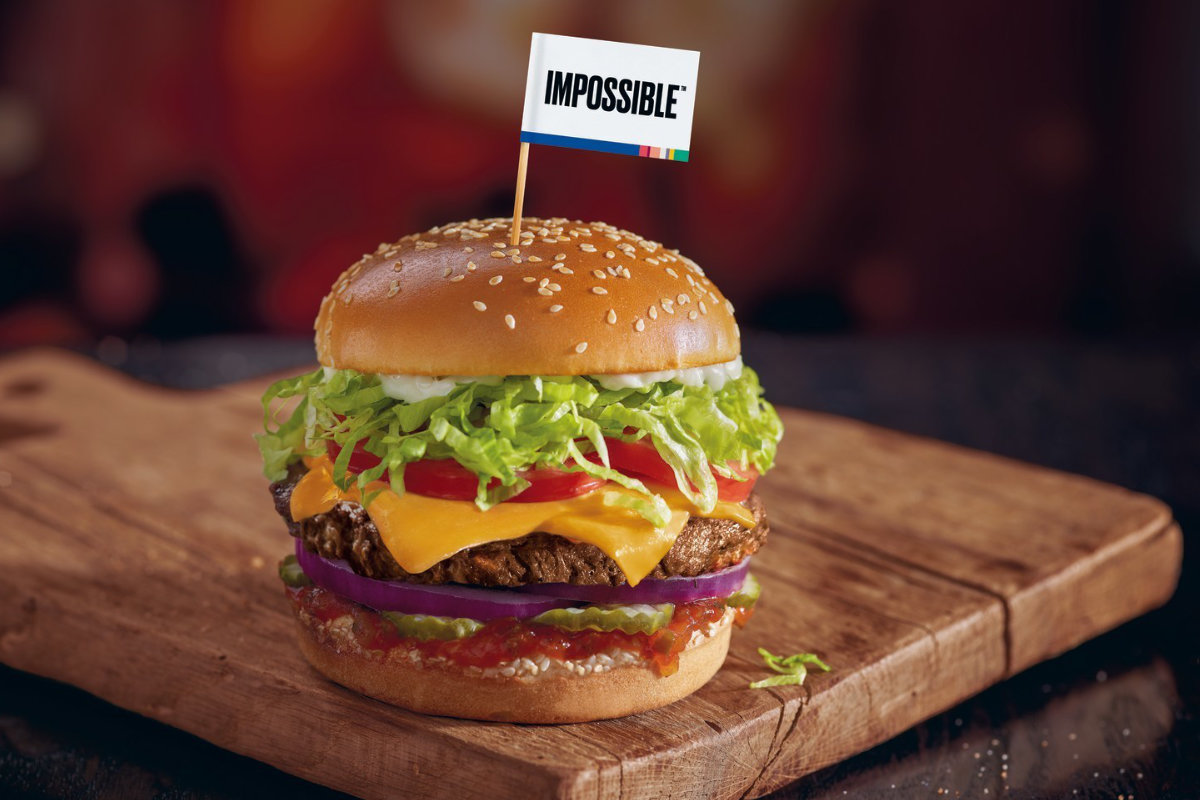 In January, White Castle restaurants began rolling out the Impossible Slider to its 377 locations. Other restaurants serving the meat-free burger include Wahlburgers, Umami Burger and Fatburger.
Impossible Foods will also start serving the Impossible Cheeseburger at 570 Red Robin locations on April 1. The company will offer the cheeseburger as a menu item which will feature pickle relish, red onions, pickles, lettuce, tomatoes, mayo and a choice of cheese.
"Our guests have come to expect culinary innovation and variety at Red Robin, so it was important for us to offer a new meatless protein option that appeals to traditional burger lovers, flexitarians or anyone craving a unique flavor combination," said Jonathan Muhtar, executive vice president and chief concept officer at Red Robin. "The Impossible Burger marks a huge milestone for Red Robin, as we're the largest casual dining restaurant chain to serve this meat-free option to guests."