WASHINGTON – Consumer perceptions about the importance of transparency are rising, according to a new report from the Food Marketing Institute in partnership with Label Insight, Chicago. Seventy-five percent of the shoppers surveyed said they were more likely to switch to a brand that provides more in-depth product information beyond what is provided on the label. In 2016, only 39 percent of shoppers said they would switch brands when asked the same question.
"The new shopper mindset requires brand owners to think about their products well beyond the traditional label and respect a more digitally minded consumer," said Doug Baker, vice president of industry relations at the FMI. "The study offers several considerations for how to make the best use of these findings, but overall, they require companies to recognize and communicate the importance of transparency and perform a thorough review of their unique consumer audiences and commerce channels."
The survey's methodology included a random sample of more than 2,000 US grocery shoppers 18 years of age and older. Quotas were established to ensure survey respondents were representative of the US population by age, region and gender, according to the authors.
For the total survey group, ingredient and nutrition information remain the primary pieces of information consumers are interested in related to transparency. When asked to define transparency, 65 percent said it included a complete list of ingredients. Fifty-nine percent took it a step further and said transparency requires a "plain English description of ingredients," and 46 percent said it was in-depth nutrition information.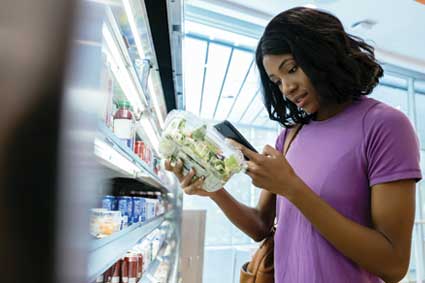 From a demographic perspective, there were some differences in the responses. Baby boomers and Generation X, for example, focus on ingredients and nutrition. Millennials, too, focus on ingredients and nutrition, but are more likely to consider if allergen information, certifications and other claims are provided.
To search for and review product information, consumers are using smartphones to access brand websites and grocery apps. Seventy-three percent of consumers surveyed said they know where to look for more detailed product information about the products they buy. This may be important, because 50 percent of consumers said they found product labels too hard to read and too confusing.
At a more granular level, the report identified a sub-segment of consumers they defined as "health-conscious shoppers" and said they are a key driver in the demand for transparency. For example, 47 percent of American households have someone on a diet or following a health-related program and would fall into this category. These shoppers are more likely to place a premium on transparency, with 61 percent saying they are willing to pay more for products that offer in-depth product information, versus 54 percent of general shoppers. When the information on a label is not enough health-conscious shoppers are likely to seek out information elsewhere.
The study also found the presence of children in the home increased the desire for transparency. Shoppers with children are more likely to place greater importance on ingredient information, nutrition and health benefits. They were also likely to find value in accessing detailed product information in-store on their smartphone.
The demand for transparency also increases when consumers are shopping online, according to the report. Online grocery shoppers expect more product information (76 percent) when shopping online than if they were in a physical store; and 72 percent believe getting product information is even more important when shopping online. Additionally, 81 percent said they are willing to switch to a brand that provides more in-depth product information, compared to 75 percent of general shoppers.
"We titled this report 'The transparency imperative,' because as we executed the research to bring the key findings of our 2016 studies current, we see clearly that transparency is only becoming more important to consumers," said Patrick Moorhead, chief marketing officer for Label Insight. "Their attitudes and preferences, particularly with the growth of e-commerce, make it clear that transparency is critical to growth and our industry must take action."