Chef Peter Sherman, owner of BarBacon, New York City, opened his second location in the Union Square neighborhood on Sept. 12. The menu – same as the original location in lower Manhattan on 9th Avenue – makes bacon the star in everything from appetizers to desserts.
One of his originals is Kentucky Fried Bacon (KFB) Bites, which are bite-sized crispy pieces of battered thick-cut bacon served like chicken nuggets. The inch-long chunks are dusted in flour, dipped in egg and covered with panko crumbs. After deep frying, they are covered with Thai chili honey and served with house pickles.
"The inspiration was confit bacon," Sherman says. "This technique tenderizes the bacon, creating a desirable texture. There's endless flavor possibilities."
In addition to being an appetizer, KFB Bites are served in a pretzel bun with ginger sage pork sausage and pineapple jalapeno slaw. They can also be found covered with pickled vegetables, cilantro, basil, mint and spicy aioli in a Banh Mi sandwich.
Another BarBacon specialty is its flight of four flavored bacons, alone or paired with samplings of craft beers. Sherman works with purveyors across the country, tasting endless bacon samples to decide the varieties to feature at varying times a year.
"My objective is to elevate bacon into an artisanal product. It has to have a culinary purpose," he says. "It does not need to be pork, but it has to taste like bacon. The cure is important."
The bacon flight starts with a mildly flavored slice – such as pecan wood smoked – and ends with some kick. This typically includes a black pepper-encrusted variety as well as a jalapeno-infused bacon.
Other featured bacons may include Applewood smoked, maple glazed and corn cob smoked. The latter, as the name suggests, is bacon smoked over a bed of corn cobs. This renders a stronger smokiness than most hardwoods, with a touch of sweet corn aroma.
Other appetizers include Brussel sprouts with Vietnamese glaze, bacon, Greek yogurt and shallots and a bacon chorizo con queso served with house-fried chicharrones for dipping. Bacon is on the nachos and in the mac and cheese. It's also used to make house-made sausages, such as chicken habanero, chorizo and mustard sausage.
The grilled cheese sandwiches bacon, fontina and gruyere between two slices of toasted semolina fennel golden raisin bread. Bacon is also on the burger, hot dog and chicken club.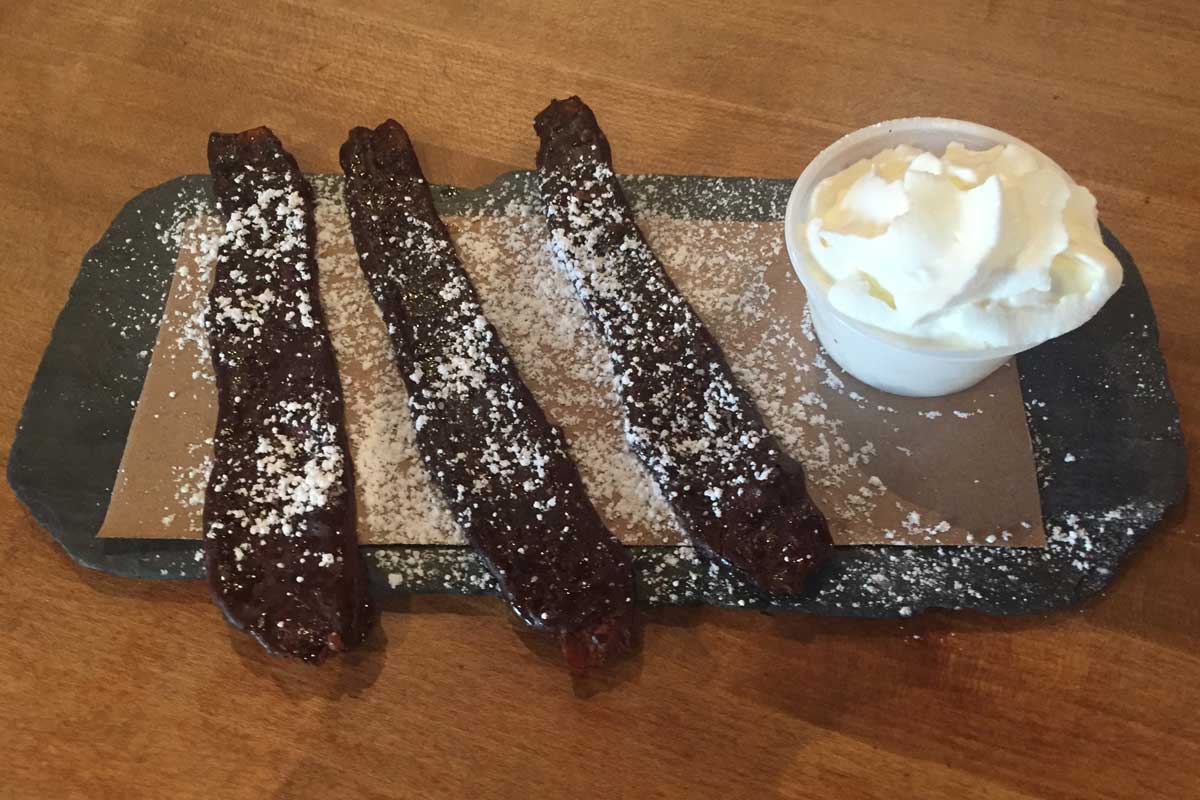 For dessert there's chocolate-coated bacon dusted with pink peppercorn and a side of house-made bacon-infused whipped cream. The latter is a special blend of liquid bacon fat aerated with whipping cream.
The BarBacon ice cream sundae is bacon chocolate chip ice cream topped with bourbon dulce de leche, bacon-glazed pecans, brandied cherries and extra crispy bacon crumbles. Bacon whipped cream tops it off, along with a bacon chocolate chip cookie.