Tony Incontro's titles of "Salumist" and "Butcher" are badges of honor he wears with pride. They reflect a spark of interest that dates to when he was a child, helping his father, brother, uncle and grandfather ("Nanu" in Sicilian) as they carried on a family tradition of keeping their Italian heritage alive, making sausage and peppers each Christmas Eve.
The multi-generational, pre-holiday gathering typically took place in the garage where the Incontro men would create their signature salumi, paying homage to the Incontro's roots, which are in Carlentini Sicily and Reggio Calabria, Italy. The Incontro's annual ritual of creating salame Calabrese and Siciliano and the sights, sounds and especially the aromas of creating fresh Sicilian sausage ("Sasizza") are what ignited Tony Incontro's culinary journey and a passion for pork that has consumed most of his 35-year life.
He fondly remembers cooking with his father and grandfather at about the age of eight, in the family's garage, where they would break down and grind regular store-bought pork shoulders and season them with freshly grown spices and Nanu's huge bag of Calabrian chiles. It was then that he knew what his passion was, and the sensory experience with his family is something he relishes to this day.
"Smelling those [peppers] crushed fennel seeds, the pork and the salt, all mixing together through the grinder is embedded in my soul," he said. "It's what inspired me and catapulted me to take on food as a profession. I can honestly just see it in my head and smell it still."
Tony is the great-grandson of Joseph Incontro, one of very few world-class chefs to be honored in the 1980s as a member of the Honorable Order of the Golden Toque, the highest acclaimed recognition a chef can receive in America. He was also integral to bringing genuine Italian-style sausage to the Midwest. His passion to make culinary arts his life's work skipped Tony's grandfather and father but was reignited in Tony's spirit and burns brightly today.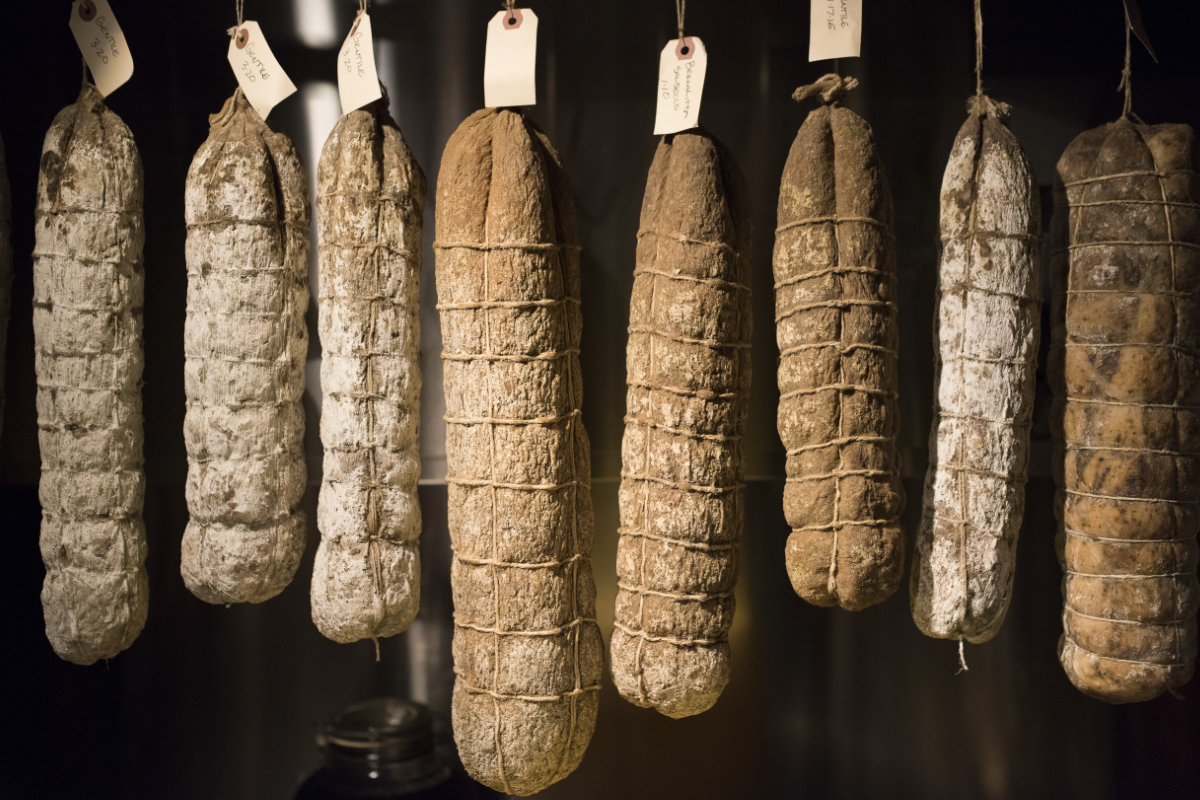 Source: Marc Fiorito of Gammanine Photography 
On a mission
Following his dream, after graduating from high school in 2005, Incontro went straight into culinary school at Metropolitan Community College in Omaha, Neb., and completed a three-year apprenticeship, working under one of Omaha's best-known French chefs in the area, Lionel Have. Incontro credits Have with challenging him to be the best young cook he could be using an old-school approach and three years of hard knocks working with him at the Omaha Country Club.
"It was hard as hell," he said. "In my cooking career, that guy gave me my legs for the kitchen and prepared me for what real kitchen work means. If I was going to sink or swim it was going to be through him; and somehow, I made it through."
By 2008, Incontro was ready to embed himself in the food and wine world of Northern California, moving to Napa Valley that year and joining a Michelin Star restaurant in the Napa area, The Martini House, owned by Chef Todd Humphries. It was there that Incontro not only learned from other respected chefs, but he was also able to flex his butchery muscle and demonstrate his knowledge and love for creating Italian dry-cured meats. He was integral in helping the restaurant develop a complete charcuterie program. He recalls his three-year tenure there as rewarding and his accomplishments there are a source of pride.
"If it wasn't great, if it was mediocre, it didn't get onto the menu," he said.
He introduced his family's Italian-style Calabrian chili salami, salami Calabrese and Mortadella and had an opportunity to create new salami and sausage recipes using trim from the restaurant's wild and rare game meats, like squab or duck breast. Whole animal butchery wasn't as widely utilized then as it is today, and in that regard, Incontro was introd innovations.
"We were breaking down animal parts and creating a charcuterie program that wasn't really there before," he said. "There were other chefs that were interested in working on it and had helped start the program and path, but I think in my time there I just helped take it to a different level. And they really realized what my true passion and calling was."
Incontro went on to work in other world-class restaurants from Napa Valley to San Francisco, including Perbacco, Barbacco and Del Dotto Vineyards, refining his Salumi craftsmanship more at each stop. He worked under Swedish chef (Staffan Terje) who taught him how to take whole-animal butchery to the next level and fueled his obsession with culinary and salumi regionality.
Some pig
However, it was during his time at Perbacco, starting in 2011, working with Chef Staffan Terje, in San Francisco, that Incontro would discover the love of his culinary life: the Mangalitsa breed of pigs.
"It was this white, curly haired pig," he said, "and it created a buzz as it was coming through the door." The breed was coveted due to its origins in Spain before it was more widely bred and claimed in Hungary, which is believed to be closely related to Iberico, but is ultimately a unique combination of the old Austro-Hungarian empire's heirloom breeds. It became nearly extinct in the 1990s before efforts were made to resurrect the breed by Juan Vicente Olmos, a Spanish businessman who discovered the excessively fatty, Hungarian pig with some Iberian pig similarities (including its tell-tale black foot). Olmos contacted Péter Tóth, an agricultural engineer, to identify the best genetics for the noble breed and to expand herd numbers. Over the ensuing decades the breed proliferated in Hungary and the genetics were used to produce the pigs in other countries. They arrived in the United States in 2007.
After seeing and working with the pork to create salumi that came from what was known as "the other black-hooved pig," because it came from Hungary instead of Spain, Incontro became an instant believer. It was the very reason he coined the term, "Avant – Lard'e" as part of his brand slogan.
"Honestly, I haven't touched another pig breed since then," when crafting salumi products, Incontro said.
His commitment and love of Mangalitsa pork then flourished during the seven years Incontro spent at Del Dotto Vineyards. He had worked on the front lines of a high-profile, high-volume San Francisco dining institution and realized as an up-and-coming chef in his early 20s, that he wasn't interested in working 16-plus hour shifts for his entire career.
"I knew what I needed to do," he said. "That led me to my next move, which was back up in Napa, at a super-exclusive, but food-driven winery, Del Dotto Vineyards, which was led by Executive Chef Joshua Schwartz."
After the chef there heard Incontro's vision and sensed his passion, he was sold. That vision was working in dual roles, helping lead operations in the kitchen while developing and implementing an old-school, Old World-style charcuterie and salumi program for the winery.
Bridging a gap
Incontro said he identified early on that there was a gaping void and a huge opportunity at most wineries in the region. The similarities between wine making and salumi were so comparable that it seemed like an obvious pairing to Incontro.
"There were no direct salumi-winery collaborations," he said, "and I'm proud to say I was the man behind pioneering that, which is crazy to say out loud. I'm just a kid from Omaha and I did something really cool in Napa Valley out of pure passion and got noticed for it."
His goal was to make the winery experience more like it is in Tuscany, or any rural European wine country region where salumi is at every table where there is a wine glass.
"I wanted to see that in Napa and I was determined to bring that to fruition."
During his seven-year stint at Del Dotto, that vision became reality, which reimagined the tasting room experience. At the end of each cave tour, guests had the opportunity to enjoy a grand salumi platter with a variety of choices that incorporated the featured wines into the charcuterie offerings, all of which were cured and aged in the back of the wine cave, similar to how those products are still produced in Italy or Spain to this day.
"Each of those individual items had a different Del Dotto wine in it to showcase it; whether it was a pinot noir salami with black peppercorn and garlic that we grew in the culinary garden to an amazing deep, silky cabernet I used in it, all the way to a cured Coppa or beef Bresaola that I soaked in a different red wine.
"I think that to this day, that is what sets me apart from other artisan salumi makers in this country, which is seeing the direct correlation between the production of my products and how closely it is related to craft wine making."
What also set Incontro's charcuterie apart was his introduction to Tim Winkler, this country's leading genetic breeder and farmer of Mangalitsa pigs, based in Sonoma County. During his seven-year tenure at Del Dotto, Incontro sourced his Mangalitsa pork from Winkler's farm, which was 46 miles up Highway 101 from the winery. Like Incontro, Winkler had a dream to introduce a variety of pork to the US market that stood apart and establish a supply that could meet what the future demand would likely be. After visiting his farm, Incontro knew Winkler shared his passion.
"He had the right vision that I was on board with, which was doing things naturally. These pigs were in the beautiful California oak forest; fenced in, but they were like feral hogs. They were somewhat wild; they weren't used to people really, except for Tim."
Incontro said he and Winkler working together were a force because Winkler was as obsessed and passionate about his work on the farm raising and refining pigs as he was when he was fermenting and curing salumi.
"We refined what Mangalitsa is in America and that's truth right there," said Incontro. "No one else was doing the work that we were doing. I got a first look into every new animal or genetic pairing that Tim came up with."
Since then, Winkler has become the lone authority and the leading source of purebred Mangalitsa genetics, with the DNA and paperwork from the original importations to back it up.
"He is a man of purity," Incontro said, which means he won't even crossbreed different colors of Mangalitsa pigs.
"There is no other charcuterie or product-focused individual in America on that breed like I am," Incontro said.
During his years working at Del Dotto, Incontro gained a reputation for his special ability to create world-class charcuterie among food critics and foodies around the region and even across the country.
"The demand for this was growing. People wanted it at their home after visiting the winery," Incontro said.
To facilitate the demand for the charcuterie, Incontro needed to be able to produce the products under federal inspection, which meant leaving the winery in 2017.
"That was really a hard move because I had a great thing going there, but this was the dream. I do have an entrepreneurial spirit and like to always stay evolving and innovating."
The plan was to strike out on his own and start a salumi brand (Incontro Cured) by opening a small, USDA-inspected meat shop, which he did at a Bay Area meat distribution company that had production space available.
"I helped create them a facility and product line, which ultimately allowed me to launch Incontro Cured out of the Bay Area."
That arrangement worked for about two years until 2019, when Incontro, his wife and young child, Sammy, made the decision to move back to Omaha to continue pursuing his dream in the Midwest. The now 32-year-old Incontro's dream was put on hold, however, due to the COVID-19 pandemic which put plans of opening another small meat plant and relaunching the brand on an indefinite hold.
Overlapping missions
As fate would have it, Incontro had a friend, Chef Ben Maides, who worked closely with the principals of Certified Piedmontese (CP), a Lincoln, Neb.-based subsidiary of Great Plains Beef, which had just finished building a beef complex, including a restaurant (Casa Bovina), butcher shop (The Mercato) and a processing plant. Incontro's path was in many ways similar to Certified Piedmontese's, which was the first and is still the only beef producer and processor to bring a specialty breed of cattle that originated in Italy, with impeccable quality and eating attributes, to the American market.
More than a decade in the making, Certified Piedmontese started up its operations on a sprawling 45-acre piece of land that also houses its headquarters, in 2020. One of the long-term strategies of Certified Piedmontese's was to one day add a value-added meats division to its plant operation. But in the meantime, they were looking to hire someone with Incontro's knowledge and experience.
After introductions were made, Incontro quickly realized the vision that the beef company had for its specialty breed and premium products was similar to his vision to bring premium dry-cured meats to the Midwest.
"What they have accomplished in the past 12 years with the brand, turning a rare heritage breed of cattle into a household name now is super impressive," Incontro said. "And I believe I'm in the same boat that they once were, but with my Mangalitsa.
"I'm trying to follow their footsteps of what they did with the Piedmontese breed of cattle and do that with the pork.
He was hired as part of the Certified Piedmontese team in 2020, with the goal of one day relaunching his Incontro Cured brand, which is becoming closer to a reality each day.
Initially though, he led operations in The Mercato, lending his butchery skills to teach the meat cutters there and giving the meat cases the presentation and eye appeal that the Piedmontese beef cuts deserved. He also worked alongside Chef Ben to open the high-end restaurant located just above the butcher shop and was able to demonstrate the skills he had learned over the past decade-plus working in California and Europe.
"I got in here and hit the ground running with my style of whole animal butchery and utilizing their beef in a way they probably weren't used to," Incontro said. "I was trying to get in a lot of whole primals or shoulders or hind quarters to break down in the butcher shop and, of course, make a nice meat display for steaks and whatnot, but definitely brought in my background of charcuterie and sausage making."
For example, Incontro led an initiative to introduce all-beef sausages at the butcher shop, as an alternative to relegating beef trim produced at The Mercato to lower-valued ground beef.
"So, there's table trim, there's meat, there's fat, which is easy for me."
Ground beef was not optimizing the table trim from the premium Certified Piedmontese steaks, in Incontro's mind.
"I was like, 'no way we're going to make this into various types of all-beef sausage with no pork mixed in. All beef,'" he said, which was something new for him and for The Mercato.
The in-house reception for the sausages was overwhelmingly positive so Incontro developed five varieties of the beef sausage that are part of the company's value-added product line. He applied his dry-curing and aging expertise to beef and created additional products, including beef salame and wine-soaked beef bresaola.
He said the work he initially did at The Mercato was like an R&D launching pad for the next step in fulfilling his mission to create and promote the CP value-added beef products and market Mangalitsa pork in the Midwest, on a large scale under his Incontro Cured brand.
New plant plans
It was his demonstrated expertise that ultimately led the principals at Certified Piedmontese to pull the trigger on expanding its operations and investing in the transformation of what was formerly the steak-cutting and mail-order fulfillment center to a value-added meat processing area, including a dry aging and curing room designed from the bottom up by Incontro.
The space spans 15,000 square feet and posed some challenges because of its long, narrow configuration. It includes a sausage production area, two Enviro-Pak smoker ovens, Reiser technology that includes tumbling equipment, a bowl chopper, grinders, a Vemag stuffer and ample space for aging and drying salumi and Incontro's Spanish jamón-style of Mangalitsa ham. The dry-aging rooms were designed to mimic the four seasons of the year, duplicating the Old World, traditional methods of dry-cured meat production, which started with slaughtering pigs in the winter, using nature as a refrigerator. The dry-aging equipment came from St. Louis-based Sanitary Design Industries.
"I've just mimicked the Mediterranean seasons through this modern technology. It's a solid mix of science and art with this craft and I love it," he said, adding that the inspiration for his product is from the world-class products produced in Spain. "That's the reason I make a jamón-style ham instead of prosciutto, which is Italian…and I am Italian. There's enough prosciutto on the market (that is) American made; there is no jamón made and I just happen to love the way jamón tastes and how the aging process is just more artful."
Incontro's meticulous planning for the new operation began in the winter of 2020, and the renovation is now in its final stages with production planned to start up in the fall. Because of the hands-on, artisanal and Italian style of products planned for the new facility, Incontro anticipates that even at full production, which will likely occur in about two years, he will oversee eight to 10 people in his operation.
Having the backing of CP and its proven farm-to-fork business model can't be overstated, Incontro said.
"CP is a vertically integrated beef company that farms and produces using true sustainability and control over every aspect and we want that to bleed into this value-add product and production that I'm creating. I think what we're creating here at CP is a one-of-a kind operation in America."
Meanwhile, Incontro is champing at the bit to resume production of his style of dry cured and aged meats and execute his role as director of the value-add program for beef and pork. He's admittedly giddy and has all the pieces in place, including partnering with the only purebred Mangalitsa pig producers in Nebraska. Pender, Neb.-based Eltee Mangalitsa's LLC, is owned and operated by Leon Svoboda and his wife, Tami. The couple has raised the specialty breed since 2014, using genetics from Tim Winkler.
Incidentally, Incontro also purchased Mangalitsa genetics from Winkler and has started pig production of his own. His sister, Grace and his father, Richard Jr., are integral in helping raise the pigs in the country, at Incontro Family Farms in Fort Calhoun, Neb.
He is currently working with the University of Nebraska to facilitate small-scale slaughter of the pigs, but as production and demand grows at the new plant, Incontro is planning to work with an Oakland, Neb.-based slaughtering facility, Oakland Meat Processing, to slaughter and provide him with the scalded, skin-on cuts he requires, which had proven to be a deal-breaking request among other processors.
"I haven't made my true style of charcuterie and my brand product since leaving the Bay Area," Incontro said. "I'm hurting; I'm very overly passionate about butchery and watching meat essentially rot under precise supervision, which is really what it comes down to. You're fermenting and watching meat age and decay, but it's beautiful when it turns out."