The growing skills gap has long been an Achilles' heel for the industry. Continuing economic expansion and the retirement of Baby Boomers over the next decade leaves a potential shortage of 2.4 million workers in the next decade, according to a Skills Gap and Future of Work Study from Deloitte.
"The skills gap we see today is the result of two generations of students who haven't been given sufficient opportunity to experience hands-on training to see if they enjoy it or have an aptitude for it," said Susan English, senior vice president of career services and industry partnerships at Lincoln Technical Institute, West Orange, NJ.
Realizing the ongoing impact of the shortage of quality educated and trained skilled technicians in the food and beverage processing and packaging and equipment manufacturing industry, Jarrod McCarroll, chief executive officer of Kansas City, Mo.-based Weber Inc., and Gil Williams, president of Mundelein, Ill.-based Poly-clip System, sought to create a solution to meet the need. The result became the Food Industry Technical (FIT) program, which is a collaborative effort between the Industry Training Division of Lincoln Technical Institute and the Food Processing Suppliers Association (FPSA). McCarroll is the immediate past chair and current chair of membership for FPSA and Williams is the FPSA chair of the FIT program.
Impetus and motivation
Some of the many challenges faced by technicians in the food industry include keeping complex production lines in operation 24/7. Each highly skilled technician must be knowledgeable about all facets of troubleshooting, electrical and mechanical systems, including ongoing preventative maintenance to ensure longevity and performance.
This includes working with equipment that is becoming more complex in the use of sensors, feedback loops, motors, advance control systems and both AC and DC circuits, creating an ongoing need for individuals with more knowledge of PLC training, variable frequency drives, variable speed drives and ladder logic, Williams said. Technicians must also be highly trained in Food and Drug Administration regulations to prevent product contamination that could lead to illness and potential legal action.
"By partnering with industry to identify the skills hiring managers need in their new hires, we ensure our programs are relevant to those needs and will lead to positive outcomes – new careers – for our graduates," English said. "The millions of open positions around the country call for unique, complex skill sets and those are the skills we help students build through our hands-on training program."
The more advanced the equipment becomes, the more electrically inclined the technician needs to be, McCarroll said. Mechanical, hydraulic and pneumatic skills are also important, but electrical leads the field, he said.
"Mechanical skills, the use of hand tools and the ability to troubleshoot will always be in great need as we find there are fewer persons who currently possess those skill sets," Williams said. "The FIT program addresses this need by working on actual equipment that's found in food processing facilities across the country."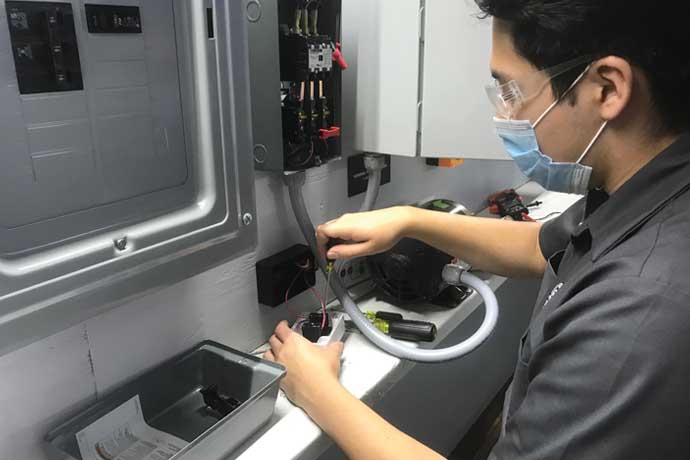 Solid history
Established in 1946, Lincoln Tech, an educational provider of skilled trade and automotive programs, has locations on multiple campuses in 14 states. Lincoln Tech offers a long history of training nontraditional students, including those changing careers, hands-on learners and veterans.
The educational entity is also known for the longevity of its classroom and lab training programs, consistency of educational programs nationally, quality and strength of technical expertise and its exceptionally well-qualified instructors and administrations at multiple campuses, Williams shared.
"The FIT program attracts candidates who want to work with their hands," he continued. "The individuals we recruit into the program are looking for career opportunities with a growing 'recession-proof industry' where they can employ the skill sets that they learned from the FIT program."
FPSA member contributions include providing in-house technician training sessions, trips to facilities (processing plants and equipment manufacturing plants), and equipment donations. In some cases, original equipment manufacturers and processors provide FIT students with in-person classroom visits designed to foster enthusiasm for job opportunities along with discussions on real-world needs that tie FIT education to the job. Lincoln Tech has even created custom content and curriculum specific to a partner's unique requirements and delivery methods, English said.
Continuous improvements
Since the testing of the first pilot program at Lincoln Tech, there have been numerous improvements and expansions to the FIT program. A continuous quality improvement model is employed after each class to evaluate, enact and ensure the program continues to meet the needs of its customers. This includes the flexibility for its Academic Specialists to adjust program specifications and curriculum based on shifting industry trends and technological advancements, according to English.
Although the FIT program requires 100% in-class training, during the pandemic core classes shifted to partially online environments when campuses were closed because of state and federal regulations. With reopening of the campuses, adjustments were made in terms of class size, use of face coverings, health screenings, social distancing and other COVID-19 protocols, ensuring students meet the objectives of the program.
"We understand that the workforce needs of today are complicated, and that companies are facing extraordinary losses of experienced talent. Our campuses refer graduates to a range of employers for career opportunities upon completion of their training and hiring managers know there's an open line of communication to our local teams when they have an opening for new talent," English said.
As a result of the FIT program, companies are able to better navigate shifting skill sets and the introduction of advanced technology, offering new market opportunities and a chance to increase production to meet demands – a win for processors, suppliers and technicians alike.
Joe Irby, a September 2020 graduate of the FIT program, was hired at the West Liberty Foods processing plant in Bolingbrook, Ill., one month after graduating. Irby was hired as a maintenance technician at West Liberty Foods and after three months working in that role, he was promoted to automation line technician at the plant. 
---
FIT requirements
Students accepted into the Food Industry Technical (FIT) program must show receipt of a 48-week foundation electrical certificate. The certificate demonstrates students possess the knowledge and skills to be successful in the 12-week graduate FIT program. Students also learn soft skills that meet the needs of employment.
For the soft skills training, students use Career Edge. The program includes skills of time management, personal budgeting, dispute resolution, cultural diversity, working in teams and effective communication. Personality testing is also included to help students understand their natural perspective as well as guidance and practical exercises to promote teamwork. Positions offered to graduating students include technical assembly, maintenance and/or service technicians with those in the program agreeing to relocation and extensive work-related travel.
As of late March, there have been 33 participants in the FIT program.