Shoppers continue to seek out product attributes when purchasing packaged deli meats in the United States and abroad. Free-from claims as well as natural, organic, non-GMO, certified humane, etc., have steadily increased and are projected to increase into the future. London-based international market research firm, Technavio, states in its "Global Cold Cuts Market 2019-2023" report, an expected growth of $90 billion from 2019 through 2023. The report also specifies increasing demand for healthy and natural cold cuts as a key trend in the growth of the market.
Attributes of success
The attributes and label claims start at the farm. For processors and brands to provide the products consumers gravitate to in the segment, farmers begin the process by the way they raise and care for their animals.
"Consumers have more concerns about where their food comes from and how the animals are cared for," said Dawn Burns, brand manager, Organic Valley, La Farge, Wis. "Attributes like no antibiotics, humanely raised, and clean ingredients are important when deciding what package to pull off the shelf. Organic growth is two times more than conventional deli meat in the food and natural channel in the last 52 weeks. At Organic Valley, our small family farms put love into their animals and tending to the land so our consumers can get the love out and feel good about providing their family quality meat products."
Russ Smoke, vice president of prepared foods at Niman Ranch (acquired by Salisbury, Md.-based Perdue Farms in 2015), added the importance of involvement at every step of the process it takes from animal to packaged meat.
"We work with like-minded co-packers and producers that understand the importance of high-value attributes and transparency," Smoke said. "All of our facilities are Certified Humane and American Humane and have regular audits. We have a state-of-the-art facility with new technology and equipment to enhance productivity and exceed consumer demands. We are currently upgrading our packaging for longer shelf life with more sustainable materials. We work with niche processors to maintain our high standards."
Brands with label claims that sell based on attributes work hard to maintain the necessary integrity throughout the entire supply chain. To maintain its certified humane claim, Niman Ranch incorporates a closed loop system. The company designed the entire business model based on the system. Examples include picking up small numbers of hogs at specific drop points and 1,000-lb minimum deliveries to customers.
"The harvesting and fabrication facility is integrated with Niman Ranch and recently had a $29 million expansion," Smoke said. "It is 100% solar powered. They are the premiere niche pork processor and maintain the highest level of animal care throughout the process. From the ranch to harvest, our animals have the lowest stress possible to maintain the finest tasting meat."
Niman Ranch plants schedule processing for certain days during the week according to product attributes.
"For instance, Certified Organic, Non-GMO would be on one day, No-Antibiotics-Ever and Certified Humane would be on another day and so forth," Smoke added.
Farm to market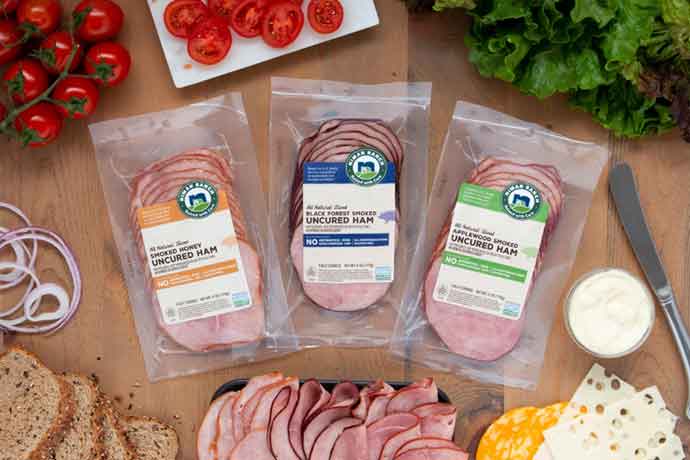 The key factors a brand uses to distinguish itself from others in the marketplace through packaging claims make the difference when consumers reach for product on the retail rack. Whether it's animal welfare, free from or organic, consumers want the information to make the choices that fit their needs.
"Our products are always organic, which means absolutely no antibiotics, synthetic hormones, toxic pesticides, GMOs, binders, fillers or carrageenan," Burns said. "Our deli slices have clean ingredients with only a few items in them; for example, the Organic Roasted Turkey Breast is made with only whole muscle meat and produced with only three ingredients, organic turkey breast, water, and sea salt. Shelf life is impacted since we do not use phosphates. It's not just about the meat itself but how it is cut or sliced. There is also a growing trend for thin and deli-shaved prepackaged cuts within the last year or so."
Niman Ranch represents the largest rancher and farmer network in the western hemisphere to possess 100% third-party certification from the Certified Humane program for all its members.
"Our network of more than 750 small, independent US family farmers and ranchers adhere to some of the strictest animal welfare protocols in the industry," Smoke said. "We are able to tell the true farmer and rancher story that supports rural communities economically and families for generations to come."
Organic Valley's family farms partners adhere to strict procedures and processes to ensure Organic Valley deli meats meet the necessary parameters for the brand's claims.
"Our organic deli meats come from our cooperative's family farms where animals are raised without GMO feed, antibiotics or artificial hormones," Burns said. "Animals on our farms are humanely raised with fresh air, access to outdoors, plenty of space, and shelter from the elements. We never use binders, fillers or carrageenan in our deli slices, just organic goodness and the right spices. Organic Valley Deli Slices are now in a convenient peelable package that is BPA free."
Niman Ranch attributes are called out on packaging and customers visit farms and ranches regularly to see first-hand how farmers and animal and land welfare come together to create the desired products.
"We call out our attributes on our packaging to recognize our strict protocols, third-party certifications and the hard work and craft of our farmers and ranchers," Smoke said.
Navigating the unknown
Foodservice, restaurant and dining room closings due to the coronavirus (COVID-19) outbreak have caused at-home dining, and consequently retail food sales, to spike dramatically. Those consumers looking to purchase foods at the health and wellness end of the spectrum for at home will gravitate to the brands touting attributes.
"COVID offered a window into the food system that consumers rarely saw," Smoke said. "Our model built trust and loyalty with our customers and a new generation of shoppers. Niman Ranch products are on point for consumers who care about where their food comes from and our brand continues to grow in popularity. We also saw a surge in customers ordering through our partners who sell direct to consumer.
"And unlike brands that buy parts and pieces from varying sources, we are a whole animal program. Our ability to meet and exceed consumer demand is a delicate balance, but a resilient model that proved especially strong during this difficult time. Our strategy is complex and relies on our loyal customers and network of independent US family farmers and ranchers."
Burns agreed the COVID-19 pandemic presented a scenario without precedent that affected both retail and foodservice in new and challenging ways but remains confident in Organic Valley's specialty offerings.
"Deli slices continue to provide stability and safety for consumers during COVID-19," Burns said. "They are also the hero of the lunchbox. If and when students return to school and employees return to work, we anticipate sales growth."
While the long-term future of any segment remains unclear in the midst of the pandemic, sales of claim-based meats continue to grow, and sandwiches have always been a staple.
"Premium sandwiches continue to grow in popularity within restaurants and I anticipate that trend to translate into at-home trends," Burns said. "Indulgent sandwiches are making inroads and to stay current within the segment, we are going to have to focus on premium flavor innovation as well as cuts."
Burns also noted a possible packaging evolution in the years to come related to function; resealable, easy to open, shingled, etc., and environmentalism. "Consumers are passionate about plastic and prefer not to use it," she said.
Smoke cited Niman Ranch's deli-sliced beef at 150% growth in the last 10 years, and fans of the company's hams have requested a deli version for some time. Niman put the deli ham out about six months ago.
"We've finally been able to grow our farmer network enough to meet the demand," Smoke said.