Some call it hot. Others prefer to say spicy. They are referring to "kick," that painful, yet pleasurable sensation of the mouth on fire. It's a sensory experience today's consumers enjoy that's intensifying with no signs of abating.
Kick typically comes from capsaicin, the odorless, tasteless, crystalline chemical compound found in chili peppers. Kick is what's driving flavor innovation in meat and poultry, namely sausages, patties and breaded chicken. It's keeping these products relevant to adventurous meat consumers who have more choices than ever before.
"Consumers are on a big, broad journey of discovery, moving out of their comfort zones to explore new food experiences, with flavor – in particular flavors that provide kick – playing a major part," says Lu Ann Williams, director of innovation, Innova Market Insights, The Netherlands. "Brands are leaning towards more remarkable and unusual flavor hybrids, as well as stronger taste experiences."
This is supported by two out of three Americans, according to an Innova Market Insights survey, who agreed they love to discover new flavors. Even among more traditional consumers who don't feel this way, there is still a role for reinventing classic flavors with novel twists, alongside developing new and more unusual flavors and combinations.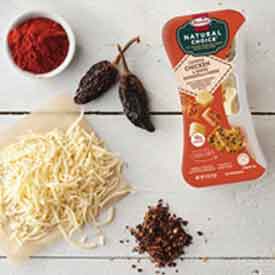 "Today's consumers regard themselves as world citizens and are increasingly interested in diverse flavors inspired by foreign cuisines, in particular, Southeast Asian, East Asian, Mediterranean and Middle Eastern," Williams says. "Chili peppers are often a part of authentic recipes."
Authenticity includes specificity. In many instances it's no longer enough to refer to a food as spicy or hot. Consumers want to better understand the origin of the kick, including the chili's flavor profile. Marketers are starting to call out the chili pepper's name in prepared meat and poultry, often describing its level of heat and flavor.
"Adventurous consumers worldwide are embracing chilis and spices," says Soumya Nair, director of marketing insights, Kerry North America, Beloit, Wisconsin. "They are searching for more intense heat experiences, regional authenticity and experimentation."
Hormel Foods Corp., Austin, Minnesota, is adding a little kick to its Hormel Natural Choice snack packs with a chipotle chicken option. The chipotle is a smoked and dried jalapeño that has a little bit of heat and a woody, smoky flavor with a hint of cocoa.
Chipotles and jalapeños range from 2,500 to 10,000 Scoville Heat Units (SHU), a measure of the concentration of capsaicin that is determined by high-performance liquid chromatography. Pure capsaicin tops out the Scoville scale at 16,000,000 SHU.
To compare, bell peppers lack capsaicin and therefore score zero on the Scoville scale. A mild-heat pepper is the ancho, also known as poblano. It is 1,000 to 2,000 SHU. For many, anchos, chipotles and jalapeños are the point of entry into hot and spicy cuisine.
International flavors
The "Food and Flavor Trends 2020 and Beyond" survey conducted by Les Dames d'Escoffier International, Louisville, Kentucky, provides insight from food professionals as to the types of international items that will be gaining traction on menus. One such concept is Puebla Hot Pot, which has Latin American origins. This is a bowl meal consisting of chicken or pork in a chicken stock sauce seasoned with ancho chilis, smoked paprika and spices. The ancho chilis contribute a rich, dark cherry flavor with raisin sweetness and smoky tobacco and chocolate undertones. This combined with the smoked paprika, gives the stew-like dish a sweet meets heat barbecue flavor.
Another trending concept is Tanzanian Mishkaki. This is the boldly spiced East African version of beef shish kabob. The meat marinade includes the bright flavors of lemon and papaya blended with tomato and onion, along with zing from garlic, red bell pepper, black pepper and ginger. This dish does not have kick from capsaicin, as bell peppers do not contain this compound. Nor does black pepper; however, ground dried peppercorns have a unique spiciness from the chemical compound piperine, which has a pungent taste profile.
Jianbing is a popular street-food in China that can now be found in many food courts and the growing number of food halls in cities like Chicago and New York. Considered an on-the-go breakfast food, much like a doughnut or bagel, jianbing is a filled crepe brushed with umami-rich hoisin and chili sauce. The sauce is very personal, with culinary professionals having their own signature pepper combination.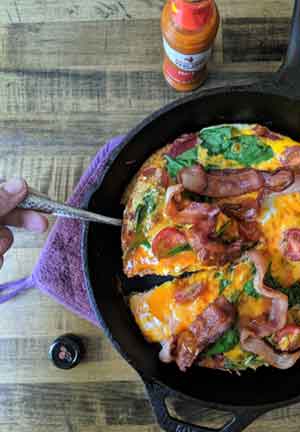 Many prefer to use milder peppers, in order for the consumer to appreciate the complex layer of flavors that the peppers bring to the food. This includes guajillos, which are dried mirasol chilis. They are only about 2,500 to 5,000 SHU and boast a moderately spicy, tangy flavor with a touch of citrus. Pasillas are even milder, at 1,000 to 2,500 SHU. They have a unique, complex flavor that starts out like prune and finishes with a hint of licorice.
While many chili peppers possess flavor, that flavor cannot always be tasted when the heat level is high. Some peppers are simply all about the capsaicin. The Carolina Reaper, for example, is known as the hottest chili pepper in the world and can be as hot as 2,200,000 SHU. The Bhut Jolokia pepper – ghost pepper – measures in at about 800,000 to 1,000,000 SHU.
Not as hot, but hot enough that no flavor can be detected by the human tongue is the piri piri pepper, also known as African bird's eye chili. With its origin in Portugal, the word piri translates to hot. The pepper measures at about 175,000 SHU.
Datassential MenuTrends 2019 suggests that piri piri sauce, which is made from the namesake pepper, is trending as an ingredient to deliver kick to all types of foods, in particular chicken. The condiment features pureed pepper combined with citrus peel, onion, pepper, salt, lemon juice, bay leaves, paprika, pimiento, basil, oregano and tarragon.
Piri piri is a complex sauce that has become quite common in South African cuisine where it delivers sweet, sour and salty notes along with heat. Awareness is still low among consumers, but its appearance on menus has grown 41 percent over the past four years. Neilsen data shows that its presence has grown 120 percent in retail over the past two years.
Gochujang is another sauce gaining traction in meat and poultry. It is a combination of chili peppers and fermented soybeans and starts out sweet to the palate. Depending on the peppers, the degree of lingering heat varies, but should always be there. This Korean condiment is catching on in foodservice and retail.
Meat, poultry applications
Such hot sauces make sense for meat and poultry, according to Nancy Kruse, president, The Kruse Co., Atlanta, as consumers are often more willing to taste unfamiliar ingredients when they are delivered by a familiar food, such as a burger or even fried chicken.
This is something that packaged meat and poultry processors can do with creative use of sauces, seasonings and marinades. Teaming up with brands known for delivering kick to foods is an easy point of entry into the hot and spicy space.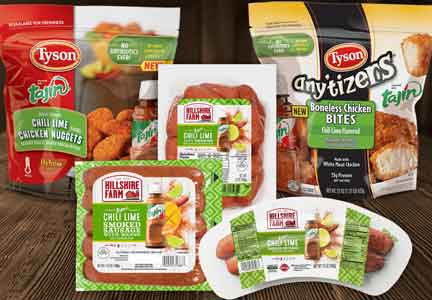 Tajín, one of Mexico's most recognized seasoning brands, for example, is now appearing in a number of packaged meat and poultry products. Tajín's authentic flavor is a unique blend of mild chili peppers, dehydrated lime juice and sea salt. It is primarily used to enhance the flavor of desserts, vegetables, fresh fruit and now, protein.
The Tyson and Hillshire Farm brands from Tyson Foods Inc., Springdale, Arkansas, are making it easy to explore the kick of Tajín by infusing the seasoning directly into several breaded chicken and smoked sausage products.
"Tajín brings a unique, flavorful chili-lime 'zing' that pairs perfectly with these products," says Chef Michelle Duran, who helped inspire the Tajín-flavored products. "Now consumers will have even more opportunities to spice up meals with our new flavorful sausage and chicken offerings."
Phoenix-based Bar-S Foods' FUD (Fine, Unique and Delicious) brand, a subsidiary of Sigma Alimentos, now offers smoked sausage featuring the spicy flavor of Tapatío Hot Sauce.
"We know consumers crave to personalize their food and, even more, to experiment with spice," says J.J. Tellez, marketing director at Sigma. "Our collaboration will expand into products that will delight consumers with new flavor alternatives that will create more tasty moments to enjoy FUD and Tapatío together."
The Great American Turkey Co., New York, relies on a variety of hot and spicy seasonings to make its new line of craft turkey-based products relevant to today's adventurous consumers. Offerings include ready-to-cook Smoky & Sweet Chili Turkey Breast Strips featuring chipotle and ancho chilis. The product is described as having "just enough heat to keep your taste buds interested." There's also a Southeast Asian spicy masala variety made with a blend of peppers and spices mixed with "snappy ginger and a light touch of mint for a flavor that excites and delights." The smoky sweet chili flavor is also used in sausages and cutlets.
"I believe turkey is America's next big protein," says Kirk Posmantur, founder and chairman. "We see this as a massive opportunity in the marketplace. Easy, fresh, delicious, healthy protein options are in demand, and turkey has yet to become a go-to, yearlong choice for consumers." Maybe adding a little kick will change that for the better.