Fried chicken is in the air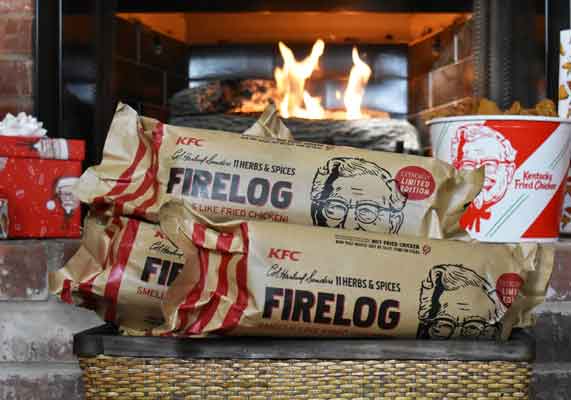 Fried chicken fans who don't have any more room in their stomachs for a fried chicken meal after the holidays can still enjoy the scent of fried chicken, all winter long. Kentucky Fried Chicken and Enviro-Log created a limited-edition 11 Herbs & Spices Fire log to provide a hearth-warming and hunger-inducing experience.
"At KFC, we have always been proud of our role in bringing loved ones together at the dinner table around a bucket of our world-famous fried chicken," said Andrea Zahumensky, KFC US CMO. "Now, this winter we're bringing all the things we love – family, friends and fried chicken – together around the fire with our scented fire log."
The company sold out of the $18.99 fire logs soon after the online sale began.
---
Give the dog a bone
There's nothing worse than having to deal with a begging dog while trying to enjoy a meal. But now, dog owners can feast on a Burger King Whopper sandwich, while treating their dog at the same time. In late November, the fast-food chain launched the Dogpper, the first flame-grilled bone for Fido.
The dog-friendly alternative to the Whopper sandwich is a bone-shaped treat made with a flame-grilled taste that was available free to patrons using the DoorDash delivery service from Nov. 28 through Dec. 4.