The small family-owned-and-operated shop in the "Little Bavaria" tourist community of Frankenmuth, Michigan, traces its heritage back to 1905 when the Rupprecht family opened a butcher shop and sausage house. The present location was built in 1934, but it was not until 1978 that a master sausage maker named Willi Becker, from Kassel, Germany, who operated Willi's Meat Market in nearby Vassar, bought the Frankenmuth shop and later changed the name to Willi's Sausage Co.
Upon his retirement, the quaint sausage house was taken over for 10 years by another owner. In 2015, the new ownership went to Keith and Jackie Gere. The Geres are in the process of bringing the sausage production back in-house. For now, it remains an item-by-item process until Keith leaves his full-time job as a director of engineering services for a nearby roofing supply manufacturer next June and can be at Willi's full time. He currently makes all the fresh sausage, jerky, snack sticks, summer sausage and much of the pre-cooked sausages.
While in high school and college, Keith was a meat cutter at a grocery store and learned how to process different cuts of meat.
"At this job he gained his love and passion for the meat business," Jackie explains. "He started smoking meat in the family barn and perfected his techniques through trial and error. He was encouraged by family and friends to open a commercial butcher shop."
Keith holds true to the original recipes that he acquired when he bought Willi's, but keeps adding new sausage creations on a regular basis. With his logo touting "Our Wurst is the Best," he has expanded his selections to include sausages and bratwursts beyond anyone's dream.
Recipe under wraps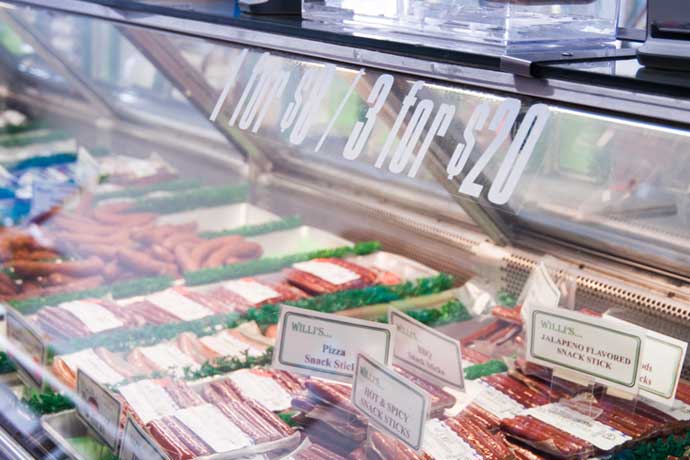 All of the sausage recipes besides the jerky, snack sticks and fresh bratwurst are made with Willi's original "secret" techniques. These utilize spice blends that Keith makes using Willi's formulas and the jerky and snack sticks are produced with packaged cures using some modifications.
Following Willi's recipes, Cajun, Italian, Ukrainian, Slovenian, Polish, Hungarian and other ethnic sausages fill the display cases alongside such standouts as German products like Franconian and Nuremberg-style brats, kielbasa, landjager, mettwurst, knockwurst, bockwurst, weisswurst and even Octoberfest specialty sausages.
He blends those recipes into smoked and double-smoked varieties and into formats ranging from snack sticks to summer sausage. Working with Willi's recipes, Keith offers popular Michigan flavors like smoked mushroom and swiss, and even chicken feta spinach.
Willi's Sausage Co. reaches beyond the traditional beef and pork ingredients to include elk, venison and buffalo bases, along with turkey and chicken under Willi's guidance. The company operates with eight employees including Keith and Jackie. Willi returns from his home in Arizona to pitch in with some sausage making during local festivals and the two Gere daughters help out at busy times.
Not only are there a wide variety of specialty meats to choose from, but Willi's also features loaded baked potato brats, made of potatoes, onions, chives, cheddar and bacon. And its famous Swedish potato brat is another specialty that will tingle your taste buds.
Having so many varieties led the Geres to create mixed sample packs of several different flavored sausages, enabling customers to try several versions in one purchase (another idea handed down from Willi Becker).
Even in the exotic meats department, they feature "Mix & Match" specials that allow shoppers to choose from elk, buffalo and venison varieties of snack sticks, jerky or summer sausage, priced at $10 a package or any three for $25.
Marketing & promotion
In addition to sample packs and "Mix & Match" promotions, the Geres came up with an idea to get customers involved with the sausage making process. They sponsor a "suggest a product" competition in which customers come up with a possible recipe idea. Customers then vote for their favorite on Facebook. Keith then comes up with a recipe based on the idea suggested and makes it for the store. The person who came up with the winning idea receives a $50 gift certificate. Some of the winning suggestions include a cherry whiskey bratwurst, a Philly cheese steak sausage and a Reuben brat.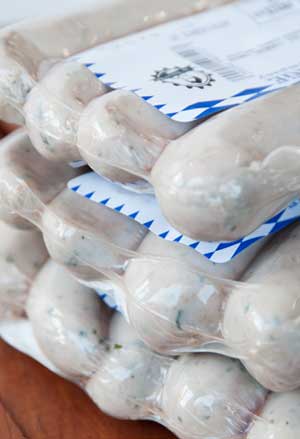 Willi's Sausage Co. uses its expansive parking area to set up a brat sandwich grill where customers can order a bratwurst or a meal with a drink ...along with "the best seat in the house" for weekend or holiday fireworks. They also hosted a band during one of the area festivals and this year added a photo booth to their popular location.
In addition, they sell bratwurst sandwiches daily that are made in the store and sold to-go.
Jackie explains that there is limited self-service in the 1,200-sq.-ft. retail area. Self-service is not available for meat items or chocolate.
"Customers have to talk to us and we engage them about where they are from, what they might like and even how to cook and serve our meat items," she adds. "We want their experience with us to be memorable and exciting. We know they will have fun with our sales staff."
Customers visiting the willissausages.com website can purchase Willi's Sausage Co. t-shirts. Customers donning the shop's shirts from California to the cliffs overlooking the sea in Ireland enjoy posting photos on the company's Facebook page.
The Gere family partners with local artisan wine makers to sponsor free indoor wine-tastings and for souvenir hunters, stocks plenty of German imports, exotic chocolates and their own homemade sauerkraut featuring onions, brown sugar and apples. They also offer bottles of their own brat sauce for sale.
Frankenmuth is nestled in hunting country and the Geres provide venison processing for sportsmen that goes beyond a hunk-and-chunk service. They make game meat jerky in styles from hickory, Cajun, cracked pepper, teriyaki and bourbon, to four types of brats, including a buffalo wing blue cheese version. They also feature four flavors of summer sausage and snack sticks for the hunting crowd.
Sausages remain the shop's best-selling products. They are allowed limited wholesale accounts and work with a local brewery and nearby restaurants who help sell their sausages. They are hoping to expand wholesale sales in the future and are thinking about someday going under full inspection in order to do more.
Keith's daytime job with the local roofing supply manufacturing company affords him several employees who are more than happy to taste test new product ideas he conjures up, providing him with their opinions, likes and dislikes, firsthand.
Jackie says Keith's evenings of making sausage and other meats are "his relaxation and his passion."