In the meat-processing industry, there are only a few family-owned companies that successfully transition through multiple generations of ownership. Even fewer not only survive but thrive throughout the torch-passing evolution. Milwaukee-based Fred Usinger's Inc. is one of those rare exceptions. Founded by a German sausage maker more than 130 years ago, Usinger's has become a downtown fixture in Milwaukee, backing up to the Milwaukee River and facing Old World 3rd St. where the facility is a six-story legacy to the business Fred Usinger started about 138 years ago. Fred, who immigrated to the US from Germany after learning the art of sausage making, settled in the Milwaukee area in the 1870s when he was about 18.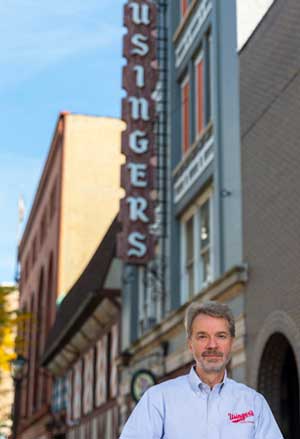 "He learned the craft like a chef trains today, by working under a number of people, collecting and developing recipes along the way," says Fritz Usinger, fourth-generation owner of his great-grandfather's company.
Fred's first job in the city was working as a sausage maker for a meat company owned by another family. It was about 1880 when he bought out that family's business and put his family's name on the window. The business included a butcher shop, which his great-grandmother ran, and a processing plant, where Fred worked tirelessly to build a reputation for creating the best-tasting sausage in Milwaukee. Fritz points out that many of his great- grandfather's formulations have withstood the test of time.
"He had his portfolio of favorite recipes when he came over here and that's what we base our heritage products on."
The site of that store and the plant is within a few hundred yards of what would be the longtime home of the company's manufacturing facility and headquarters.
"It's hallowed ground," says Fritz from his office on the second floor of what was formerly a bustling, commercial processing plant and retail butcher shop where his great- grandfather, grandfather and father established the Usinger name as one of Milwaukee's most iconic sausage brands. The retail store continues operating there today as does the adjacently located headquarters. However, the company's processing operations have shifted away from 3rd Street. Through the years, as the company grew and evolved, so did demand for more diverse products. Usinger's willingness to process small batches of specialty products and expand its product offerings filled a niche many other companies couldn't or wouldn't. Today, the company manufactures about 125 different items under the Usinger brand in addition to a growing amount of private label production including... "A lot of ethnic products and some real Old-World stuff," Fritz says of the company's specialties, "along with higher-volume products like summer sausage," which is Usinger's signature item and top seller.
Early in his tenure, Fritz recalls Usinger's was at a crossroads, as production demands were outpacing the capacity at the aging plant and expansion could no longer be ignored.
"Back in '83 we built a new sausage kitchen," adjacent to the original plant, says Usinger of what is today referred to as "The 83 Kitchen."
The plan at that time was to build out Usinger's processing facilities to the street corner and transition out of the original, multi-level plant, mostly because economic development in other parts of downtown was somewhat stagnant. But Usinger's leaders agreed to tap the brakes on plans to continue with the next phase of construction as city officials began to invest in revitalizing the downtown area and other properties that were better suited for food production became available in the area.
"The decision was made that this wasn't the best use of that land," Fritz says of the property adjacent to the original plant which it owned all the way to the end of the block.
The Usingers soon learned of some land the city was acquiring within a couple of miles of the headquarters that was previously used as a railroad switching yard. The city's master plan was to convert the site to an industrial park, but they didn't have any confirmed tenants at the time.
"We jumped at the chance and said we were interested," Fritz says, adding that the property was better than starting with a greenfield project because this land was already equipped with the infrastructure from the previous business.
After agreeing to purchase the plot about 1.5 miles south of the original facility in the early 1990s, the family owners envisioned building and moving operations incrementally to the new site while maintaining the historical building on the Milwaukee Riverwalk.
"We're not the kind of guys who can go out and just build a new plant from scratch," Fritz says.
The first phase of the "Florida Street" project in Milwaukee's Florida Yards business park, included the construction of a 22,000-sq.-ft. distribution center, which was built in 1993, followed by the processing plant about 10 years later. The processing portion spans about 50,000 sq. ft. and includes raw processing, thermal processing and ready-to-eat packaging operations.
Strategic fit
"In hindsight, it was really the right move," says Fritz of the company's investment in the new plant. It allowed Usinger's to maximize its ability to focus on specialty processing and increase its capacity, which had become challenging at the aging plant. The company now employs about 160 workers.
"We were able to streamline our processes," Fritz says, which is critical "when you make as many products as we do. We're small-batch, multiple changeover; like a big job shop."
"We're not like the real high-volume manufacturers that have dedicated lines that run the same product for two shifts without any changeovers. We're constantly changing over. That's how we're built," Fritz says. He says the company's longevity is directly attributable to its ability to be nimble more than 130 years after its founding.
"We know where our niche is," he says.
About one-third of Usinger's business comes from co-packing products with special claims, ranging from certified organic to certified humane raised to grass-fed beef.
During his tenure at Usinger's, Fritz has seen sweeping changes in the industry's supply-chain dynamics. Thanks to widespread consolidation among packers, the practice of sourcing local products became challenging as many slaughtering operations shut down. "It requires a little more forward planning than it used to," he says, because product now is often shipped from several states away.
"We have all the programs in place to be able to back the label claims," Fritz says.
Usinger's partners with Midwest-based raw material suppliers that specialize in premium products that support the product claims the company stakes its reputation on and has come to be relied on by its growing number of co-packing partners.
Long before production claims were commonplace, Usinger's calling card was and continues to be, its use of fresh ingredients and the Old-World technique of smoking its sausage products over an open, wood-burning fire.
"On our heritage products we haven't changed the formula from how my great-grandfather made them," Fritz says. Utilizing open fire pits has also been a signature processing technique for Usinger's to achieve its "campfire flavor." It was the centerpiece of the company's original facility and a priority in the design of the new plant.
"We didn't want to change the smoked flavor when we built the new plant, so we replicated the brick smokehouses we'd used for 100-plus years," Fritz says.
Gen-4 influence
Growing up, Fritz spent summers working at the plant where his father and grandfather worked. He spent most of his time helping in production and eventually worked alongside the plant manager, who was a German-trained sausage maker.
"I was his assistant for a number of years and learned the craft of sausage making," Fritz says.
Fritz went on to study what was then known as Meat and Animal Science at the Univ. of Wisconsin before going to work at the family company full time. During college, Fritz worked at Fort Atkinson, Wisconsin-based Jones Dairy Farm as an intern, an experience that he says was valuable.
"I had the luxury of being moved around in all different areas," he says, from the kill floor to the sausage department.
After graduation, Fritz began his career at Usinger's, in 1980. Working his way up the ladder to the leadership role at Usinger's taught Fritz the value of appreciating what had worked in the family business for so many years while learning the reasons behind how and why things were done the way they were. In his mid-30s, he took over for his dad as president.
During his tenure at Usinger's, Fritz has seen sweeping changes in the industry's supply-chain dynamics. Thanks to widespread consolidation among packers, the practice of sourcing local products became challenging as many slaughtering operations shut down. "It requires a little more forward planning than it used to," he says, because product now is often shipped from several states away.
With two daughters who have both graduated from college and work outside the family business, Fritz has hardly ruled out the possibility of one or both joining the company someday. One works as an extension specialist at Iowa State Univ. and the other as a social media guru, so both have skills that could benefit Usinger's.
For now, though, Fritz is the only family member in the current generation working at Usinger's. He points out however, that wasn't always the case. Fritz's older sister, Debra, worked at the headquarters as director of retail operations and corporate services before losing a courageous battle with cancer about five years ago.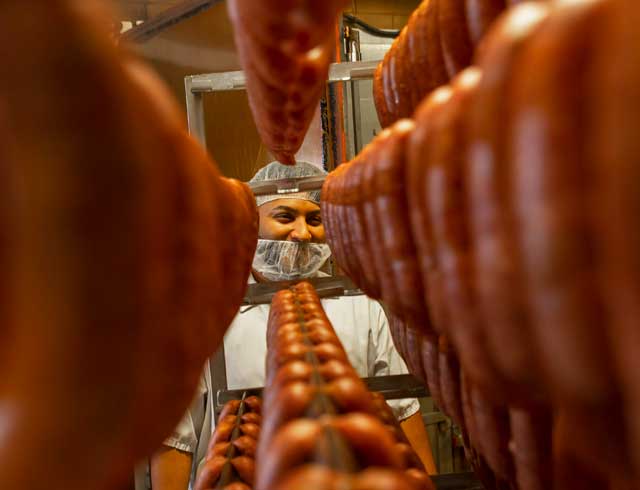 New digs
While developing the wish list for the new plant, one of the main goals was to facilitate efficiency.
"We needed a place that we could have a more spread out, single-level manufacturing facility," he says. "To have a clean sheet of paper and be able to design it how you want it was like nirvana," Fritz says.
Today, operations include one full shift and a partial shift and usually operations are five days per week, but occasionally six days depending on seasonal demand.
Separate employee lunch rooms are in each of the three newer buildings and two more are in the old facility. Fritz points out that food is provided free of charge to workers at each of the lunch rooms. "Everybody eats our product twice a day," he says.
Walking through the RTE facility, Fritz points out, "this is the most critical area because at this point the product has been cooked," and any contamination just before packaging would create a food safety problem. A wall divides the adjoining packaging room to the boxing area, where finished products are conveyed through small openings in the wall. During a typical shift, about 35 different items are packaged.
"Each day of the week, each line is set up to run a different configuration," Fritz says of the batch processing. Logistics plays a significant role in streamlining production to minimize the number and extent of interruptions while still accommodating the wide range of products. "We try to keep changeovers to a minimum," he says, but it is an unavoidable and necessary inconvenience.
Raw products are received daily at the raw processing building from a variety of Midwest-based suppliers. Upon arrival, the raw trim meat is temperature checked before core samples are taken to ensure they meet the company's quality specifications for fat-to-lean ratio.
"If you can't control the ingoing fat content, you're not controlling the outgoing content," Fritz says. Product is then visually inspected before going through a pre-grind and being loaded into plastic combo bins. It's then added to the batching lines to be incorporated into individual recipes. Batched product is dumped into blenders, where water and dry ingredients are added. The mixture is then either blended into coarse product or it is conveyed to one of two emulsifiers. From there, it's on to the filling lines where the mixtures are used in as many as 30 different recipes per shift, from chubs to natural casing wieners to snack sticks.
The 83 Kitchen is still used to process raw sausage products, including bratwursts, Italian and kielbasa as well as the bacon, corned beef, ham and turkey breast. These products are enhanced with brine, tumbled, wrapped or netted and transported to the new plant for smoking, cooking and slicing. The old plant is mostly used for dry storage. The elevator, as well as the original fireboxes and smokehouses, which date back to the early 1900s, have been idle since about 2004. Product cooking techniques depend on the product type. Eight jacuzzi-size heated water tubs are used to cook large diameter products and cook-in-bag products, including head cheese, corned beef, turkey breast and roast beef. Fritz points out that these cook tanks are the same ones that were originally at the 3rd Street plant.
Still smokin'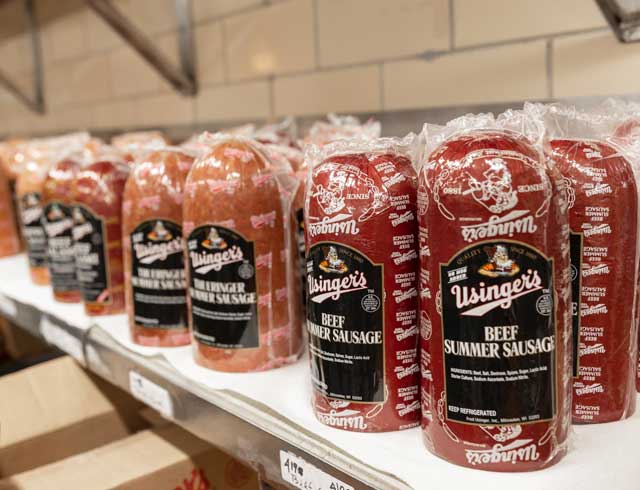 Paying homage to the Old-World campfire flavor of Usinger's traditional smoked products, the new facility features 14, two-story, open-fire, brick ovens. Fires are fueled in the basement using a blend of sawdust, fruit woods and hardwoods, exactly as Fritz's grandfather did a century ago. This smoking process is not intended to be a cooking method. "It's all about flavoring and coloring," he says. The amount and type of wood, smoking time and temperature is maintained by two smokehouse workers who keep the pits smoldering each shift.
"There's a little bit of artistry to the process," Fritz says. "I think we're probably one of the few throwbacks that are still using pit houses," he says.
After smoking, products are moved into one of five pass-through ovens for final cooking and are then showered lightly with water before going into the chill room before moving into the RTE and packaging area.
Fritz points out that moving into the new raw meat processing facility didn't mean buying all new equipment, as about 80 percent of the processing machines at the former location were moved to the new plant.
More than sausage
The chilling room provides a telling snapshot of Usinger's diverse product mix. Among the rows of racks chilling on any given day are varieties of snack sticks, sausages in both natural casings and skinless casings (some that are cured, and others are uncured) and of course, its famous summer sausage, which includes a beef offering. A variety of chicken sausage is also part of Usinger's product mix as are other non-sausage poultry products, including deli-sliced and unsliced turkey breasts and chicken breasts. Other value-added meats the company offers under the Usinger brand and to some co-packing partners include: corned beef, whole and deli-sliced ham and roast beef, beef ring bologna, beef frankfurters and wieners, Andouille, chorizo and Italian sausage, sliced and unsliced traditional bacon as well as Canadian bacon and even head cheese. Non-sausage products make up about 25 percent of Usinger's production, led by bacon, with sales that have doubled in the past five years. Slicing of deli products is done in the RTE area of the new plant just before the packaging stage.
Through the years, Usinger's products and those it manufactures for its private label customers have expanded to a national customer base that is divided into three business segments: retail, wholesale and co-packing or private label. Not unlike its predecessors, Usinger's still delivers products directly to a select number of local retail customers. Other customers are served by a handful of regional distributors.
"In this area we still do store-door delivery," Fritz says, "and there are customers that want you to use their warehouses, so we go through those as well. We get product to our customers any way we can."