KANSAS CITY, MO. – Today, March 7, Sosland Publishing Co. celebrates 100 years since the business was established in 1922. Sosland is the parent company of MEAT+POULTRY. To mark a century of delivering indispensable information across the food industry, the company is releasing a series of special feature articles through its brands' magazines and websites as well as a book highlighting the company's journey covering the food industry. In addition, Sosland Publishing will host a centennial celebration during this year's International Baking Industry Exposition (IBIE).
Founded by brothers David, Sanders and Samuel Sosland, the company's rich history began March 7, 1922, with the launch of The Southwestern Miller, a weekly magazine serving the specific interests of flour millers in Kansas, Nebraska, Oklahoma, Colorado and Texas that would later be renamed Milling & Baking News. Since then, Sosland Publishing has expanded its portfolio to include 13 publications and events, which cover a variety of food industry sectors, and continues to be owned and managed by a family of editors and publishers.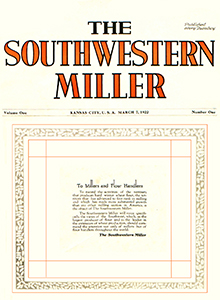 "While our company has grown dramatically from a single title in 1922, it is a commitment to quality content that for 100 years has underpinned our relationships with generations of readers and advertisers," said Charles S. Sosland, chairman and chief executive officer. "The third and fourth generations of company leadership remain as dedicated as ever to providing accurate, timely and high-quality content."
To mark the anniversary, Milling & Baking News is publishing its centennial issue March 8. The edition will include an in-depth feature chronicling the magazine's history and impact on the grain-based foods industry.
As part of its centennial article series that launched in 2021, Sosland Publishing publications will continue to release articles that celebrate the past, present and future of their respective industries. These stories will be featured across brand magazines, websites and in the History section of Sosland.com.
To pay tribute to the company's legacy, a retrospective book on Sosland Publishing's history will be released later this year. The book will examine the company's evolution from a one-magazine venture to a multi-title business and look back at its key coverage of the food industry.
To round out its centennial festivities, Sosland Publishing will host a 100th anniversary party during IBIE. The event will bring together attendees and exhibitors to honor the grain-based foods industry's past and celebrate its future.  
"We are proud to stand in highly rarefied company having published 5,219 consecutive weeks and counting," said L. Joshua Sosland, president of Sosland Publishing and editor of Milling & Baking News. "We look forward to celebrating the success of our company and the industries we serve with an outstanding series of special articles and with a special reception at IBIE for bakers and suppliers."