The US Department of Agriculture's (USDA's) Food Safety and Inspection Service (FSIS) announced two months ago that it was launching a stronger effort to reduce Salmonella illnesses associated with poultry products.
"We're doing this because for 20 years there has been a decrease in production contamination, without a corresponding decrease in illnesses," said Sandra Eskin, deputy undersecretary for food safety. She said more than 1 million consumer illnesses occur yearly, with 23% due to consumption of chicken and turkey. The agency will get help from the National Advisory Committee for Microbiological Criteria in Foods.
USDA has been petitioned by consumer groups to make some Salmonella strains adulterants. She said FSIS will hold a series of roundtables and discuss approaches like pre-harvest performance standards with USDA and the Food and Drug Administration working together on the issue.
The pork industry says it is "cautiously optimistic" about defeating Proposition 12, a new California law that would prevent pork from being sold in the state if pork producers don't meet criteria for animal confinement outlined in the law, which takes effect at the beginning of 2022.
That is because on Sept. 27, the National Pork Producers Council (NPPC) and the American Farm Bureau Federation petitioned the US Supreme Court to take their case against Prop 12.
"We're asking the Supreme Court to consider the constitutionality of one state imposing regulations that reach far outside its borders and stifle interstate and international commerce," explained Michael Formica, NPPC's general counsel.
Beginning next month, sows would need a minimum of 24 square feet of space to rest, walk in or turn around per animal.
"Farmers would each have to make a $15 million investment in a new barn, which for pork producers would total billions of dollars," Formica predicted. "They would have to reduce their production of pork." Jan. 7 is the deadline for the Supreme Court to decide whether to take the case.
"There is no pork industry in California," Formica added. "The court will want to see the harm brought upon farmers who raise pork outside California. Our pork producers are in limbo right now. We're trying to get a year delay."
Five to 6 million pigs a year come into the United States from Canada, which is also expected to act against the law.
To help fight animal disease, USDA committed $500 million this year to help prevent African swine fever (ASF), according to Jen Sorensen, NPPC president. America is free of ASF right now.
Headwinds strengthened
Labor issues continue to make things difficult for the meat and poultry industry.
"Chicken processors are grappling with a tight labor market," said Tom Super, senior vice president, communications with the National Chicken Council (NCC). He said the American chicken industry is heavily affected by America's immigration policy.
NCC's wishes for immigration reform include border security, a very simple improvement to the E-verify system, clarity in antidiscrimination laws, and an occupational visa category the industry could use that could be tied to local or regional employment.
"North American Meat Institute members tell us sometimes the workforce is down by about 20%. In some states, the combination of federal and state unemployment benefits provided a higher wage than working in a meat or poultry plant," said Sarah Little, vice president of communications for NAMI.
"To be clear, COVID-19 exacerbated the labor issue. Meat and poultry processors must have access to an expanded year-round agricultural guestworker program. The current program is seasonal and does not include the meat and poultry industry," she said.
"A labor shortage has certainly affected small and very small plants," said Chris Young, executive director of the American Association of Meat Processors, representing those plants. "There has been a fear of losing employees, even as much as 25%. Then there was the extra federal unemployment, which went up to Labor Day. That made it harder for people to go back to work," he said. "Our small plants have been so busy this year and last year. They needed more workers, and it was just difficult. If you lose employees, it affects small businesses more than larger ones."
"Most members of the Meat Institute have encouraged their employees to receive the (COVID-19) vaccine," Little said, as the Biden Administration and courts fight over an OSHA rule requiring vaccinations of workers in larger companies. She said a year ago, NAMI, livestock organizations and the United Food and Commercial Workers Union urged the Administration to prioritize meat and poultry workers for vaccination, after health care workers.
"Masks and other PPE are one of the many protections used by companies to prevent infection among employees," Little said.
At the beginning of the pandemic, changes were made to poultry processor workplaces, and then more changes were made as the industry learned more about the virus, Super said. "Plants' already rigorous cleaning was enhanced even further," he said. Handwashing was increased, physical distance when feasible, temperature checks were done, employees were asked to stay home if they didn't feel well without pay penalties, and other safeguards.
Masking mandates in meat and poultry plants have created issues for plant workers, Young said. "We certainly take COVID-19 seriously. When masking mandates came out, we opposed it because there was no wiggle room, no compromise. USDA said – no masks, no inspection – which would shut down plants. It is difficult to deal with masks in small plants and on kill floors – especially in the summer when it is so hot. USDA's reaction was: 'It is what it is.'"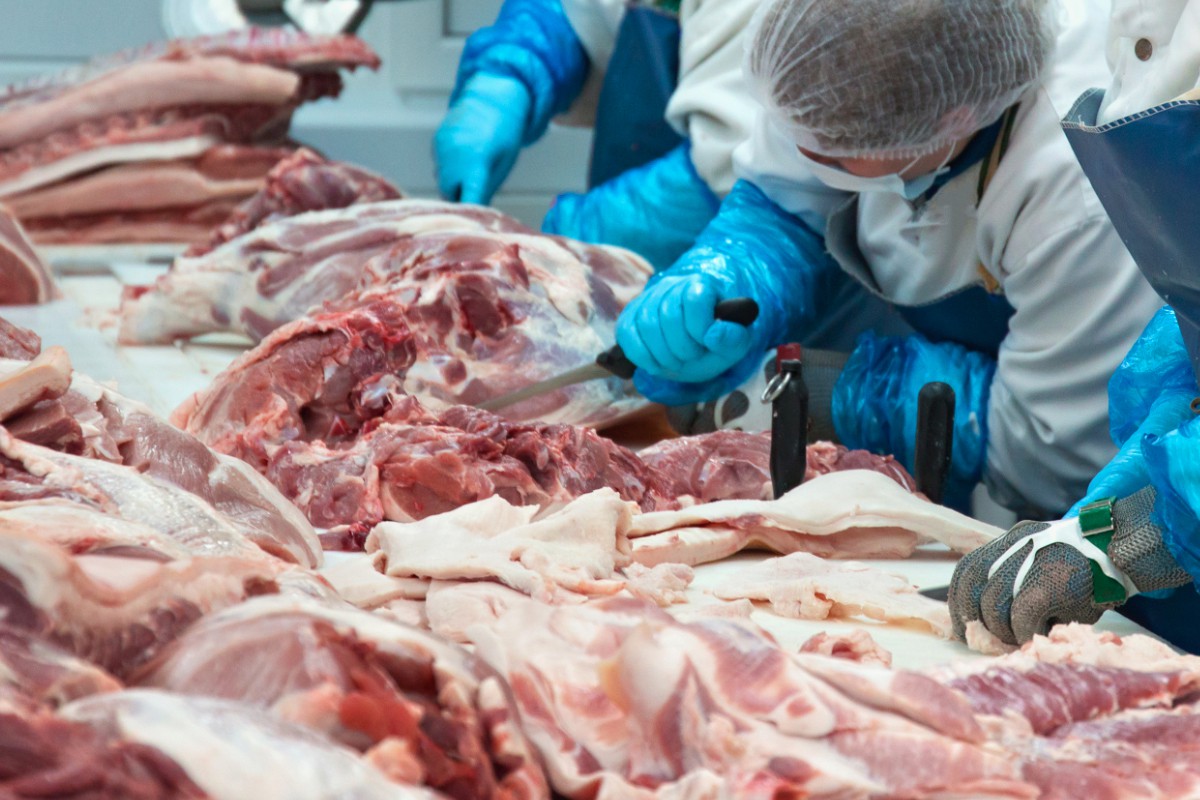 Speed trap
Operating line speeds in both the pork and poultry industry were important issues this year. When the New Poultry Inspection System rule was finalized several years ago, FSIS set the maximum evisceration line speed at 140 birds per minute. FSIS then started a line speed waiver program to allow plants to operate 175 birds a minute if they met strict food safety standards and history. The idea was to find out if the agency could increase the line speed.
But last year, FSIS stopped issuing waivers. A new rule was withdrawn by the Biden Administration, with no new waivers. "It's unfortunate that the new administration chose to ignore three decades of science, data and court decisions, that has hamstrung the US poultry industry globally," Super said.
Last spring, a federal judge blocked the USDA's New Swine Inspection System rule. Then the Biden Administration decided not to appeal, and line speeds for plants that participated in NSIS have been slowed since July, even though some of the plants have been running at elevated speeds for 20 years and showed they could do so safely, according to NAMI.
"It is beyond past time for USDA to issue the criteria for line speed waivers; especially for plants operating under NSIS," said Julie Anna Potts, president and chief executive officer of NAMI. "The NSIS plants, specially configured and staffed to operate under NSIS – have been operating at a competitive disadvantage since July 1, and hog slaughter capacity has been reduced. The slowdown due to slower line speeds is a self-inflicted wound by the administration."
While four US senators introduced the American Beef Labeling Act, which mandates the reinstatement of beef and pork into the existing Mandatory Country of Origin Labeling (MCOOL), NCBA opposes the plan.
"Right now, there is a $1 billion judgment against the US from Canada and Mexico, because MCOOL didn't comply with World Trade Organization rules, and made it harder for their cattle to get into the US," said Kent Backus, international director of Trade Market Access for NCBA.
"We oppose MCOOL, it violates our trade commitments," he said. Earlier this year, NCBA petitioned USDA to eliminate the generic "Product of USA" label. "This label is a disservice to American cattlemen and consumers," Backus said. "We support the use of voluntary source of origin claims to benefit cattlemen."
The NCBA also opposes the Optimizing the Cattle Market Act of 2021, introduced by US Representative Vicky Hartzler (R-Mo.) intended to help the market be more transparent and provide greater price discovery.
"We think this would be government intervention in the cattle industry," said Tanner Beymer, NCBA director of government affairs and policy. "We would prefer a voluntary solution, to incentivize higher participation in the markets without mandating it. We don't think the government should be telling cattlemen and women how to market their cattle."
Beymer said NCBA supports parts of the bill, including setting up a cattle formula contracts library and expanding the reporting window from seven to 14 days. Last year, NCBA approved a voluntary price discovery policy. But it opposes USDA setting up regionally sufficient levels of cash and grid trade.
The regulation of plant-based "meat" remains confusing and up in the air. Four years after it was petitioned by a cattle association to define beef and meat as the flesh of food animals, USDA says it has no authority over the labeling of plant-based "meat" or "alternative meat." That is the Food and Drug Administration's bailiwick. Cell-cultured meat labeling will be a joint USDA-FDA project.