When Walt Shafer, chief operations officer for Fremont, Neb.-based Lincoln Premium Poultry and MEAT+POULTRY's Operations Executive of the Year for 2021, started working on pullet crews and in hatcheries doing grunt work as a teenager in Harrisonburg, Va., he never fathomed he'd make a career working in the chicken business. His father, a farm manager, got him the summer jobs, and consequently his start in the business. In addition to starting Shafer in the chicken business, his father also imparted him with a solid foundation for success in all endeavors, starting with a strong work ethic.
"He certainly gave me the work ethic," Shafer said. "I tell people I might not be the smartest one out there all the time, but I certainly have the work ethic, and I certainly will get out there and roll my sleeves up and get out there with them. And all my career, I've done that."
Shafer strengthened his abilities to overcome challenges and achieve by taking another trait from his father. He understands the need to surround himself with people that offset his own fundamental weaknesses. He learned from his dad to build the right team of people.
"Put the work ethic in there and I think it's an unbeatable combination," Shafer said. "You get the right team of people, and you show them that you'll do what they'll do and lead the way. That becomes very contagious with an organization, and they just jump in there and go."
Through avian influenza, fires and floods, Shafer and his teams have overcome all challenges and disasters, natural or otherwise, they've faced. A flood at a Broadway, Va., WLR Foods chicken plant put 8 feet of water into the production area and left about 2 to 3 feet of mud once it receded. On a Friday, Shafer told his managers to gather 50 or 60 employees with shovels and meet him at the plant the next day. People at the site, including some from corporate, believed the plant would be down for weeks, maybe months.
"The president of the company at the time showed up and he said, 'It's bad isn't it, Walt?'" Shafer said. "I said 'yes.' He asked what I thought, and I said, 'Well, today is Saturday. We'll be running by Tuesday.'"
The gathering of people looking at the mud thought Shafer might have been delusional in his assessment. He borrowed a shovel from one of the hourly employees and spent 10 minutes clearing out a 10-by-10-foot square of mud, then sprayed the square with a hose until it was clean concrete. Shafer communicated to the team the power and impact of all 60 of them working to clear a 10-by-10-foot piece at a time.
"I watched that team over that weekend, and every time they'd get a square clean, you could see confidence growing," Shafer said. "You could see the tide turning. Long story short, we had the plant running on Tuesday morning and no one believed we could do that."
The way Shafer and his team worked through the flood is just one example of how the poultry processing veteran attacks problems with the belief that a solution always exists.
"There isn't any issue we can't overcome," he said. "That's just the way we go about things, and that's what drives me."
The road to Fremont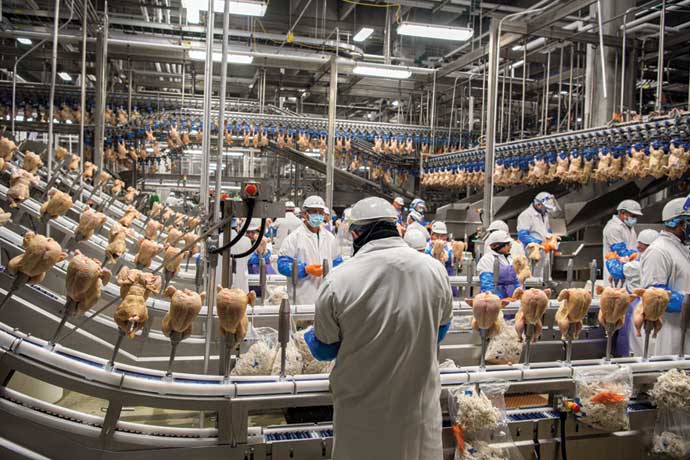 Employees at Lincoln Premium Poultry prepare chickens to be part of Costco's rotisserie chicken program. 
Shafer held many positions in the industry before and after the flood at WLR Foods. At the end of his grunt work in his teen years, he was told an understanding of the numbers would be good preparation for furthering his career in the business. He attended James Madison University in Harrisonburg, Va., and received his degree in accounting.
"I can't claim I'm a very good accountant," Shafer said. "But it certainly gave me a background to the numbers, and it gave me an understanding and prepared me for the future."
After college, Shafer went to work as a broiler technician for Rockingham Poultry in Harrisonburg. After a few years Rockingham offered him a trainee position to get into plant management. He moved through the program and eventually became a plant manager and a superintendent.
"I got to run my first plant when I was 26 years old for Rockingham Poultry, and they gave me more opportunities and eventually got to run several plants for them," Shafer said.
Shafer's career then took him north to Jack Frost Gold'n Plump Poultry in St. Cloud, Minn., as vice president of operations. Then back to Virginia and WLR Foods where he worked in many roles including plant manager, director of operations and vice president of chicken operations until 2001 when Pilgrim's Pride Corp. acquired WLR Foods.
"I held many positions with Pilgrim's from senior vice president of the East Coast division to senior vice president of the East Coast prepared foods, executive vice president of their prepared foods operations, executive vice president of big bird operations, executive vice president of retail operations, and eventually the executive vice president of all US operations," Shafer said. "My last position with them prior to actually doing this project [Lincoln Premium Poultry] was executive vice president of all other technical services operations for Pilgrim's."
Of all the positions in all the departments and divisions that ultimately led Shafer to Lincoln Premium, he admits his bias toward managing plants and operations. He waxes poetic about starting young in processing plants and his fondness of operations. He liked the pace. He liked the people. He liked the processes. He liked the ability to make changes and see the results in real time.
"Plant manager is the best job I've ever had and the worst job I've ever had," Shafer said, laughing. "The highs when you're doing great are very high and the lows, if something's not right or are not so good. But I just enjoyed being a plant manager, working with people and being out amongst them, and I think that prepared me for where I am today."
Crowning achievement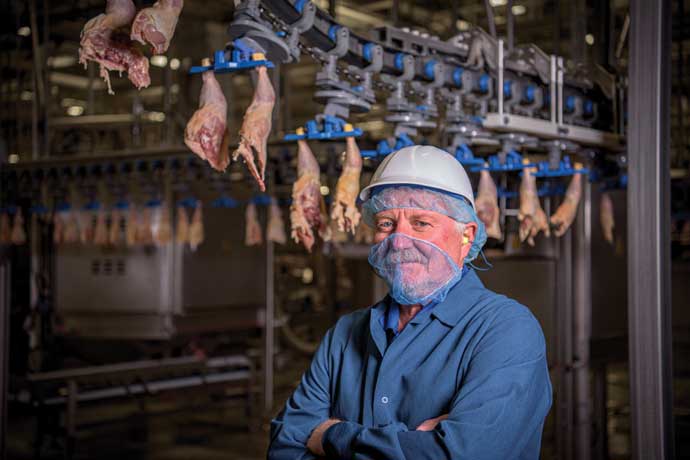 Shafer's career in the poultry industry began when he was a teenager and has spanned 40 years. Today he his chief operations officer of Lincoln Premium Poultry. 
Today, Shafer is the COO of Lincoln Premium Poultry in Fremont. Being among the people paid off on the Lincoln Premium project in ways Shafer could never have imagined during his days as a plant manager. In 2015, Bill Crider, a friend from the Pilgrim's Pride days asked Shafer if he'd like to join a project to put a poultry complex together for Costco.
Shafer struggled with the decision to leave Pilgrim's for the Lincoln Premium Poultry project. Many of the people he worked with during his 14 years at Pilgrim's he'd known his entire career. He mentioned the late Bo Pilgrim and former president and chief executive officer Don Jackson, who led the company out of bankruptcy.
"Even in the bad times, when Don Jackson came in during the bankruptcy years and gave me the opportunity to run all of the operations for him and help lead us out of bankruptcy, there was a lot of confidence and mentorship there," Shafer said.
Costco's willingness to give Shafer and a team he assembled cart blanche to create something from scratch with very few limitations tipped the scales in favor of making the move. The requirements Costco did put on the project were things Shafer had envisioned anyway.
"We wanted to be great to the environment," he said. "We wanted to have great animal welfare techniques. We wanted to have great employees and we wanted to use a saying Costco uses, 'We want to do the right thing.' To have someone say that to you and tell you to go out and put it together, I got to put together everything I dreamed about."
The opportunity provided Shafer the means to try and do things he hadn't been able to before, with the support of great partnership from Costco.
"I thought, what a fantastic way to wrap up one's career," he said.
In 2015, Lincoln Premium Poultry existed only as a concept in the minds of a select few. In Fremont, only a handful of farmers had experience with livestock, and that was hogs and cattle, no chicken and predominantly row crop farming. Shafer needed to convince farmers in the Fremont area to grow chickens for the project. He had an advantage when it came to selling chicken growing to the local farmers.
Shafer grows chickens for Pilgrim's Pride in Virginia. His operation consists of six broiler houses producing about 250,000 birds per flock. A manager runs the farm, but every couple of weekends Shafer goes back east to take over and run the farm himself. When Shafer reflects on the Lincoln Premium project, he believes being a grower might be the biggest attribute he brought.
"When I stood up in front of potential chicken growers and said, 'I actually do it and I actually invested my money in doing it,' and then I can describe to them the task and what it meant, including how to windrow a poultry house, to how to set the waters to how the litter needs to be composted. I think that carried a lot of weight with these farmers."
After buy-in from the growers, Lincoln's first employee, Shafer, and his first hire, Jessica Kolterman (Lincoln Premium Poultry employee #2), director of external affairs, needed to convince the community in and around Fremont that the plant would be what it was supposed to be, and the company intended to fulfill its promise to do the right thing.
Shafer and Kolterman (with her extensive background in Nebraska politics) attended more than 100 meetings with various community groups, civic organizations and public hearings to assure the community that the plant would make an overall positive impact.
"I joke with the mayor here, at the time he was running for re-election, I said, 'You know, you're running for re-election, but I've campaigned and given more speeches and I'm not running for office,'" Shafer said. "It became a very emotional kind of driven perspective for us, and I can't say in my entire career that I've ever had a more unique experience."
Present and future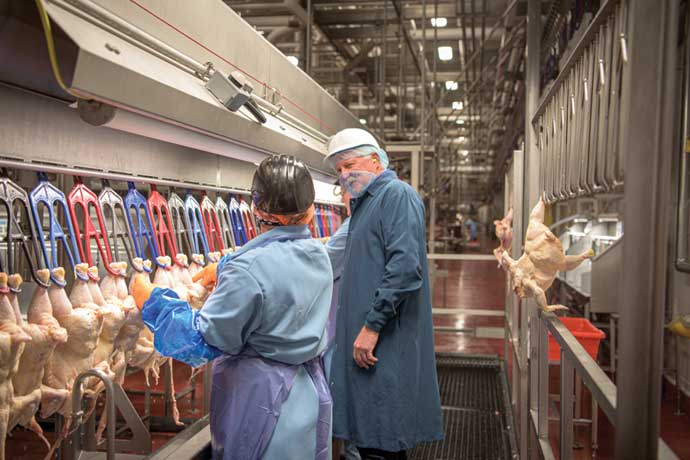 Shafer has always preferred to work in the plant and be on the production floor. 
Today the Lincoln Premium Poultry complex sits on more than 400 acres and includes a 400,000-square-foot processing plant, a feed mill, a hatchery and new lab services and production office. Shafer gives credit to both Costco and Marel Stork Poultry Processing Equipment for the support and partnership through the process.
Prior to breaking ground on the complex, Shafer traveled to Europe and Iceland to look at Marel's latest technology in poultry processing. At the time, much of the technology and equipment put into the Lincoln Premium facility wasn't in the United States. Some of the equipment in the plant was the first of its kind to be in use.
Marel's advanced automation brought with it a learning curve and Shafer said Marel worked hard to ensure the plant operated as intended. Marel personnel stayed at Lincoln Premium through training and troubleshooting every step of the way to ensure Lincoln's staff had every technical skill necessary to operate, run and maintain the facility. The two entities even let others in the industry tour the plant to see the equipment in process.
"Rather than take them to Europe, they've been able to bring them here and say, 'This is what the plants over in Europe look like,'" Shafer said.
Shafer's and Costco's original vision and plan from six years ago has come to fruition with the help of Marel, who provided about 80% of all the equipment in the plant. They planned for labor shortages and emphasized animal welfare through automation. The plant does those things they wanted it to do all those years ago.
"It's taken labor out and made the jobs easier, it protects our animals through the automatic catching that we're doing," Shafer said. "We're using their modules in their lairage system with automatic conveyance. The gas stunning, the automated evisceration lines, the automated cut up, debone and all the way through, so I think it's been a very good partnership for both teams."
Shafer's years of experience in the poultry industry provided the vision and wherewithal to take on the Lincoln Premium Poultry project, navigate the community politics with the help of Kolterman, partner with a state-of-the-art equipment supplier and manage through the worst part of a global pandemic that continues to linger.
Shafer believes the culture that's been created by his contributions, Costco's contributions and those of Marel is the culmination of a long and fruitful career.
"I want to make this thing a world-class poultry operation," Shafer said. "Then, the future will take care of itself."