CHICAGO — James Beard Award-winning chef Marco Canora started selling paper to-go cups of bone broth six years ago from a walk-up window in New York City. Today his broths are sold at five Brodo locations throughout the Big Apple, as well as frozen through select retailers and direct-to-home delivery.
As the name suggests, the savory beverage is made from bones. It's a nutrient-dense stock made by boiling bones with herbs and vegetables. Cultures around the world embrace it as an elixir. Purported benefits include improving joint health; nourishing the hair, skin and nails; improving digestion; boosting immunity and promoting weight loss.
"Bone broth is enjoyed by consumers as a food or beverage and is touted by athletes and nutrition experts for its myriad health benefits," said Ann Marie Craig, director of research and development, International Dehydrated Foods (IDF) LLC, Springfield, Mo. "Increasingly, it is regarded by many as a nutritious source of protein and collagen."
As consumer awareness of bone broth grows, so does the body of research about its health benefits. Two recent preclinical studies from the Center for Biomedical and Life Sciences at Missouri State University in Springfield suggest enriched chicken bone broth may be beneficial for maintenance of gut microbiota and as therapy for chronic migraine headaches, two benefits that have previously not been widely recognized, Craig said.
Forms and flavors
The umami-packed tonic has been gaining traction at retail, with shelf-stable product sold in the soup aisle, along with refrigerated and frozen options. Bone broth dry mixes allow consumers to always have a cup on hand.
"Bone broth has been around forever but has really had a resurgence in the past five or so years because it complements many of the current diet trends, such as paleo and keto," said Brian Hoppe, chief revenue officer, LonoLife, Oceanside, Calif. "Bone broth is high in protein and low in carbohydrates.
"Regular broth or stock is made by boiling bones for three to four hours. To make our beef and chicken bone broth, we boil the bones for more than 30 hours. This much cooking disintegrates the bones, breaking up the marrow and releasing nutrients. Collagen is the primary type of protein in the bone broth."
Collagen is the most abundant protein in the body, as it is the primary building block of bones, ligaments, muscles, skin and tendons. It often is referred to as the "glue" that holds the body's structure together.
"The body makes collagen, but as we age, less is produced," Hoppe said. "The collagen in bones is soluble in water when cooked over long periods of time. That slow-cooking process is how we make our bone broths. Consuming it encourages the reformation of collagen in the body."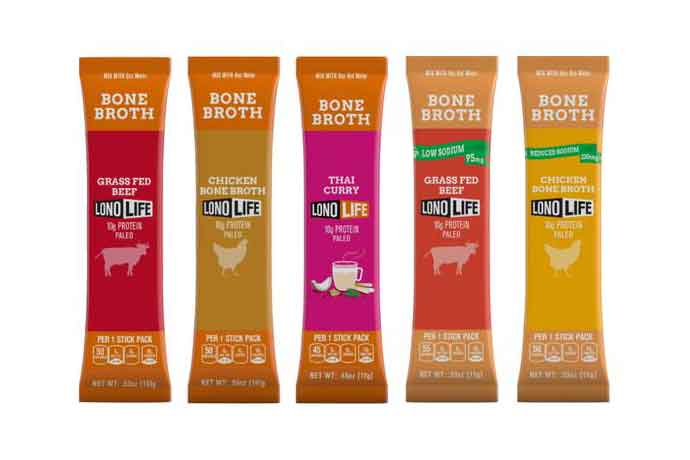 LonoLife makes its bone broths from cattle and poultry bones. The bones are defatted prior to cooking, so one serving contains 1 gram or less of fat. A serving of the beef, which is available in original low-sodium, Thai curry and tomato varieties, and chicken, original and low-sodium, provides 10 grams of protein. While the offerings are recognized as being keto friendly, the company recently introduced a specific keto line that now includes 5 grams of fat per serving. The beef variety relies on cream and butter while the chicken option contains chicken fat. The mixes come in single-serve stick packs and cups, as well as bulk scoop containers, with directions to mix with 8 oz of water.
Another approach to preparing bone broth is to grind the bones first. Supplement Manufacturing Partner Inc., Edgewood, NY, uses this technique when making its beef bone broth powder for dry mix marketers.
Beef bones are cleaned and ground into a fine grain then mixed with water and heated to remove all the blood. The solution then is cleared of impurities, and fat is removed. The liquid broth is dried into a powder that may be rehydrated with water or another fluid.
IDF produces and supplies the industry with frozen chicken bone broth with a guaranteed amount of collagen, as well as bone broths that do not carry a specific collagen guarantee. The company also has standard and organic powdered chicken bone broths, with and without the collagen content guarantee.
"The broth is prepared by cooking only USDA inspected and labeled fresh, raw chicken bones with associated connective tissues rich in naturally occurring collagen protein and chondroitin," Craig said. "When thawed, the frozen collagen bone broth is a savory, viscous brown liquid containing about 29% solids with a maximum fat content of 2%. It provides 9 grams of protein per 8-oz serving and zero carbohydrates, making it paleo and keto-friendly.
"It's naturally rich in electrolytes, with a two-to-one potassium-to-sodium ratio, making it ideal for recovery and rehydration. Bone broth can also fortify drinkable soups and other applications with collagen, protein and electrolytes."
Innovation elevates sophistication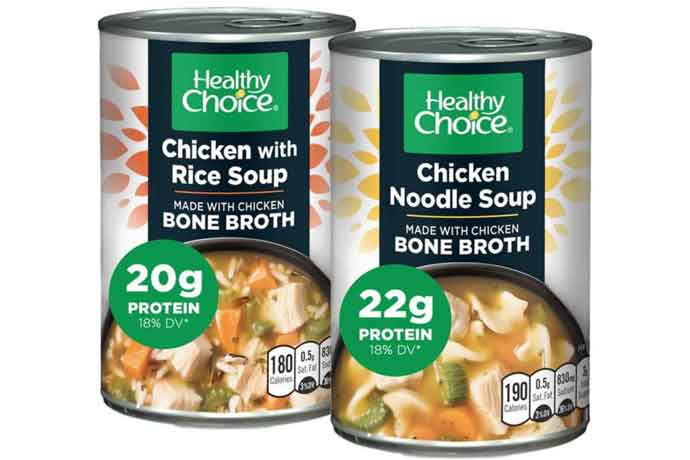 Ready-to-drink bone broths are becoming more sophisticated with layers of flavors and eye-catching package design. Brodo's bone broths, for example, come in 22-oz paperboard cartons. The broths are made with cuts of the animal, like turkey legs, chicken feet, oxtails and beef knuckles. Canora's signature Hearth Bone Broth is a blend of chicken, turkey and beef.
He simmers the bones with vegetables and herbs for up to 24 hours. While each batch is cooking, it is periodically skimmed of fats and impurities that rise to the top. The result is a rich, complex product with clarity and purity, according to the company.
The Osso Good Co., San Rafael, Calif., started as a mostly direct-to-consumer business selling its frozen bone broths and soups online. The company now sells frozen pint pouches at retail and also opened a retail location last year in Los Angeles. The cafe menu includes blended beverages featuring the company's signature broth, which is made with grass-fed and finished beef, chicken, Berkshire pork and turkey.
A "broffee" combines the broth with pasture-raised butter, cold-brew coffee and sea salt. The "Immune Boost" is chicken bone broth with lemon and raw honey.
Frozen retail products include several specialty herb-infused blends with added benefits. Ener-Qi, for example, is said to provide energy, vitality and strength. The Revive variety helps support gut health and digestion.
"All of our recent efforts, from opening our own cafe to expanding into the grocery channel, are focused on continuing to reach more and more people," said Jazz Hilmer, co-founder and chief technology officer at Osso Good. "Our goal is to bring consumers everywhere the benefits of real, delicious bone broth that's crafted with ingredients they can trust and feel good about."
The popularity of bone broth is expected to grow, with some meat marketers expressing interest in entering the category. The effort supports the whole animal butchery movement, contributing to sustainable animal agriculture.