Early civilizations smoked meat over wood to preserve it. The perk was it also added flavor, a flavor that today's consumers crave. To deliver that craveable flavor, many meat and poultry processors use industrial smokers to add wood smoke flavor to their products. Some commercial smokehouses are designed to slow cook the protein while it gets smoked, others are just about smoking (think bacon) the meat in a hot, moist environment. In both approaches, smoke permeates the protein, providing the consumer with craveable aromas and flavors.
Smokes vary in flavor based on the wood being burned. Hickory is the most common wood used in smoking, with products labeled as "smoked" usually prepared with hickory. It has a strong aroma and not too bold of flavor that finishes slightly sweet. Mesquite, on the other hand, is bold and rich with a distinct ashy flavor associated with Southwest barbecued beef brisket and steak. 
Smoked flavor complements many spices, especially in sausage format. New Orleans-based Zatarain's, owned by spice giant McCormick, now offers andouille and Cajun smoked sausages. They were formulated to complement the flavors of traditional New Orleans dishes, including gumbo, jambalaya and shrimp boil. The fully cooked smoked sausages are pork in a beef collagen casing.
Applewood has become one of the more called-out smokes on meat labels. Applewood produces a mild smoke with a hint of fruity sweetness that pairs well with white meats such as chicken and pork, as well as fatty meats like bacon. Cherrywood is like applewood, just amplified.
At the end of 2019, Meyer Natural Foods, Loveland, Colo., launched a premium bacon line under its Meyer Heritage Duroc Pork brand. The pork is 100% all natural, crate free and vegetarian fed without the use of antibiotics or added hormones and is hand-selected for highly desirable Duroc heritage. The bacon items are uncured and come in various smokes, including applewood and hickory.
Oak and pecan woods both have slight nutty flavors that complement pork, in particular ribs, as well as barbecued beef cuts. Maple wood smoke delivers a maple syrup aroma and flavor that makes if very appropriate for breakfast meats, such as bacon and ham. It's slight sweet flavor also works on poultry.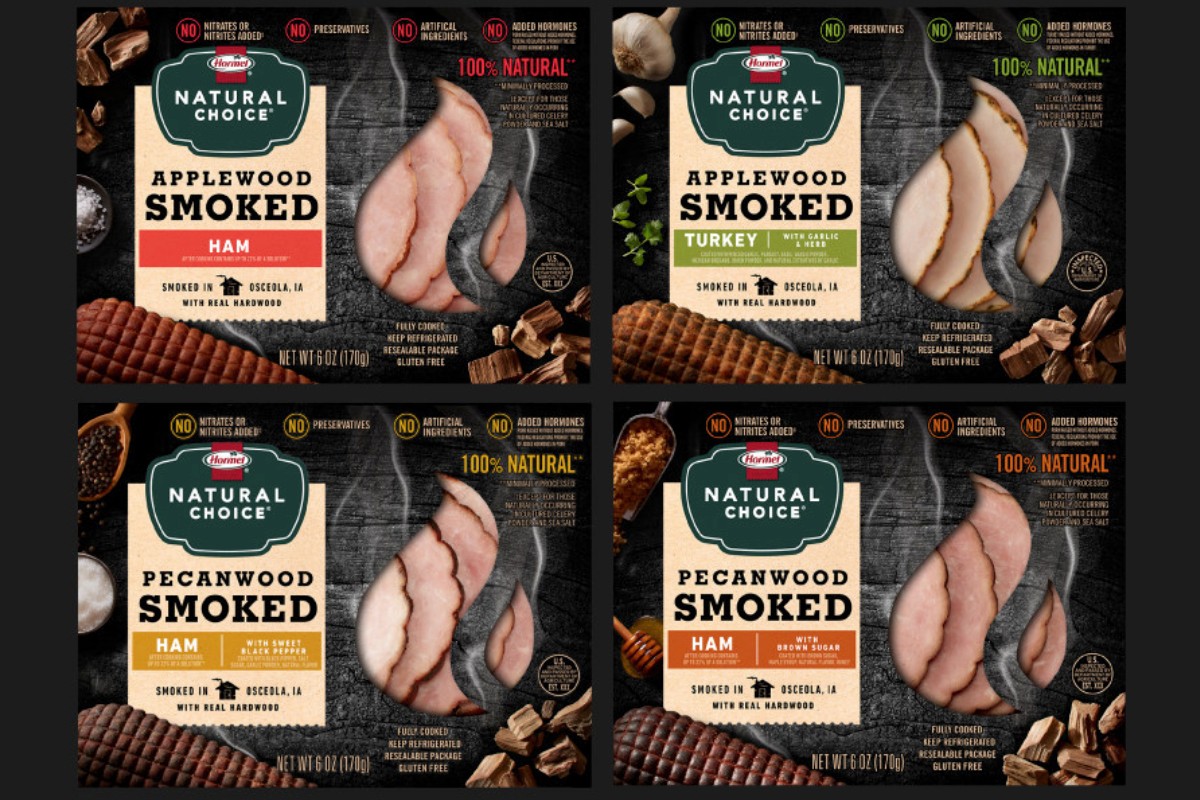 Hormel Foods Corp., Austin, Minn., is starting to roll out a new line of slow-smoked products called Natural Choice hardwood smoked lunch meats. These expertly crafted products – smoked in netting over real wood chips for more than four hours – come in varieties such as applewood ham, applewood turkey with garlic and herbs, pecan wood ham with sweet black pepper and pecan wood ham with brown sugar.
"We leaned into the real smoke and premium ingredients with this line and are offering consumers that great hardwood smoked flavor, without having to fire up the smoker," said Samantha Hovland, brand manager.
The COVID-19 pandemic has not stopped Denver-based Smashburger, a fast-casual better burger restaurant, from rolling out new menu items like the smoked bacon brisket burger. It is a Certified Angus Beef patty topped with brisket smoked for 10 hours, then layered with applewood smoked bacon, smoked cheddar, pickles and barbecue sauce on a brioche bun.
Long smoking processes are not viable for all businesses. Some processors rely on smoke flavors.
The Code of Federal Regulations specifies that when natural smoke flavor is added directly to food, it must be declared as either "natural smoke flavoring" or "smoke flavoring." Artificial smoke flavoring must be labeled as such. Neither can be grouped with other flavors and declared as simply natural or artificial flavors.
Natural smoke flavors are made from smoking real wood and capturing the essence in water. It is a refined smoke condensate made with only wood, heat, water and filtration. Tree species, along with heating time and temperature, influence the flavor, aroma and color of the smoke ingredient. 
Many large-scale processors prefer smoke flavors because they produce consistent finished product on a much faster scale. Liquid smoke can be added directly to meat and poultry at many different stages of processing. It can also be dried or plated and added through a seasoning blend.
Some smoke ingredients contain naturally occurring compounds that inhibit both oxidative rancidity and certain classes of known spoilage and pathogenic bacteria. This may extend shelf-life and flavor stability during storage and distribution.
Smoke flavors also assist with adding flavor to meat analogs. This is proving to be helpful with improving the taste of the growing category of plant-based meat alternatives.