Dunkin's donut-loving diners squealed with approval over the recent launch of Snackin' Bacon, consisting of eight, half-strips of bacon enhanced with sweet black pepper and served in a portable sleeve for on-the-go snacking ease. The bacon is smoked with natural cherrywood, then glazed with a sweet and savory blend of brown sugar and black pepper seasoning. The boutique bacon is also the star of Dunkin's Sweet Black Pepper Bacon Breakfast Sandwich.
Bacon burger brats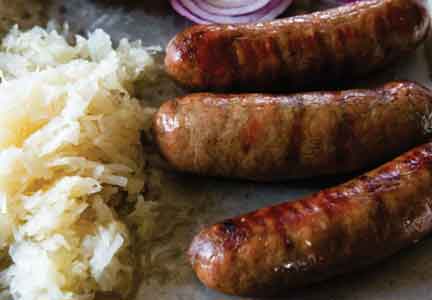 What's better than cheeseburgers, bacon or brats? How about a combination of the three? In order to satisfy their customers' growing demand for more protein, Weston, Mo.-based KC Cattle Co. recently introduced the all Wagyu Beef Bacon Cheeseburger Bratwurst.
The brats are made with 100% wagyu beef and stuffed with cheddar and bacon bits. Gift packs can be shipped by the company to all 50 states.
The pack includes four bratwursts that can be cooked on the grill, in a cast-iron skillet, in a smoker or even boiled in water.
Liquid chicken
Brian Chia, a fitness enthusiast, avid bodybuilder and owner of BE Protein Smoothies, had grown tired of eating chicken and broccoli all the time to get his target macronutrients. He'd always wanted to start a business in the fitness industry, so he began experimenting with chicken smoothies. After selling to friends and family while perfecting his recipe and his physique, he created his BE Protein Chicken Smoothies business.
His smoothies include 65 grams of protein in a 500-mL bottle, or 32.5 grams of protein in a 250-mL bottle and are high-pressure processed to give them a 30-day shelf life. Currently, BE Protein Smoothies are only available in Singapore, but Chia hopes to flex his operations to include distribution in the United States and other countries in the near future.