As demand for boneless poultry products continues to rise, poultry plants are investing in deboning systems at higher levels to improve performance and efficiency. The growing demand has pushed the industry to catch up fast and develop newer and more innovative automation technology.
Today's deboning systems are more precise, faster and flexible with flock variation and a range of carcass sizes.
Roy Driessen, industry marketing manager of poultry at Marel, with US operations in Lenexa, Kansas, says there are two trends heavily influencing poultry deboning. For starters, slow-growing broilers are gaining ground in various parts of the world.
"As these broilers are more expensive, improving carcass balance is a key challenge for the entire poultry industry," he says. "Ethically and economically, it would be irresponsible to just process a few parts of the broiler (breast and wings) and put the other parts in a box for export against a small price. An improved carcass balance means that more parts of the broiler, such as thighs and drumsticks, will be upgraded by deboning them."
Furthermore, he shares, deboning technologies must also take into account the different anatomy of slow-growing broilers. When processing different breeds on one line, adjustment of equipment settings should be easy, preferably data-driven. Specific poultry production control software connects all machines in the line and is, as a result of early grading, able to adjust deboning settings timely and automatically to the upcoming flock.
The second trend is the scarcity of human workforce around the world. Poultry processors see no other option than to automate all operations which previously were done manually.
"Of course, this goes for deboning operations too. However, most deboning systems still require manual shackling of the products to the line, which means a lot of human workforce," Driessen says. "Only the most advanced deboning solutions operate fully in-line, without needing manual intervention."
In addition to this, there is an increasingly strong need for retail quality products. This means that product presentation of deboned products must be nearly perfect. Most deboning systems require some trimming workforce after deboning. Only the latest advanced in-line solutions can do without manual trimming operations afterward.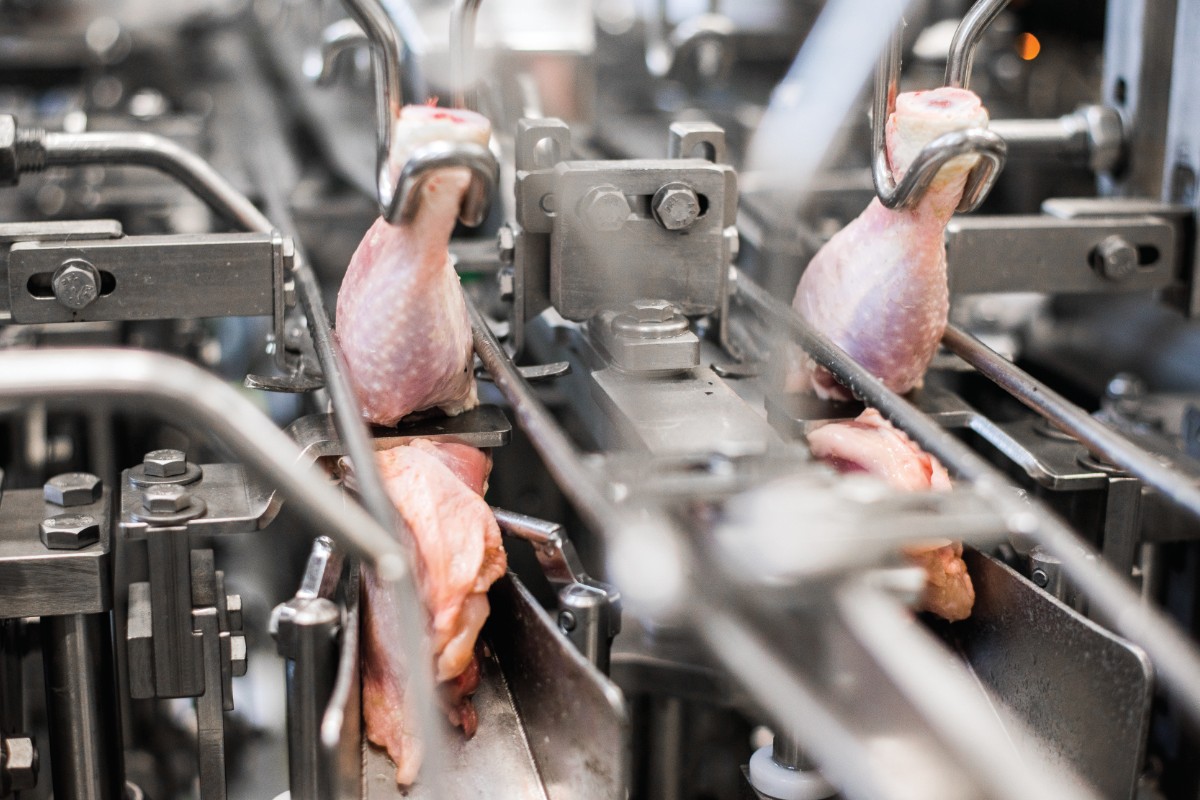 Scott Hazenbroek, president of Foodmate US Inc., based in Ground, Georgia, notes robotics and automation are the main trends in poultry technology due to their potential to reduce labor, which is a significant challenge for most clients.
"Machines are taking over the work, and it's not a choice; it's a necessity. Since the market is forced to automate, there are many machines available that are not meeting the same quality and results of a manually deboned piece of meat," he explains. "We saw and seized the opportunity by building the most robust and efficient deboning systems on the market by introducing intelligent deboning machines."
Foodmate recently developed a built-in X-ray measurement system in its whole leg and thigh deboners; it gathers data and makes real-time automatic adjustments to the size and weight variance that is inherent to a product like chicken.
Food safety is also another critical concern in the industry, so an emphasis on the further development of materials with antimicrobial and/or heat dissipation properties are expected.
Oliver Hahn, CEO of Baader Poultry USA, Kansas City, Kansas, says the automation of dark meat (whole legs and thighs) deboning has gained popularity.
"Poultry processors are not willing to sacrifice final product quality and yield in order to move to automation," he says. "Additionally, processors still struggle for the ideal solution to debone big birds automatically. Baader innovates our new technology to combat these challenges."
Sid Adkins, vice president of sales, marketing and service operations at Gainesville, Georgia-based Cantrell-Gainco Group, notes the latest advancements are in the precise and accurate measurement of individual birds and pieces to make accurate cuts.
"Vision systems, including X-ray systems, are now being used to find joints to make precise cuts," he says. "Our research has shown that bird weight alone is not a good enough measure to calculate an accurate shoulder width to then do high-yield deboning. Some systems are also using cameras and sensors to increase yield in deboning operations."
Innovative technology
Hahn notes advancements in electrical components allow the company to measure each individual bird and automatically adjust the cutting paths.
"We now have the technology to make cutting movements significantly faster than in years previous," he says. "The reaction times that control mechanical functions are more accurate and produce higher yields."
For instance, the Baader 656 Breast Deboner processes front halves with or without wings attached. Hahn explains workers place front halves onto a holding device that positions and clamps them in place, then the bird moves through a series of automated processes to remove the meat from the carcass. Each individual front half is measured and subsequent cutting and scraping tools adjust accordingly to ensure maximum yield with minimum bone content.
The Baader 632 Thigh Filleting System is integrated into the Baader ProFlex Cut Up line. According to Hahn, as the cut-up line produces whole legs, they remain in the shackle and proceed to the thigh deboner, eliminating the need to manually rehang.
"It uses a series of blades to score the joint between the drumstick and thigh," Hahn says. "The joint is captured in the machine, where it is held throughout the deboning process. Automatic meat pullers start at the knee and pull the meat down the thighbone, ending at the hip. The boneless meat is removed from the hip joint and the drumsticks remain in the shackle exiting the machine."
The Thigh Fillet System can process up to 230 individual boneless, skinless thighs per minute, with a majority of those going straight to X-ray and packaging without any human intervention.
Cantrell-Gainco Group has partnered with Mayekawa to offer best-in-class deboning equipment.
"Mayekawa systems can be configured to process 200 legs per minute and offer the highest deboning yields in the industry," Adkins says. "An important benefit of Mayekawa Toridas whole leg deboning systems is that if one of the deboning modules is taken offline, the other modules can continue deboning operations, so there is no system downtime."
For decades, Marel has been developing high-tech systems for breast and leg deboning, always with an eye for innovation and ease-of-use, to add maximum value for their customers.
"This is well illustrated by Marel's Thigh Fillet System, which harvests retail quality thigh fillets and makes use of unique deboning techniques," Driessen says. "But first of all, before operations are executed, the positioning of the leg in the machine is crucial to the success of thigh deboning."
It is the job of the Thigh Fillet System to ensure the quality of the anatomic legs supplied, including the extra harvested oyster, is preserved throughout the deboning process. That's why bone handling is very gentle.
"Pushing too hard to get the bone out could mean the loss of a carefully harvested oyster and thus a loss of quality, which is exactly what Marel is trying to prevent," Driessen explains. "In a carrousel machine, the actual deboning takes place. While its meat is being scraped off, the thigh bone isn't subjected to excessive forces. Instead, the system works by pushing and pulling, a unique solution. The chance of broken bones or bone splintering is reduced to an absolute minimum, as no big pressure is put on the thigh, not in any stage of the process."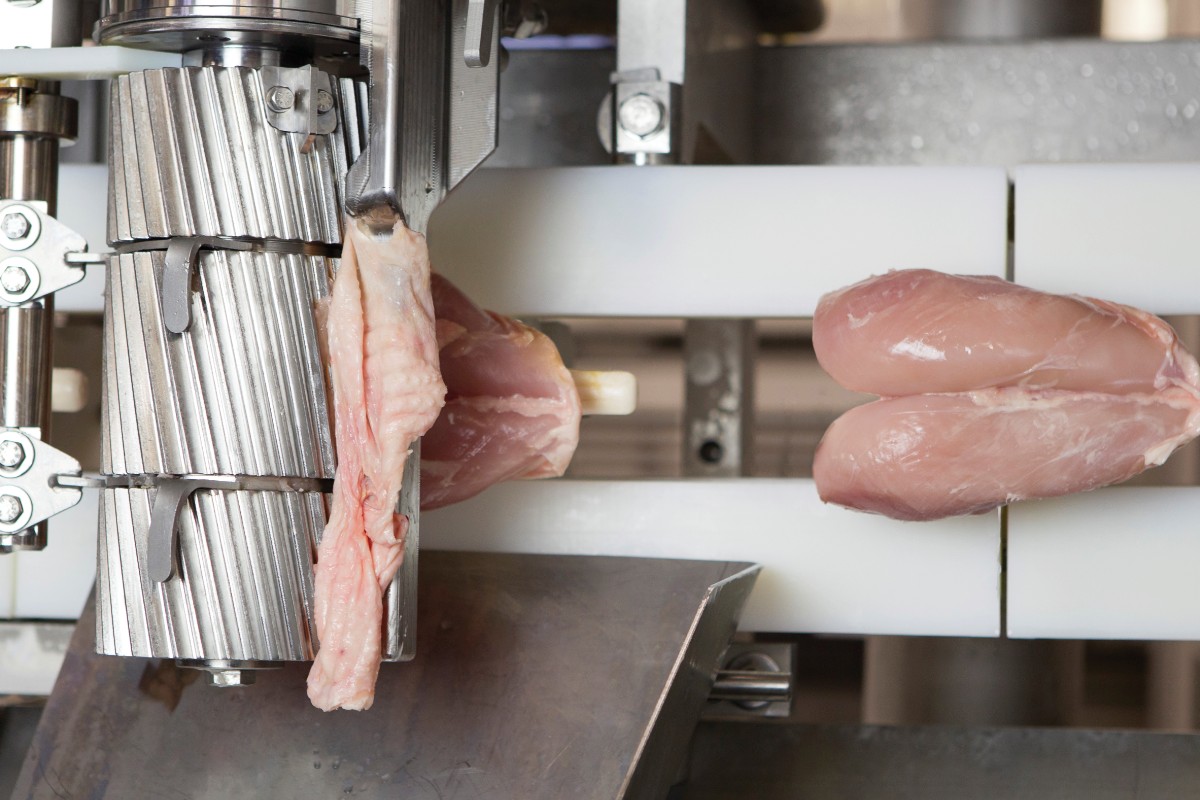 A look to the future
Industry insiders still believe a lot of innovation and advancement will come in the years ahead. Hahn foresees deboning technology to increase speeds without losing accuracy, quality and yield, while Hazenbroek projects fast and significant improvement coming in the areas of robotics and intelligent automation.
In the deboning department, Driessen notes software is gaining importance all the time.
"Sensors along the system determine the timing of operations, such as the start and stop times of a cutting blade," he says. "The role of such sensors (and the software behind them) will be extended in the future, as they can gather plenty of data from the products passing by. This will include optical scans with cameras, lasers and X-rays to improve the determination of quality, size and weight on an individual level so that machines and robots can adapt even better to each particular product."
Part of this data-driven processing will also be the communication with upstream and downstream machinery. Consequently, Driessen says, equipment can be monitored in real-time and adjusted on the spot.
"A performance drop can be displayed immediately on the screens of the control room, together with its cause and its possible solution," he says. "This kind of analysis gives plant management the opportunity to continuously improve process effectiveness. Eventually, the last operative tasks performed manually will also be automated, so that the human contribution in the processing plant will be restricted to a controlling role."
"Looking to the future, more sophisticated application of robotics and improved measurement may improve deboning operations even further than they are today, but it will likely be in small, incremental ways," Adkins says. "We've made great strides already."