CINCINNATI – Consumers' ever-growing love of and demand for convenience when it comes to the foods they eat has been a boon to the meal solutions market, and 2020 promises more growth and evolution in the category.
Cincinnati-based retail giant Kroger is one of the major players leading the way, with a commitment to meal kits and other meal solutions that the company says will continue to be one of its top priorities this year.
One of the retailer's newest commitments is of the high-tech variety. Kroger is partnering with a software specialist on delivery of fresh prepared meals from central kitchens.
For the initial rollout, Kroger Delivery Kitchen Powered by ClusterTruck launched in Carmel, Indiana — where Kroger and software platform ClusterTruck jointly operate a kitchen — and in Indianapolis and Columbus, Ohio. Additionally, King Soopers Delivery Kitchen Powered by ClusterTruck is serving customers in Denver.
By offering multiple menus from one central scratch kitchen, Kroger Delivery Kitchen delivers fresh and delicious meals on-demand without service or delivery fees.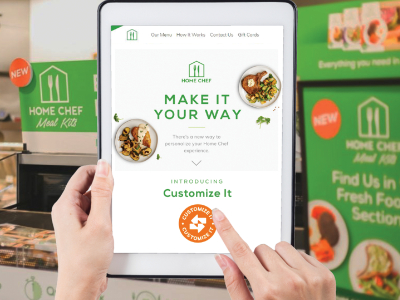 "The way our customers order and receive meals is evolving, and ClusterTruck's innovative culinary and digital design is cracking the code for the future of profitable meal delivery," says Yael Cosset, Kroger's chief information officer. "Kroger is leveraging ClusterTruck's advanced technology to ensure our customers don't have to sacrifice quality and value for convenience when it comes to meal delivery. Kroger Delivery Kitchen Powered by ClusterTruck allows our customers to access restaurant-quality fresh and delicious meals like never before and without having to pay excessive service or delivery fees." 
Customers in Carmel, Indianapolis and Columbus delivery zones can go to KrogerDeliveryKitchen.com to place their orders online or download the ClusterTruck app. Customers in Denver can visit KingSoopersDeliveryKitchen.com.
ClusterTruck was co-founded in 2015 and launched its first kitchen in 2016. The Indianapolis-based company owns and operates vertically integrated delivery-only kitchens. ClusterTruck's "dark kitchens" are powered by a proprietary software system that uses custom algorithms to optimize kitchen and delivery operations.
A market differentiator
Fresh perimeter foods — and meal solutions in particular — will play a critical role in Kroger's future, according to the company. Management highlighted the company's fresh food offerings as a "differentiating strength" for the retailer in 2020.
"Our fresh departments drive trips, loyalty and gross margin, and they're a true differentiator," says Joseph Grieshaber, senior vice president of merchandising. "Our product standards, selection criteria and supply chain are core strengths and are built to deliver first-to-market and best-in-the-season fresh products across the United States. Customers tell us they choose the store they shop based on nine key categories, and they're all fresh. Produce, meat and dairy lead that list.
"Dinner tonight is the top reason customers go to the store on any given day, but replenishing produce, meat and seafood quickly follows. And finally, as we look at advertising testing, we see a clear pattern where spots that focus on fresh score more strongly on key customer measures, including likelihood to shop and brand love."
One of two top fresh food initiatives being undertaken by Kroger is enhancing meal solution options. Fresh meal concepts are seen as a point of differentiation by management.
"We are growing our meal kits, ready-to-cook and ready-to-heat assortment," Grieshaber says. "In 2019, we expanded the Home Chef assortment from 725 stores to over 2,000 stores today, and we have expanded beyond the original meal kits to include oven-ready kits, ready-to-heat sides and entrees. We are seeing double-digit growth in fresh meals and expect that momentum to continue in 2020."
Meal kit insights from the NPD Group:
What's driving adoption?
When it comes to meal kit users, convenience is the key purchase motivator. Sixty-seven percent of current users feel their life is hectic and rushed compared to 42% of non-users. Meal kit users are twice as likely to cite convenience as an important purchase factor. Furthermore, households with children have been earlier adopter of meal kits, with 20% having tried them at least once. The industry also seems to be capitalizing on spontaneity, as 58% of users decide to purchase a meal kit the same day.
Meal kits appeal strongly to men
Interestingly, three out of five current meal kit users (62%) are male. Furthermore, male users also expressed an intention to use a meal kit service more frequently in the next six months when compared to female user (48% vs. 39%). The male user is also a more consistent user, with 68% of those using a meal kit in the past year still currently using a service, vs. only 48% of women.
Users are highly satisfied
Current users are highly satisfied with meal kit services, with over 91% indicating that they were very or extremely satisfied with their meal kit.  When it comes to lapsed users, the highest reason users were no longer using the meal kit service was due to the perception of the kits being too expensive with 52% expressing this as a key reason for no longer using meal kit services.