You might call it a small meat shop in the woods, but when potential customers from as far away as California and Alaska want to know how to get some of its products, you immediately recognize that Pekarski's Sausage LLC is definitely doing things the right way.
"We are basically a small retail store that specializes in sausage, particularly Polish-style kielbasa," explains owner Mike Pekarski, the 49-year-old overseer of this family operated enterprise. "But every year we are showing positive growth...sometimes two or three percent...sometimes maybe eight percent."
Those who've discovered his treasure trove of all things sausage keep coming back and telling others of their finds.
"We have about 30 percent of our customers who are local and from the area around South Deerfield, Massachusetts," Pekarski says. "It's almost like a local bar where the same folks come in every week. Some want just a pound of bacon and others come in with coolers to fill up on our sausages. Then there are about 70 percent of the other customers who either happened to stop by on their way to see a local covered bridge or heard about us and keep coming back regularly from hundreds of miles away."
Pekarski's is located on a country road just off Interstate 91 and you almost have to hunt to find it. But once inside, some marvelous wonders of the meat world appear in the diminutive 750-sq.-ft. retail shop's display cases.
There is the kielbasa, based on a family recipe, that materializes in fresh and smoked versions, and some loaded with cheese. Clearly the kielbasa is the mother lode in the store.
In recent years, Pekarski's has added its Italian-style sausage, offered in mild, sweet, hot and super-hot varieties, as well as linguica Portuguese garlic flavored sausage, Cajun andouille, bratwurst, knockwurst and chorizo.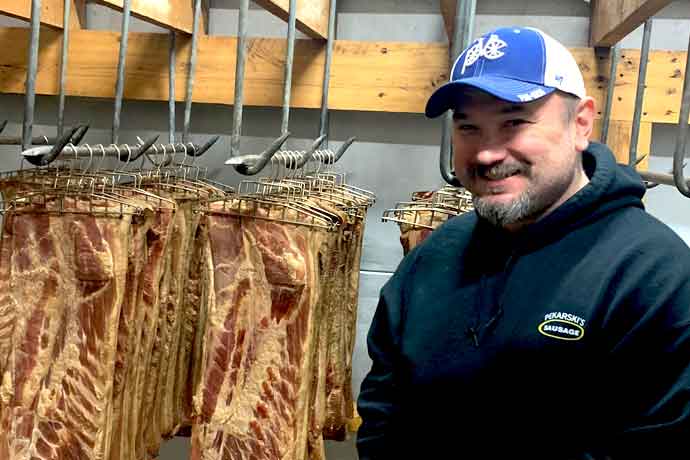 Family roots
Pekarski says the business has its roots in the early years when his grandfather quit school in the eighth grade and went from farm to farm to process livestock for local producers, a trade he began in as a youth. It was primarily a slaughter and cutting operation. A small processing shop was built in 1948.
"It closed on Christmas, 1980," Pekarski recounts. "I was going to college at the Univ. of Massachusetts in Amherst. It was like a three-year vacation and I wasn't getting anything out of school. That's when I talked to my father and mother about reopening the business, which is located very near my grandparent's home. Then my mother and father and I bought the shop and reopened it in August 1991. My father and I made our first kielbasa 28 years ago and we began making both fresh and smoked sausage."
He notes that while kielbasa remains their best-selling product, tied for second on the Pekarski popularity list are their smoked pork chops and their New England-style breakfast sausage.
When queried about the characteristics of the New England breakfast sausage, sold both in links and bulk, Pekarski offers that it's a finely ground, mild simple sausage with some sage included, along with some "family secrets." He says his grandfather coined the name of the product in 1959.
Pekarski uses many skills as a meat cutter and sausage maker, but regards the ability and willingness to listen to customers as one of the most important.
"We had a customer from Virginia who had moved to New Hampshire and felt our breakfast sausage lacked the heat of the sausage he grew up on in the South," he reflects. "I was able to add some crushed red pepper and paprika to our breakfast sausage and the customer said, 'you nailed it' and claimed, we 'brought him home again.' We refer to it as our Southern-style breakfast sausage."
The Pekarski family prides itself on its smoked meats and attributes their special flavor to the type of home-built smokehouses they use.
"The original one looks like a brick chimney structure," Pekarski continues. "We built two smaller ones in 2007 but always used local hardwoods to impart that special flavor. We use hickory, apple, rock (sugar maple) hardwoods. There is no gas used. It's a continuous slow fire in a smokehouse and that's rare to find today. We stay away from liquid smoke and chips. We can put in about 68 of the 20-lb. hams at a time."
So pleasing to customers has their smoking process become that the Pekarskis offer up smoked hams, bacon, Canadian bacon, smoked chickens, Cornish game hens and ducks, along with their whole smoked pork loins, which they slice and merchandise as smoked pork chops.
Their 3,000-sq.-ft. plant building is staffed by eight employees, including Pekarski's parents "who come in at their convenience and schedule" but are always willing to help out. No other family members are involved in the business.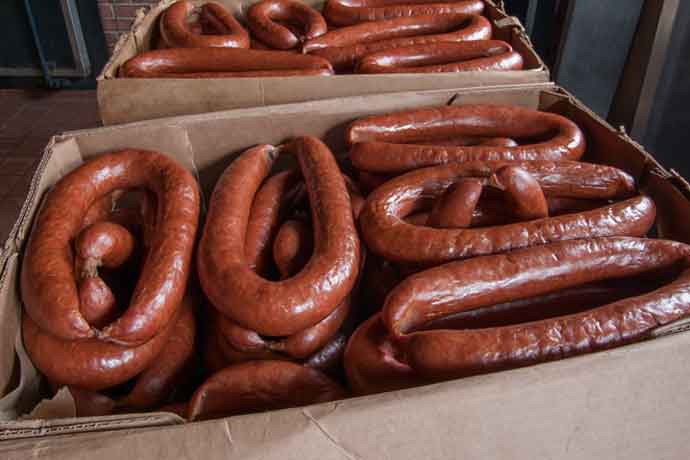 Word of mouth
He is grateful for the travelers who stop by the shop, which is along the crossroads or hub from Boston to New York City to Canada, saying they just bring in coolers and ask for a fill-up. There is little that Pekarski Sausage does in advertising beyond a small highway sign, their website pekarskisausage.com, some social media and some radio.
"Somehow they are finding us," he points out. "But we are getting more and more contacts who want to have us ship our products to them. I've been in contact with the American Association of Meat Processors (AAMP) and they've been most helpful in letting me know what kinds of products I can ship and what kinds of packaging and labeling I need to have to be able to ship some items to customers who ask for them.
"When you're as busy as we are and want to get an answer about what you can and can't do and how to go about doing something new, it's so great to be able to call someone at AAMP who have knowledgeable people who can tell you quickly what it might otherwise take you hours or days to research and read," he explains.
The company tries to use local meats when possible, but buys on the commodity markets as well, particularly pork from Canada, to fill demand. They specialize in a "daisy ham," a boneless pork shoulder they cure and smoke.
Pekarski describes his work not as a job, but as "a way of life." He says a 60-hour week is typical, although during holiday periods, he might hit that number near the middle of the week.
"I have to stress quality in what I put up for our customers," he states. "I could cheapen an item with other things to keep the price lower. A customer will know the difference in quality and might give me a chance and come in again. But I refuse to offer anything that doesn't meet the level of quality I expect and insist on in each product."
The old-style smokehouses are one thing, but Pekarski says he's needed to upgrade some other production items like grinders, mixers and recently took delivery on a roll stock machine.
If there was such a thing as "time off," Pekarski exercises it to the fullest. For the past three years he's participated in a Pan Mass Challenge, a 192-mile biking event that takes two days, donating all the proceeds to cancer research.
"Being out in the country is not a disadvantage to us because of our reputation," he concludes. "Our strong customer base comes here because we make it here and we sell it here. And our customers can vouch for the quality.