Processors are demanding more speed and accuracy from their poultry cut-up lines and equipment manufacturers are delivering those solutions.
With the increased demand for automation, wing cutting and dark meat deboning have become an essential part of high speed cut-up systems for poultry processing.
"Integrated anatomical wing segmenting and whole wing cutting is another step towards automation, labor savings and subsequent breast deboning," says Oliver Hahn, CEO of Baader Poultry-North America, Kansas City, Kansas.
Norbert Engberg, CEO of Baader Poultry, says with higher line speeds in primary processing and a decrease of wholesale products, the use of cut-up lines is significantly higher than in the past. At the same time, customers are posing rising demands on cut-up line solutions.
"Overall, it is about higher uniformity and accuracy when separating parts," he says. "To meet increasing requests for parts to be sorted on weight and quality, cut-up lines often need to perform new additional logistical tasks by bringing and cutting the products where they are needed."
Roy Driessen, industry marketing manager of poultry at Marel, with US operations in Lenexa, Kansas, says the latest buzz with high-speed lines is the increasingly sophisticated use of intelligence to ensure consistent, top-quality yields, and that each and every carcass is cut into its most profitable form.
"Super-accurate, up-to-the-minute in-line weighing and vision systems provide the necessary input data, which is then manipulated by Marel Innova PDS software," he says.
The two examples of intelligence that offer the most benefits to US processors are combined rate limiting/floating point control and Q-Wing software.
"Combined rate limiting and floating point control work with data from in-line weighing systems," he explains. "Products from two or more Marel ACM cut-up systems are distributed over multiple front-half or breast-cap deboning systems. The combined rate limiting software ensures that front halves/breast caps from the two or more cut-up systems are fed to the operative loading each deboning system at the correct processing rate."
Floating point control ensures that, regardless of the weight spread of front halves/breast caps going through the process at any one time, these will always be split up into narrower weight ranges for each individual deboning system.
"Production managers will therefore be able to set their deboning systems more precisely," Driessen says. "Yield, product quality and productivity will all benefit."
Eric Nolten, vice president of commercial operations for Meyn America, Ball Ground, Georgia, says in 2020, the focus is really about getting the higher speeds through the line, so the footprint is smaller while adding capacity.
"In order to get that done, you have to be able to run faster and with an increased weight range going over the line," he says.
Additionally, he notes companies are trying to do more with less, which is why it's necessary to have a machine capable of handling a range of weights.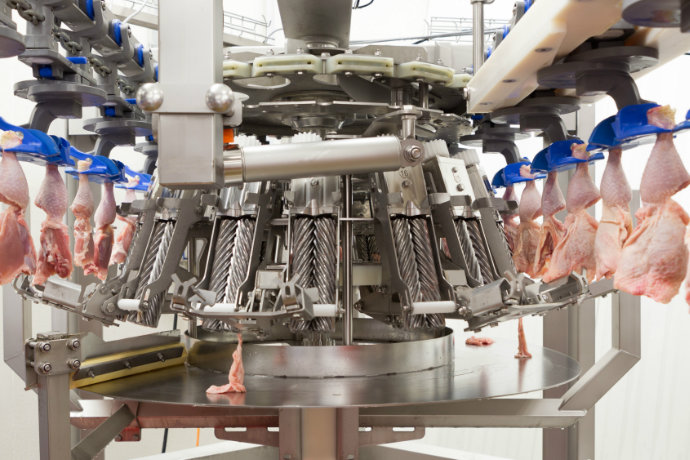 The process evolves
In 2020, Meyn plans to work on several machines that are automatically adjusting for weight and slowing down the rotation speeds of the shackles, to allow one to go to comfortable speeds without creating a lot of wear and tear on the lines.
"What we're trying to do is have it automatically adjust by the physical restraints or dimensions of the bird," Nolten says. "One machine we currently have operational in a couple of plants, and it really improved productivity and efficiency on those lines."
Hahn notes the Baader ProFlex Cut-Up System is a comprehensive solution to meet the evolving demands of its customers.
"The Baader cut-up line and its proprietary shackle design allows for increased food safety – the bird is not contacted during bypass operations – and maximum processing flexibility," he says. "Furthermore, our smooth shackle turning points increase chain life and decrease undesired movement of birds during processing."
The company's patented integrated high-speed wing segmenting performs with high accuracy and delivers anatomical quality cuts, which are achieved by positioning each wing sequentially and independently for precise cuts.
Additionally, Baader's integrated Thigh Filleting System can debone 232 thighs a minute without removing the legs from the shackle. The system processes left and right legs simultaneously and the thigh meat can be skinless or skin on.
"We continuously work to improve the performance and reliability of existing technologies and to expand functionality with new technologies such as wing segmenting and thigh filleting," Hahn says. "Adding intelligence, such as vision and weighing technology, within the cut-up line has provided greater flexibility, more control, higher quality and increased throughput."
Marel's new Q-Wing system consists of IRIS vision systems controlled by dedicated Q-Wing software, the necessary conveyor systems for keeping automatically graded wing parts separate, bulk packing stations and a rework area for the possible upgrade of product downgraded by the system.
"With Q-Wing in place, processors can truly unlock their wing potential," Driessen says. "They can now make the very best use of each and every wing or wing joint."
Working to improve
At Meyn, more than 80 people are consistently working in its R&D department to better optimize the equipment – both with new development and innovation within the existing portfolio.
"If you don't keep developing and don't continue to be cutting-edge, you're going to slowly die," Nolten says. "2020 will be an important year for us, and we believe we will be setting some new standards going forward."
Driessen notes innovation is in Marel's DNA, and while the company has been responsible for many firsts, the aim is to grow and prosper by staying ahead of the game.
"Our R&D team has a strict process for turning good ideas into reliable products," he says. "We start first with a prototype. Once we are sure that this works, we make a very limited number of the new machines, which we then test in plants, each of which is chosen for a particular characteristic. When these tests have been successfully concluded and the technical specification of the new machine finalized, we can start production on sales orders."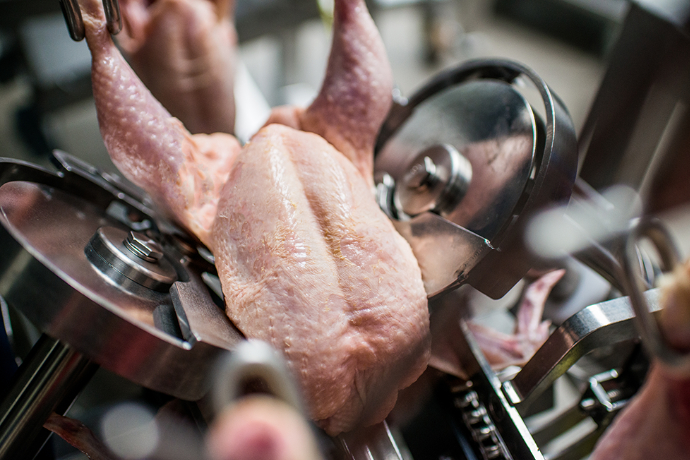 Looking ahead
Even with all the advancements and innovation coming down the pike, there are still some challenges with high-speed cut-up lines that need to be overcome.
Driessen notes that Marel's customers are under continuous pressure from their customers to deliver quality product more cheaply.
"We have to help them by delivering equipment which delivers top quality and top yields at the highest level of productivity and the lowest possible cost of ownership," he says. "Things can always be better and this is what drives us."
For example, he notes carcass balance is a crucial concept. Quite simply, this means making the most profitable use of every component of the carcass.
"In some markets, some components are more valuable than others," Driessen says. "The US has traditionally been a breast meat market; the Far East a leg meat market. Things are, however, changing. In the US, for example, leg meat is becoming ever more popular. At Marel, the task is to make leg meat production more attractive, helping to achieve a better carcass balance."
Nolten says companies are trying to add value in the lines and incorporate a lot of deboning in the cut-up line, and that's an area that can be improved.
"We're going to start deboning in our cut-up lines without taking product out of the product area, out of the shackle and leaving it in to get the added value," he says. "You will have the flexibility where on the spot you can choose to remove fillets from certain parts of the birds in the cut-up lines if that's what you want to do."