In Rittersbach, Germany, butcher Claus Boebel opened the Bratwurst Hotel. It's reported to be the first completely sausage-themed hotel in the world. Boebel decorated the seven bedrooms with bratwurst wall paper, sausage-inspired bedding with sausage shaped pillows, dried sausages hanging on the walls for décor, as well as sausage-shaped soaps in the bathrooms.
A restaurant offers traditional sausage fare and desserts, including sausage flavored ice cream. On-site activities include sausage making workshops, guided tours of the butcher shop and tasting sessions. And of course, guests can purchase fresh sausage to take home as a keepsake of their sleepover.
OVERherd

"I'm sure all the stars will be riding their bicycles to the Red Carpet ... Do they know that it would take 4 years of veganism to negate the environmental impact of a round-trip flight across the Atlantic Ocean? How many private planes will be flying to the Golden Globes this year?"

– The North American Meat Institute's Facebook response to the Golden Globes serving only plant-based meals at this year's ceremony.
Plant-based awards
The Hollywood Foreign Press Association opted to serve a plant-based menu to its star-studded guests at the 77th Golden Globe Awards on Jan. 5 to make a statement regarding climate change.
"The decision to serve an entirely plant-based meal was embraced by our partners at the Beverly Hilton, and represents a small step in response to a big problem," said Lorenzo Soria, president of the organization, in a statement to CNN.
The Beverly Hilton served the 1,300 guests chilled golden beet soup topped with shaved candy-striped beets and pistachios and King Oyster mushroom "scallop" and wild mushroom risotto.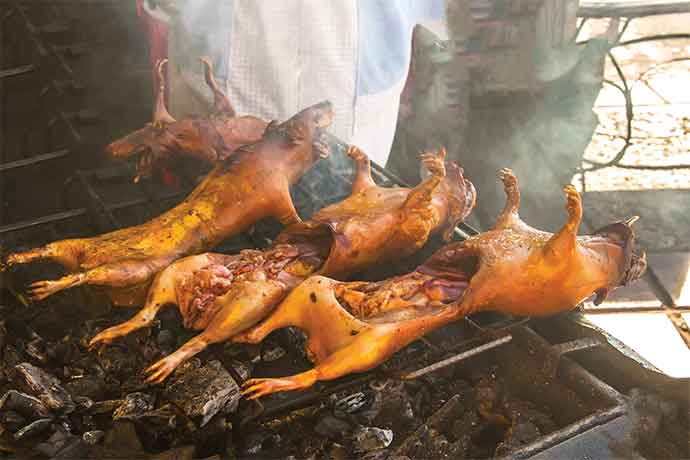 Peruvian pork
Last fall, MEAT+POULTRY Digital Media Associate Editor Ryan McCarthy traveled to Peru. While there he gorged on local cuisine, including guinea pig, or cuy. Restaurants around Peru price the meat higher than other offerings as they consider it a premium meat, high in protein and low in cholesterol. It's prepared both fried and grilled, and "…has a taste like chewy chicken," McCarthy says.