German master butcher Uli Lengenberg has attained a great reputation for his meat products in Seattle and around the United States. His business, Uli's Famous Sausage, delivers on quality, taste and authenticity.
He truly looks the part of a German butcher, at 6'6" in height, a strapping 260 lbs., and sporting a mustache reminiscent of his homeland. But to know him is to realize the love and heart he puts into each of his 50 different meat items, which make him a standout in the industry.
His family was in the restaurant business and he recalls how his grandmother, a home economics teacher, was fastidious in her meal preparation.
"She was a master housewife and fussy on the right way to handle food. When I was a young lad, she put me in the kitchen...and kept saying 'Let Uli do it...he knows what to do.'"
Now at 61 years of age, Uli has never forgotten the lessons learned about food from his grandmother. Born and raised in the region between Cologne and Frankfurt, Germany, he apprenticed at small butcher shops in the area. When he had an opportunity to work on and complete his master butcher certification at a spice company in Heidelberg, he did.
Germany meets Seattle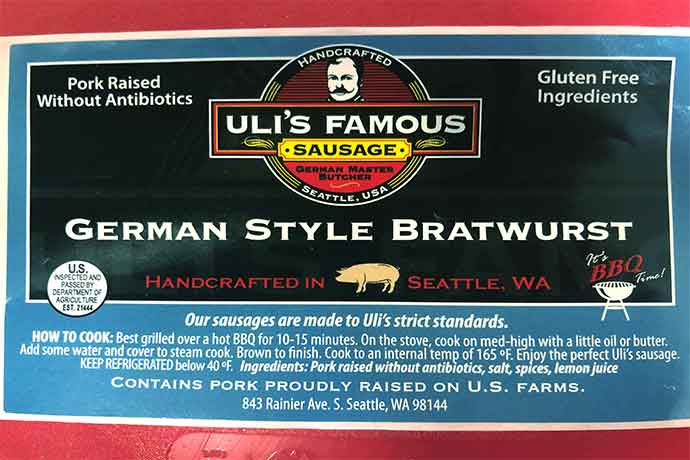 Uli wanted to travel and see the world. He worked to set up a meat shop in Taiwan where he plied the trade for 12 years before moving to the US with his wife Jean. Uli's Famous Sausage opened its doors at Seattle's popular Pike Place Market in May 2000, with a retail sausage shop and later added a casual dining restaurant called Uli's Bierstube. Because of its high volume, inspection officials wanted Uli to move the processing area to a separate location. In 2008, he found a former food production plant just minutes away. He remodeled it into a 4,000-sq.-ft. plant with a complete fresh sausage kitchen under USDA inspection.
"Seattle is very much a high-tech area with communications and aerospace companies like Boeing and others employing a large number of German workers," Uli explains. "Opening up a shop making those Old-World style products was a natural thing for me.
"The older customers who wanted to shop for German-style sausages were there and still represent about 40 percent of our retail business. Now about 60 percent of those coming in are younger and they like these fully flavored sausages, but they also like chicken-based sausages, which now account for 60 percent of our product line and sales."
In 2014, Uli bought his own warehouse, and transformed it into a state-of-the-art sausage production facility.
The new facility offers more cooler space, separation of cooked and fresh product, and plenty of room for his two Handtmann stuffers, smokehouse, bowl chopper, spice and seasoning mixing areas and storage.
Uli strongly supports local livestock producers and tries to source his meat supply from the area, but also finds it necessary to buy raw product, including chicken, on the commodity market. He insists on meats that are all natural, without unnecessary antibiotics and is an avowed no-fillers advocate.
"Every product should and must have its own distinct personality," he says. "My customers do not buy my sausages because of price. They buy them because they are great products. Every one of them is made with dedication and caring. I believe in the proper amount of spices and flavoring and I mix them myself. Some companies get very stingy on their use of spices. That reduces the flavor and lowers the quality. That is not me."
Uli says that the greatest compliment he has been paid comes from some of his customers who buy his sausages and advise him that he should go back to Germany and let those wurstmeisters know what they have seemed to skimp on in modern day production.
"I don't know that that's in the cards for me," he responds. "There are many fabulous butchers and sausage-makers in Germany. I can only speak for what my values and taste and quality expectations are to me. It is the quality I can't be stingy about."
Gaining notoriety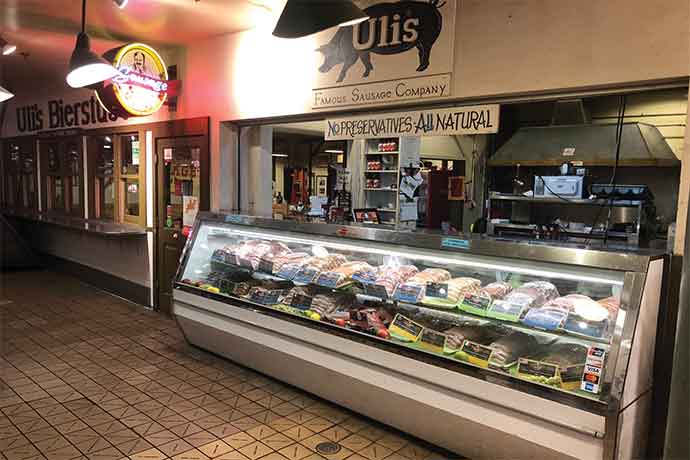 Uli's sausages have become so renown that they are served at Seattle's Century Link Field, home of the NFL Seahawks. Catering companies can serve them in the Verizon Lounge or in the other suites at the field. They also order "corn brats" featuring Uli's basic bratwurst.
Uli's Famous Sausage markets a bevy of specialty German mustards and horseradish with the flavors of Bavaria, Handlmaier, Dusseldorf and more. But it is his sausage line-up that tops the chart and new product innovations have included bacon sausage, South African sausage, Cajun andouille, garlic breath Polish Kielbasa, English bangers, Italian, French onion, Thuringer, Hungarian, chorizo, linguiça and more.
His deli counter raw sausage-to-go features English-style bangers and French lamb merguez, pork apple and Louisiana hot links.
On a local radio station, KISW, there is an afternoon talk show called "The Mens' Room," which has a history of supporting local causes. Not long after a local brewery (Elysian) developed a special brew called Mens' Room, someone suggested pairing a brat to go along with it. Along came Uli with his own special bratwurst to make the perfect match.
A percentage of each Mens' Room sausage sold from the website, ulisfamoussausage.com, and in a few dozen local supermarkets and grocers in the Seattle area is used to support the Fisher House Foundation, a veterans support group that provides zero-cost housing for families of military veterans who are undergoing medical treatment.
The website features some great videos about sausage, including one on designing your own sausage.
Uli's has sold more than 100,000 sausage links in less than a year through the Mens' Room program. Never the quitter, Uli has supplemented the Mens' Room sausage offerings to include alligator, bacon apple, blueberry breakfast, duck apple, smoked jalapeño cheddar, Cougar gold cheddar, currywurst and even Boudin blanc.
"It's just in my blood and every part of my being to say I have a product of the quality that is the best it can be," Uli explains.
When asked about the future and next steps for the company, which has already grown to 60 percent in his wholesale division, his response is steeped in sincerity:
"Big business is great. I have thought about expanding further. Yet it comes down to the time it takes to manage what you are doing. My area of strength is in making and producing sausages and meats that come from my love of being the best I can be. Managing future expansion would mean bringing someone in who has that talent and time."