CHICAGO – McDonald's Corp., looking to optimize investments made in digital technology, announced the creation of a new executive position and team focused on enhancing the customer-facing digital experience at McDonald's restaurants, according to emails sent to MEAT+POULTRY.
In a company-wide email, CEO Chris Kempczinski said the company's customer, business and technology strategies must be well aligned for McDonald's to realize its potential in the digital space.
"We must accelerate our focus on the digital experience by taking a more holistic approach that drives value from our existing customer-facing digital investments to better engage customers and drive profitable growth," he said.
To kickstart the momentum, Kempczinski said Daniel Henry, global chief information officer, will report directly to him.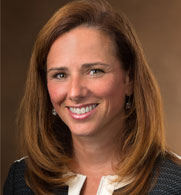 Lucy Brady, Chief Digital Customer Engagement Officer, McDonald's
Additionally, Lucy Brady was appointed to the newly created role of chief digital customer engagement officer. She previously served as senior vice president, Corporate Strategy and Business Development, for three years. Prior to joining McDonald's, Brady worked at Boston Consulting Group where she was a senior partner and an active member of the consumer and the marketing, sales and pricing practices. Before that, she worked in brand management at General Mills and as an assistant portfolio manager at the real estate firm Trammell Crow Ventures.
"Lucy and her team have been the driving force behind the rapid expansion of McDelivery since 2017," Kempczinski said, "quickly growing the business from $1 billion to more than $4 billion in three years. Her team also ran point on the acquisition of Dynamic Yield — an investment that's already in restaurants throughout the US and starting to gather steam in additional markets — one that's tangibly driving check growth."
Kempczinski also announced the creation of a dedicated Digital Customer Engagement Team, which Brady will lead, tasked with driving global digital initiatives such as ordering, personalization, payments, loyalty and delivery. Marketing Technology, which is led by Bob Rupczynski, and Global Delivery will join the Digital Customer Engagement team and report into Brady.
In her message, Brady said McDonald's had only "…scratched the surface of our full potential, especially in our largest markets."
"The Digital Customer Engagement team will be cross-functional, bringing together experts from marketing technology, finance, operations, marketing, insights, analytics and other functions to develop world-class digital experiences including ordering, personalization, payments, loyalty and delivery," Brady said. "We will partner closely with market teams to define our overall digital strategy and ensure we maximize value from our efforts. By working together and pooling our expertise, we can develop better solutions for our customers, deliver greater value and move faster and more efficiently."
Brady earned an MBA from the Stanford Graduate School of Business, where she finished in the top 10 percent of her class. She has an undergraduate degree in finance and economics, summa cum laude, from the Wharton School at the Univ. of Pennsylvania.
"While we will proceed quickly to keep pace with the external environment, it is important to take the time to be thoughtful about this team's priorities and set ourselves up for success. We'll identify quick wins and meaningful actions to generate value in the near term," Brady said. "We'll also use the next 90 days to seek input from market teams, key functional groups, franchisees and supplier partners. We will work to digest those learnings and share more detail on the path forward in early April."
The Digital Customer Engagement team will partner with a newly created Digital Advisory Council (DAC) comprised of Joe Erlinger, president, McDonald's USA, Ian Borden, president, International, Kevin Ozan, chief financial officer, Henry, Colin Mitchell, senior vice president, Global Marketing, and Brady.
Additionally, Corporate Strategy and Business Development will now report directly into Ozan. The company is working to identify a successor for Brady's role.