'Tis the season for whole muscle cuts of meat and poultry, as families and friends gather around tables during the holidays with a common center platter of roasts of some kind – from roast turkey to standing rib roasts to roast pork loins and hams.
While consumers go back into portion control mode for a while at the beginning of the New Year, with resolutions and all, the fact remains that whole muscle cuts comprise a significant part of the fresh meat case, for weekend-dinner kind of occasions and applications with slow cookers or instant pots. Consumers still buy case-ready whole muscle cuts to prepare at home, even as those cuts may be muscled in on by ground meats and other convenience cuts, not to mention plant-based proteins.
"The market for whole muscle products is absolutely still there. The longer term trend may be for smaller pieces and there are changes in product mixes, but there is a need for larger pieces," observes Michael J. Rosinski, marketing director, fresh red meat, for the Cryovac division of Sealed Air Corp., Charlotte, North Carolina.
Accordingly, packaging for whole muscle cuts is designed for consumers' evolving preferences. The continuing proliferation of branded case-ready products, for example, has led to greater interest in consumer-friendly features like easy-openings and billboard-style graphics with more product and cooking information.
Consumer-driven features
From a consumer-facing standpoint, appearance and shelf life are factors that influence packaging for whole muscle cuts of red meat and poultry. Film clarity is important in showcasing whole muscle products at the point of sale, for instance.
Cuts with an extended shelf life also hold appeal for consumers, retailers and foodservice operators alike. Modified atmosphere packaging for those kinds of products is a solution, albeit one with some challenges like consumer acceptance of "purple" meat and perceived "off" smells.
Christian Uebele, engineering manager and product market manager, thermoformers, for Multivac Inc. of Kansas City, Missouri, addresses some of those consumer perceptions. "With the lack of oxygen, beef turns purple. The beef inside the package may be perfectly fine, however the visual presentation of the beef looks dark and unappealing to the average consumer who assumes that because the beef is not bright red, it must be bad," he says. "Also, chicken can give off gasses which smell like sulfur. While this unpleasant smell does not indicate the product has gone bad, it is still a concern for most consumers."
There are solutions to those challenges for packages of whole muscle products, Uebele adds. "To prevent beef from turning purple and chicken from off gassing, oxygen permeable films can be used," he explains.
In addition to other solutions for whole muscle cuts with an extended shelf life, Multivac offers vacuum skin packaging (VSP). "VSP packages are gaining popularity due to the high quality appearance they offer, as well as an extended shelf life and ability to help the product retain moisture as natural purge is reduced," Uebele points out.
Meanwhile, beyond case appeal, packages of bone-in whole muscle cuts are designed with safety and integrity in mind. For instance, bone guards help prevent punctures. "While this is another added packaging component which increases the cost of the package, it may be unavoidable," Uebele says. Multivac has addressed this potential issue in its VSP packaging with semi-softened film draped across sharp bones to prevent punctures.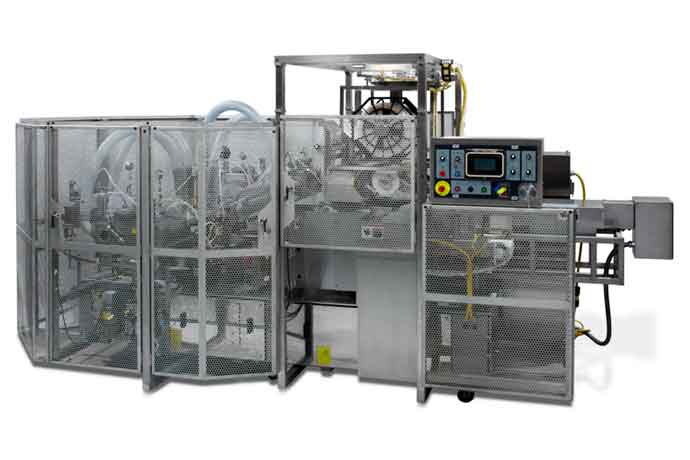 The processor perspective
Other advances or updates in whole muscle packaging are done to help processors with their own set of challenges. "Right now, one of the biggest things on processors' minds is labor. Labor availability is at a new low," Rosinski says. To help processors who are packaging whole muscle cuts, Sealed Air works to help them achieve full utilization of their line, through technologies like the remote monitoring of packaging lines and the rapid diagnosis and repair of any issues. "With whole muscle cuts, we're talking about rotary vacuum chamber machines that are very productive and durable, but there is wear and tear, so having a strong predictive maintenance program and rapid diagnosis is crucial," he adds.
Although many processors still do manual loading for whole muscle products coming down the line because of the lack of product uniformity, Sealed Air is working with customers to plan production lines to automate loading of product as much as possible.
Other providers of packaging solutions are likewise designing systems for operator versatility and ease of use. Ossid, a product brand of ProMach, has developed a new machine that allows users four different modes of operation: ambient, MAP without vacuum, MAP with vacuum and VSP. The system is also printed film capable.
Finally, while demand in the US for whole muscle cuts is steady even with the expansion of other types of meats, the global market has its own supply and demand dynamics. Rosinski points out that many countries that import meat from the US, including China, prefer large cuts, since meats are further fabricated by butchers at a local level. "The demand coming out of China is a more recent change that everyone is trying to adapt to," he says.