Consumers' expectations of meat as a tasty, satisfying, high-quality source of complete protein is inspiring many processors to reinvent products such as meatballs, patties and sausages with inclusions that add color, flavor and sometimes nutrition. This will secure meat a permanent place on the plate, according to London-based New Nutrition Business.
This year marks the first time the global market consultancy firm identified meat as a growth opportunity – alongside plant-based copycats – in its annual trend analysis. This is partly thanks to the influence of other key consumer trends – protein, lower-carb and the rebirth of fat – identified in its "10 Key Trends in Food, Nutrition and Health 2020" report.
"People want plants, but we're not all turning into vegans," says Julian Mellentin, a consultant to the food and beverage industry and author of the report. "In a world where consumers hold fragmented beliefs, there's room for both plants and meat.
"With plant based getting all the attention and meat under attack, creative meat producers are taking steps to reinvent their category, for example with sustainability, provenance and convenience," he says.
Retail sales data show meat brands that communicate a value-added positioning are growing fast and earning premium prices, with "organic" and "grass-fed" the most popular. Many brands of formed meat products now tout these claims, positioning them as better-for-you and better-for-the planet products instead of an outlet for meat scraps and byproducts, their reputation from yesteryear.
"It's a transformation that will be welcomed by consumers who love to hear that something they enjoy is also good for them, as happened with red wine and chocolate," Mellentin says. "They are particularly receptive right now to positive messages about meat."
Such positive messaging includes low-carbohydrate and high-protein claims. These call outs may steer consumers to the various meat departments located throughout the supermarket, but it's the layers of flavors often delivered via accentuating inclusions that attract them to one product over another.
"Consumers make their first judgments about food based on appearance and confirm their judgments with taste and smell," says Peggy Iler, senior manager and lead scientist with Kalsec, Kalamazoo, Michigan. "The interaction between appearance, smell and taste is pivotal to the success of a product, and each aspect should be considered when developing new products.
"In the case of hot and spicy foods, consumers have predetermined ideas of what a hot or spicy food should look like," she says. "This means that the appearance of a spicy food is almost as important as the heat level and flavor."
In hot or spicy meat products, it is helpful for the product to contain inclusions suggestive of the pepper. However, to ensure consistent heat level across batches, even within the batch, it is often best to rely on a heat extract.
"Globally, consumers are most interested in trying spicy-salty combinations, followed by spicy-sweet and spicy-tangy combinations," Iler says. "We are going beyond a single dimension of heat to one with added flavors, whether that be sweet, citrus or tangy."
Consumers are most comfortable trying new spicy flavors in familiar savory foods, such as meatballs, patties and sausages, according to the "2019 Spicy Perceptions" report from Kalsec. More than 60 percent of consumers surveyed agree that savory foods taste better with some level of spiciness. Heat level in combination with other flavors can inspire trial.
Hot ideas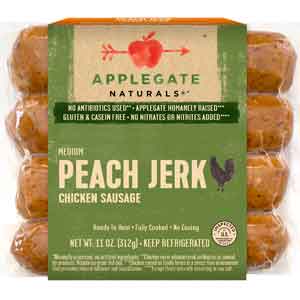 Applegate Naturals, a brand of Hormel Foods Corp., Austin, Minnesota, embraces the sweet-heat combo in its peach jerk sausage. It features identifiable pieces of real peaches, with the jerk flavor system including an array of chili pepper bits, along with thyme, cinnamon, ginger, allspice, cloves, garlic and onions.
Sweet-heat is what Tyson Foods Inc., Springdale, Arkansas, offers in the spicy mango and jalapeño system the company features in its Aidells fully cooked chicken meatballs and sausages. The flavor combo includes chunks of ripe mango, diced jalapeño and fresh cilantro.
Spicy-salty is what's featured in Aidells fully cooked Poblano & Queso Fresco Chicken Burgers, which also include pieces of real onion, jalapeños and feta cheese. Poblanos are a mild variety of chili pepper with a slight spiciness and bright green chili flavor. The saltiness of the queso fresco and feta provides a flavorful balance.
The Aidells brand is all about the layering of flavors through inclusions. Its fully cooked chicken sausage line includes combinations such as pineapple bacon, portabella Swiss cheese and red bell pepper with roasted corn.
Wheaton, Illinois-based Gilbert's Craft Sausages is known for its inclusion-loaded, fully cooked chicken sausages. The company individually vacuum packs them to assist with freshness. Specialties include Fig & Feta, Caprese (mozzarella, basil and sun-dried tomato) and Aloha (pineapple, ginger and brown sugar).
Whole Foods Market's 365 Everyday Value brand now offers a fully cooked frozen chicken and blueberry breakfast sausage. It's made with dried blueberries infused with cane sugar and sunflower seed oil, which helps maintain integrity during heating.
Johnsonville, Sheboygan Falls, Wisconsin, sells its Cheddar Cheese and Bacon Grillers pork patties in both the freezer and fresh meat case. The latter has the patties on display in a tray covered with clear plastic film, showcasing the identifiable bits of cheese and bacon.
You won't find the artisan sausages from Fossil Farms, Boonton, New Jersey, in any brick and mortar store. The company ships its specialty meats direct to homes, and works with chefs, big and small, to help them diversify their menus with healthy, sustainable alternatives to conventional red meat. This includes farm-raised wild game, game birds and exotic meats, with an emphasis on utilizing the whole animal, according to Lance Appelbaum, founder and owner.
Some of the company's specialties are elk sausage with apples and pears; rabbit and chicken sausage with white wine and bacon; and venison sausage with blueberries and Merlot wine.
Ben Forbes, founder and owner of Forbes Meat Co., Tucson, Arizona, has developed a cult-like following for his artisanal sausages that include indigenous fruits, vegetables and herbs. He sells them at farmers markets and direct to consumers who are willing to venture out to his secret kitchen. A number of restaurants and local breweries offer his sausages as featured menu items. And while he has a standard offering, it's his limited-edition products that have sausage aficionados from around the country placing online orders.
Using sustainability and humanely raised proteins, hand-crafted customized spice blends that he toasts himself and various locally grown ingredients, Forbes' sausages have won many awards. One of his more interesting creations combines prickly pear and chiltipen peppers with ground rabbit.
"The prickly pears are harvested in Tucson. We dice the fruit into juicy bits and add it to the meat," he says. "The sweet lends itself well to the spicy chiltipen peppers, which are also locally sourced."
He also is really into chorizo and likes to mix ingredients up to create many variations. Chorizo verde, also known as green chorizo, has become one of his most popular sausages.
"This sausage starts with roasted tomatillos, poblanos, serranos and green chilies," Forbes says. "I add some cilantro and a few other spices to kick up the heat. This includes locally sourced chiltipen peppers."
Ingredient selection
There are many variables to consider when adding inclusions to meat. Appearance, flavor and texture must all be addressed. This includes in-pack and after cooking.
One key variable is the pH of the ingredient and the meat system, as changes in acidity impact color, taste and succulence. Succulence is related to fat and moisture retention. Too much purge during cooking will dry out the meat.
The moisture content of the meat matrix and the inclusions are also a key consideration. If there's too much difference, moisture movement – inclusion to meat matrix or meat matrix to inclusion – may occur. Too much movement in either direction results in product breakdown. Fruits, vegetables and cheeses all have varying moisture levels that may impact the stability and cohesion of the system.
The moisture of cheese can severely impact product quality. But because cheese is a great way to add flavor, color and even texture, it is an increasingly common inclusion.
Current clean-label trends are to use natural cheese, as it is minimally processed and typically contributes very simple ingredients to the final product, just milk, salt, culture and enzyme. With natural cheese, you get flavor and mouthfeel, but melt can be challenging, as the cheese particulate may lose its identity in the final cooked meat product. Restricted-melt processed cheese and no- and low-melt natural cheeses, such as feta, halloumi, queso blanco and paneer, simply get creamier when heated. They do not ooze and lose form the way cheddar, mozzarella and Swiss do when added to meat products.
When it comes to including fruits and vegetables, dried and semi-moist bits and pieces are often the smartest choice. They may pull some moisture from the meat matrix, but just enough to become tender. They also don't bleed as much as fresh fruits. These dried versions are often infused with a humectant to keep them soft but prevent moisture migration.
Unprocessed whole fruits can be quite challenging to work with, especially if the product is intended to have a lengthy refrigerated shelf life. They will leak moisture into the meat matrix over time, creating mushy pockets in the cooked product. When fresh fruit is used, it is best to freeze the product immediately after manufacture until it's ready for preparation and serving.
Some suppliers offer carefully crafted inclusions that can be manipulated to meet varied sensory targets. For example, neutral-tasting and colored apple may be formed into a piece that then gets infused with the juice of other fruits, such as blueberry. This allows for a "made with real blueberry" claim, with both apple and blueberry appearing in the ingredient statement.
Depending on the product positioning in the marketplace, fabricated inclusions may make the most economic and shelf life sense. These are either lipid- or carbohydrate-based bits that are infused with flavor, even trivial tastes like ketchup, mustard and dill pickle. Such inclusions come in a range of sizes. Size influences flavor distribution and visual effect in the finished product.
Meat products with lipid-based inclusions have been found to withstand pan frying, baking and microwaving. Higher sugar content inclusions can undergo caramelization during dry-heat cooking, which may add an extra flavor dimension, as in a maple inclusion for a breakfast sausage.
Such inclusions can also deliver smoke flavors, which add a touch of grill flavor without needing to grill. They may also be used to introduce alcohol flavors, such as beer, bourbon or wine. By using such fabricated inclusions, a processor can have one base meat matrix recipe, and simply switch up the inclusion for a new limited-edition flavorful offering.