Operators of modern poultry processing plants, many running capacities of more than 10,000 birds per hour, rely on a complete, clear overview of all their processes to maintain control of the product flow from incoming broilers to packaged products.
Roy Driessen, industry marketing manager, poultry, for Marel Poultry, headquartered in Iceland, with US operations in Lenexa, Kansas, says processing lines need to transfer raw material into high-quality products and deliver the right product to the right customer at the right time. The only way to manage all of the factors is to implement an advanced software platform that provides all opportunities for data collection, traceability, production control, quality control and performance monitoring (OEE), he says.
Marel's Innova Food Processing Software links together virtually all of the equipment in the plant.
"Innova empowers processors in their digital transformation journey to get the most out of their operations," Driessen says. "Data-driven processing includes real-time monitoring of key performance indicators such as yield, throughput, quality, capacity and labor efficiency. These valuable insights allow processors to identify opportunities for improvements, while ensuring that production conforms to quality and food safety standards."
Deciphering data
Processing data is key to making poultry production more efficient and consistent because it can give the processor immediate feedback about bird characteristics, processing fine-tuning, best use of raw material, and line utilizations. The processor can then act upon this data and get processing back on track, plan processing hours ahead or adjust equipment accordingly.
Norbert Engberg, Ph.D., CEO of Baader, with US offices in Kansas City, Kansas, believes that big data capturing and processing are the future of not only poultry processing but for the entire food processing industry.
"Within our own value chain, we are working on optimizing existing software technologies that capture processing data throughout the shop floor and monitor processes thereby optimizing decision making and use of resources," he says. "Processors are facing multiple decision challenges in daily production, and automatic capturing of individual bird weight and quality have been proven to be determinant characteristics in 'smart' poultry processing."
That's why Baader works at increasing real-time information about bird characteristics throughout the processing line by implementing data capturing points both pre- and post-chill. The data can be automatically collected – e.g. by its advanced vision technology – or manually entered at inspection stations. The real value of the data is that it is analyzed in real time and made available for fast decision making.
"In addition to the data being used to assess best use of each bird, the captured data can also be used to warn decision-makers to improve adjustment of equipment from pickers back to scalders, killing machines and stunners in order to eliminate downgrades and improve overall end quality," Engberg says. "By the end of each processed batch, the captured data is valuable input to flock reports."
The Baader bTrace platform provides a cloud solution that can leverage blockchain, machine-learning technologies and other digital solutions to detect, predict and manage outcomes in poultry health, production efficiency, product quality and food safety throughout the supply chain.
Tom Rozendaal, product manager for Netherlands-based Foodmate B.V., says the company links together its equipment physically, having developed various machines that automatically take the product from one line to the other, not compromising on speed or capacity and replacing many workers. Efficiencies are also realized through the use of software, developed to weigh and grade the chickens.
"With this intelligence, we keep track of each bird in the line and divert them to the right lines automatically to optimize yields and minimize giveaways," he says. "We have also developed a machine that combines the two – this is a weighing rehanger utilizing the physical need to rehang birds from one line to the other with the option to gather crucial information (weights) on that same footprint."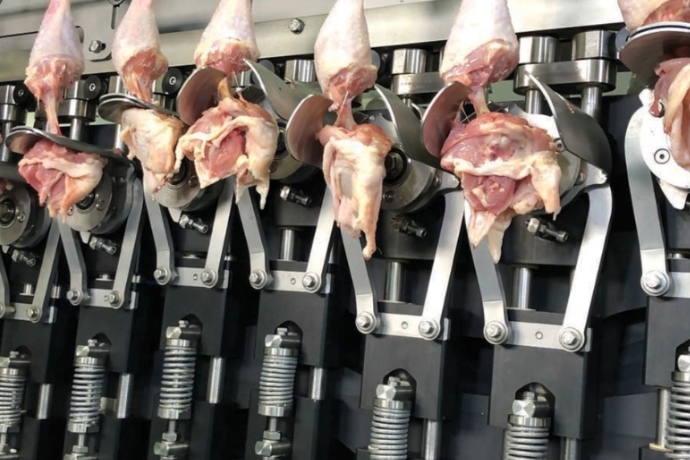 Labor strain
Labor shortage is a worldwide problem, especially in the poultry processing industry where skilled workers are needed to work in cold and wet environments. By making machines more intelligent, companies are creating a winning strategy that includes linking this infrastructure in the name of efficiency, consistency and automation to better address the labor shortage.
"Gathering a lot of product data and having the machines communicating with each other is the future," Rozendaal says. "In this way, we can make sure that an inconsistent product such as chicken is divided over the various lines to reduce standard deviation and create consistency, and this consistency brings efficiency. With the capacities nowadays, it is not even possible to do that manually."
Foodmate recently introduced the use of X-ray technology in deboning chicken legs. Deboning chicken legs in many plants is still a manual process as legs are inconsistent in size and weight and hard to debone mechanically.
"Gathering data of each leg and adjusting machine settings automatically to each leg opens a new world of possibilities," Rozendaal says. "With our 'Ultimate,' we are able to replace about 20 to 30 workers with one machine and be more accurate on deboning. Increasing yield and being able to produce a higher capacity consistently for more hours a day ramps up the efficiency."
Larry Campbell, Marel Poultry's vice president of sales, says there are two obvious reasons for progressive automation in the poultry plant: increasingly challenging labor markets and steadily advancing technology.
"A machine does its job much more consistently," he says. "It comes to work every day and does the same work every day, every hour, regardless of the environment or the time of day, without getting tired."
Digital savvy
Digitalization offers untapped potential for all stakeholders along the food value chain including the end customer and the planet. After all, collecting and connecting selective data can provide better control of the use of natural resources while increasing process and production security, efficiency and quality assurance for the industry.
"An integrated view of operational data allows the finished product to be traced back through the value chain at a minute level of detail," Engberg says. "This helps analyze the impact of breeds, feed and farms in the value chain. Moreover, interpreting collected data can lead to new, unexpected insights."
The importance of digitalization for Baader, he adds, manifests in the creation of a separate digitalization unit called bTrace Tomorrow.
In addition, Baader is also the main initiator and mentor of a unique Food Value Chain Network, a fast-growing, interdisciplinary community of trusted partners, with the purpose of sharing data and knowledge and working together to improve and rethink the way food is being perceived, produced, distributed and consumed.
Baselines of work are strict standards of data security, where data is shared and processed only with authorized access, yet in an open dialogue and exchange of ideas. Baader is convinced that comprehensive digitization within the food supply chain will help to improve administration and control but also increase process and production security and efficiency.
In action
Baader currently works closely with various customers worldwide on development projects and is implementing big data handling at its show plant in the UK – Iqbal Poultry.
"In addition, we are building partnerships along the entire poultry value chain with farmers, feed producers, track and transport companies, governments, industries, businesses, organizations and consumers," Engberg says. "By doing so, we do not just simply supply more data to our partners, we bring different sources of data together that provide insights with which actions can be taken."
UK-based food producer Cranswick has installed a "control tower," which acts as the nerve center of the factory. This room is home to Marel's Innova Food Processing Software and features numerous screens, all displaying the real-time status of production and yield. The integrated Innova solution will enable Cranswick to control, monitor and report on all its processes.
At its recently completed Lincoln Poultry plant in Fremont, Nebraska, Costco utilizes Marel Innova software throughout the plant. The software was incorporated into the plant's operating systems to help management achieve full traceability and ensure efficiency.
"Innova, an invaluable tool in plant-wide quality control, will monitor all incoming weights, defects and processing yields, keeping an eye on equipment at the same time," Driessen says. "By overseeing cut-up and packaging, Innova will ensure that orders are met on a real-time basis. Innova will also be integrated into third-party grower software and ERP as well as robotic palletizing systems being used in the plant."