If not for the blurring heat of 117°F invisibly shrouding the facility in early July, an unknowing visitor to SuKarne's beef processing plant in Mexicali, Mexico, might mistake the operation for a large-scale operation in the US. Another dead giveaway is the adjacently located feed production plant abutting the facility.
But perhaps the most glaring difference is the expansive pens where about 80,000 head of cattle are fed and spend about 170 days, up to target weights of about 1,100 lbs., before moving into the processing plant. This vertically integrated setup has become a signature business model of SuKarne, easily Mexico's largest producer and processor of beef, with five other integrated complexes in Mexico, including its Culiacán, Sinaloa, plant, where the company is based. Slaughtering about 1.7 million cattle per year and generating approximately $2.8 billion in annual revenue, SuKarne is the fifth-largest grain-fed beef company in the world, just behind US-based National Beef. The beef-focused company produces 65 percent of Mexico's exports and maintains 800,000 head of cattle on feed, 70 percent of which SuKarne owns. Comparatively, in the US, processors typically own only about 20 percent of their fed cattle, says Efrain Resendiz, chief business development officer. The advantage for SuKarne is that it controls all aspects of production and quality for up to six months prior to slaughter.
"This allows for a steadier supply in the plants and a way to fulfill the market needs in a more stable way," Resendiz says. The supply funnel is kept full by SuKarne's daily purchases of cattle and grain, providing steady income to small, independent producers in Mexico. The company works with over 100,000 producers of grain and cattle to maintain the expansive business in Mexico. "We have the highest impact on the development of the Mexican agribusiness sector," he says.
A mixture of young European and Brahman breeds is maintained on the same property where they are fed before slaughtering and processing. Utilizing daily shipments of young cattle, loaded and transported from a network of about 200 "interior buying stations" in Mexico, "Our cattle walk to the plant," says Edwin Botero, president of SuKarne's US-based subsidiary, Viz Cattle Corp., based in City of Industry, California, which supplies further processors with raw material, including Imperial Valley-based One World Beef. SuKarne's subsidiary, VizCattle Inc., has about 25 employees in the US, including warehouses in Laredo, Texas, and Calexico, California. Of SuKarne's annual sales, about 25 percent comes from exports to US-based retailers, foodservice operators and further processors. With the people, technologies and systems now in place, executives with the beef giant have their collective sights on becoming the go-to source of lean cuts of steak and middle meats to retailers and foodservice customers in the US. A key part of that strategy is showing and telling potential customers that SuKarne is the best option to increase sales of second-tier, Select-equivalent graded beef at affordable prices without sacrificing food safety, quality or consistency. Executing that strategy meant first upgrading the company's operations, from the pasture to the packaging room.
Years in the making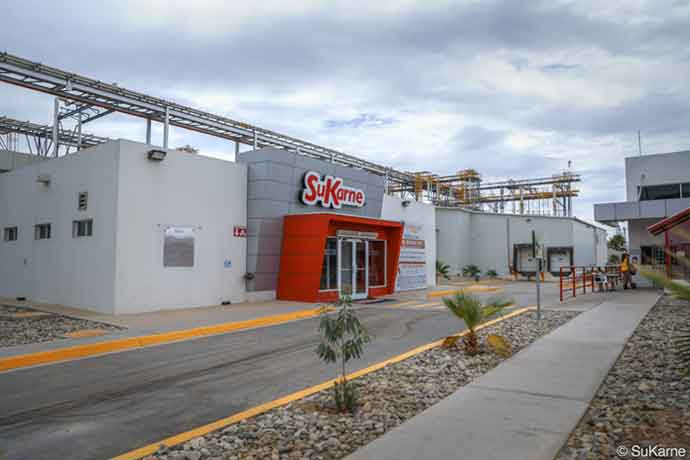 The road to becoming the largest beef company in Mexico has been anything but an overnight process. About 50 years ago, a 9-year-old Jesús Vizcarra was attending school like most kids his age, but he also started working alongside his father at SuKarne, which began as a livestock feeding company founded by his family in 1969 in Culiacán, Sinaloa, Mexico. About a decade later, his father, José Isabel Vizcarra, passed the torch to Jesús, appointing him general manager. He would go on to assume the role of chairman of the board. It was in Culiacán that the company consolidated its growing operations and integrated its cattle and feed production with beef processing, all at the same location, which is also the company's headquarters today.
It was around 1972 when the company began slaughtering its own cattle. Its first beef slaughtering plant began operations in Culiacán in 1986, which is still the corporate headquarters. It was in the mid '80s when SuKarne became the first company in Mexico to transition from selling carcasses to boxed beef. Next, the Mexicali plant was added in 1989 and since then, SuKarne has added four more plants across Mexico, ultimately realizing the benefits of operating each as a vertically integrated beef production and processing business. Plants are now operating in Culiacán, Mexicali, Monterrey, Michoacan, and, since 2015, in Durango. In 1995, SuKarne made its first shipment of beef to the US, which served to open the door to other international markets. SuKarne is now the dominant animal protein powerhouse in Mexico and is equipped to expand its presence in the US retail market and beyond. There are two other prominent meat companies in Mexico, however they each process only about 1,000 cattle per day compared to SuKarne, which slaughters about 5,000 head per day.
The growth hasn't been without hiccups. The Mexicali plant was rebuilt in 2015 after a fire that started on the fabrication floor caused extensive damage. The rebuilding of the facility was designed to accommodate future growth, including an investment of nearly $41 million.
Also in 2015, SuKarne opened a plant in Nicaragua, an investment of $115 million where annual production began at 132,000 head per year with a capacity of 180,000. It was built to supply markets in the EU, Central America, US, Mexico, Japan, China and Russia.
With a goal of supplying previously unaffordable ribs and loins to people of almost all socioeconomic levels, Botero and his team are passionate about realizing the company's vision. "We want more steaks on more plates," he says.
Given the expansion of its facilities and SuKarne's reputation as a respected employer and an exemplary corporate citizen in the communities where it operates, the company can produce a higher quality of beef not formerly associated with Mexico. Botero says the time has come to get the word out about what SuKarne's commitment means for the global beef industry: "We are a First-World country in beef production and can pass on the savings." One of the biggest challenges among beef processors in the US doesn't exist in Mexico, putting SuKarne at a distinct advantage. "We've got the labor force, we've got the land," Botero says.
Read more about SuKarne in the September edition of MEAT+POULTRY magazine.