Four generations strong, Winner's Meats in Ohio keeps plying the same formula upon which it was established, and the company's success story is far from over.
Since its founding in 1928, by Robert F. Winner, the family enterprise has thrived on its philosophy that states it will always maintain trust with customers and always produce a quality product. It continues.
"We work right beside our employees, whether it is cutting meat or scraping the floor, if that's what needs to be done," says Brian Winner, president of Winner's Meats. "Our philosophy of hard work extends from the harvest room floor to the fields, the barns and to the corner office, with all employees expected to do their part regardless of their last name."
With a processing facility known as Winner's Meat Farm in Greenville, Ohio, and another under the banner of Winner's Meats in Osgood (population 400), the company works with 10 employees at the former location and 25 at the latter.
Rob, the 40-year-old manager and a fourth-generation member of the Winner family to work in the business, grew up only 50 ft. from the meat shop location.
"I was raised around it and did those odd but important jobs ever since I was a kid," he elaborates. "Other than helping the family when they needed jobs done, I've learned everything about the business over the years from my father Mike Winner. But officially I've only been here five years since I left my career as a history teacher.
"When you look at our family business, which started when my great grandfather did butchering for family, neighbors and friends in his barn, and note that he had five sons to work with him...well, you have to appreciate the fact that the second generation had five family members involved, the third had seven, and our fourth has five involved."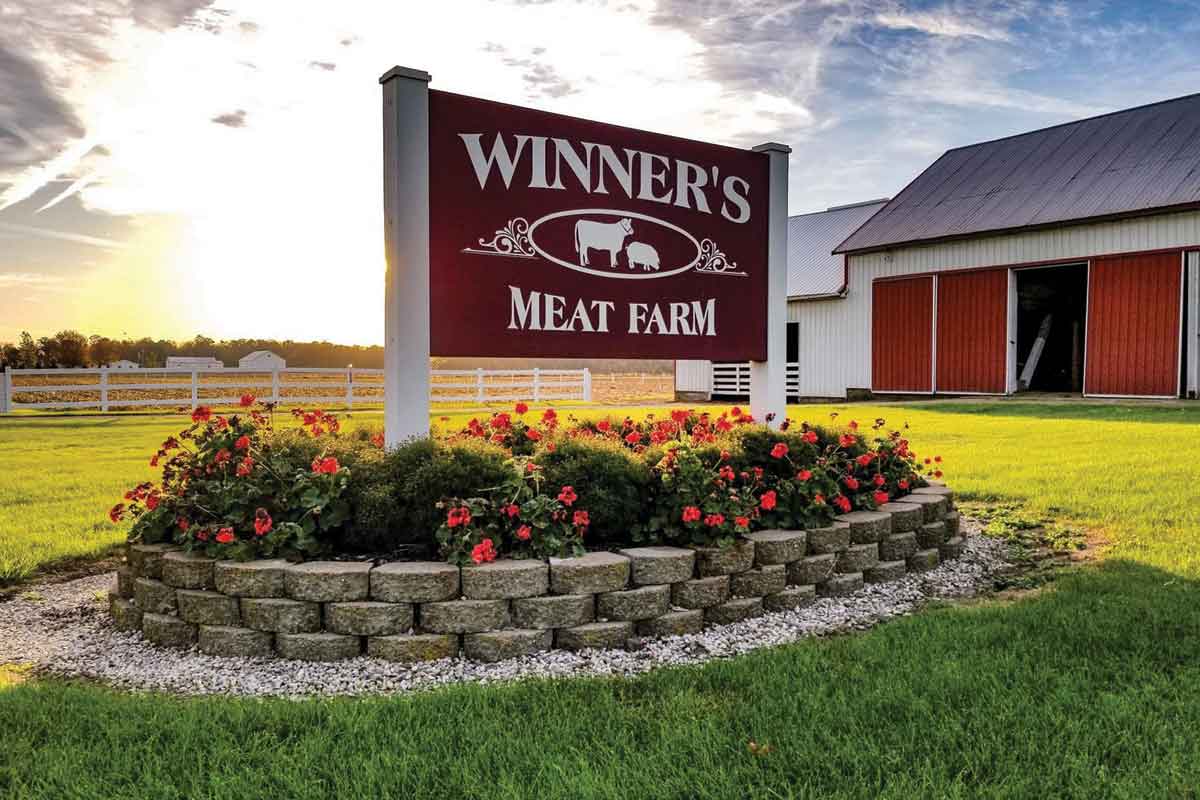 Awards and recognition
Winner's Meats has gained great notoriety over the past 91 years, winning hundreds of awards for its products in Ohio Association of Meat Processors (OAMP) competitions, including last year's first place accolades for its boneless ham, uncured bologna, summer sausage, mild breakfast sausage, wieners and specialty class entries.
When it comes to a signature item, Winner boasts about its marinated bone-in pork chops, a 1-in. thick cut featured item that keeps customers coming back for more. They are listed on the company website, winnersmeats.com, and are frequently tagged on Facebook, Instagram and Twitter throughout all seasons.
Through their generations of operating a family farm, the Winner team has always raised their own beef and pork herds, although it does rely on some packer-sourced product during the busy holiday times to keep up with demand.
"Our cattle are grass fed and grain finished," Rob explains. "There is so much misinformation out there about meats that we feel that social media is important to keeping customers informed about what they are buying.
"We have supported our 4-H groups for years and are happy to bring school groups into our plant to let the younger generation – our future customers – know where their meats come from. Three years ago, we started an in-house meat school for adults. We take a half hog and show them where the bacon and hams come from. We'll grind up some of the pork into sausages or brats and let each participant stuff some by themselves. Sure, some folks don't want to get their hands dirty, but once they actually touch the meats, they are much more comfortable about it and leave much more knowledgeable than when they arrived.
"We advertise with a few billboards and have some flyers we put out with coupons and specials, but it is that first-hand knowledge that lets the customer know we care about our products more than they know. There is nothing like spending time with a customer. We both win that way."
Rob notes that the company has tried to keep up with equipment modernization but adds that it's something they can't always afford. When customers come in to shop for one of their 16 varieties of bratwurst, they'll mention that each brat is hand-tied, a way of letting them know that there is workmanship and a personal touch of craftsmanship that goes with the product they are buying.
Winner's has been involved with the OAMP for many decades and Rob currently serves as vice president of the state-wide processor organization.
When it comes to trends that help keep the successful growth pattern working for the company, Rob advises that new flavor introductions are important, but says customers are looking for more foods they can take home, heat and eat, or those that are much simpler to prepare.
Processing programs
Winner's Greenville location operates under Ohio state meat inspection and attracts farmers and ranchers who want their livestock processed. Farm animals are brought in from about a 90-minute drive in every direction. The Osgood facility is about double the size of the Winner's Meat Farm.
On average the company handles about 15 beef and a like number of hogs each week.
Rob explains that the family has been successful in selling its products through other retail stores that feature them and also is seeing requests for private labeling of producer-owned meats increase in volume.
Several years ago, the company discontinued its emphasis on accepting big game animals from sportsmen and began accepting only clean, boneless trimmed meats for further processing. They fashion the meat into summer sausage, snack sticks, jerky, hot dogs and brats in various flavors and are seeing a steady growth in that aspect of their business.
Winner's also has an affiliated livestock trucking company with 13 trucks and 19 hauling trailers. For the past two years, the overall family enterprise has been recognized as the local "Business of the Year."
And as with businesses both large and small, getting, training and retaining good employees remains a challenge for Winner's Meats.
"In some careers, an employee can be fully trained in a matter of weeks," Rob comments. "In the specialized meat business, it can take a lot longer to get to that level. We appreciate our employees who came here to work right out of high school that started with clean-up work and have moved up to greater responsibilities," Rob says.
"We appreciate their hard work and are glad that so many of them are still with us.
"I can only say that there are not a lot of fourth generation businesses around. Sure, there will be times that family members will have different opinions, but we are fortunate enough to have family members who recognize the same goals and know what we want it to be. We remain committed and really work well together."