Based in the city known as "The Gateway to the West," Volpi Foods brings 117 years of experience to its processes and products. The craft of making salami, prosciutto and the wide variety of the company's specialty meats requires equal parts science, art and plenty of family tradition. Part of the success of the century-old company has been the owners' ability to recognize the value of working smarter, not harder. Respecting the company's Old World history and tradition while implementing modern technology that preserves the craftsmanship is an artful balancing act the fourth-generation owners understand.
Volpi Foods has grown from a single location to four and produces more than 1 million lbs. of specialty salumi products per month. The company's products consist of approximately 300 SKUs of about 150 different unique items. It focuses on the Volpi brand at retail with less than 10 percent going to foodservice and a minimal amount of co-pack.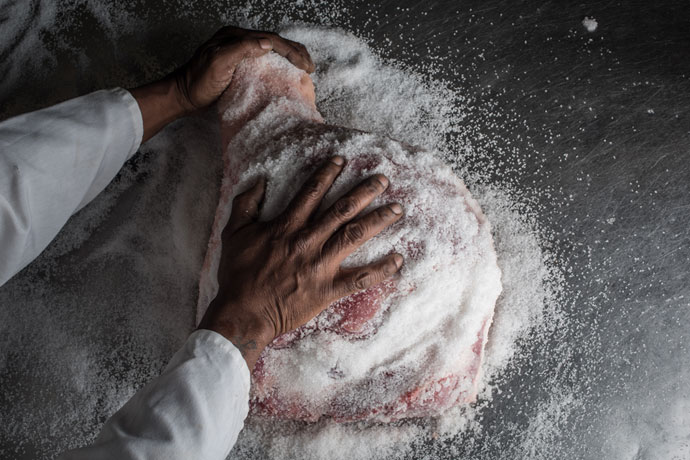 Uno, Due, Tre, Quattro
Volpi Foods' named its four processing facilities in the order they came into being: Uno, Due, Tre and Quattro. All play their own role in the company's production and operations. The plants total 340,000 sq. ft. and employ 230 people. Uno, Due and Tre all reside in the same St. Louis neighborhood within about three blocks from one another with Quattro about 30 minutes west in Union, Missouri.
Volpi's Uno building serves as a processing facility, retail shop and sandwich cafe at the company's original location where it's stood for more than 117 years in St. Louis' "The Hill" neighborhood. The processing portion of Uno covers 50,000 sq. ft. and produces one of the pillars of Volpi's business, salami, along with an array of niche specialty meats including guanciale, made from the jowls; pancetta, from the belly; coppa, from the shoulder butt and bresaola, the only beef product.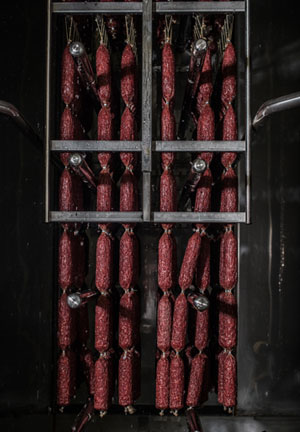 Volpi utilizes a unique "cold" ferment method on the hand-stuffed salami. While the cold ferment takes longer, Lorenza Pasetti, president and CEO, says the slower process produces more flavor. The idea of longer processes and traditional methods to produce richer, more flavorful products is a theme that runs throughout Volpi.
Volpi is currently retrofitting its 60,000-sq.-ft. second plant, Due, to produce the specialty meats. Due, directly across the street from Tre, is the former prosciutto production location.
Tre, 105,000 sq. ft., houses the corporate offices and handles the production of salami and slicing, as well as further-processed items and Volpi's snack line of Roltini Singles, a 1.5-oz. single serve, stick of extruded Wisconsin mozzarella cheese wrapped in prosciutto, spicy salami or pepperoni.
Roltini singles marks Volpi's first foray into the convenience channel. At about four years old, the product has done well for the company and serves a greater purpose than just sales and revenue.
"It allows us to expand our audience from people that know and love us, and people that are very interested in specialty foods to now people that want to try it, but they don't want to make the jump of 'I'm going to buy this $10 package of prosciutto and then see if I like it,'" says Deanna Depke, marketing manager at Volpi. "We get the price point down to about a $1.50 and it makes that barrier a little lower for those consumers."
Quattro, the newest of Volpi's plants, is where the company's prosciutto is painstakingly produced. This facility covers 125,000 sq. ft. in Union. Fully opened in 2018 and presently running at about 55 percent capacity, Pasetti says the company as a whole is running around 70 percent capacity as well.
"We have room for growth without adding," she says.
She goes on to say, "We're looking for aggressive growth over the next few years as more and more consumers become aware of these types of products and appreciate them, and I think that you're seeing that."
Easing traditional processes
"Lorenza [Pasetti] has really taken all of the stuff that John Volpi and her father, Armando, were doing and seeing where we can automate," Depke says. "So, can we just push a button on this? Do we need to hand apply the salt on the prosciutto? Which we still do. So, we haven't sacrificed anything in terms of quality, but we really have made it easier on the labor force with automation that way."
Pasetti adds, "Nowadays you press a button to do an air exchange, but the air exchange is still done. What we've tried to do is use technology to alleviate some of the workers' burden. To lift and move products from here to there, but the process itself is the same process that's centuries old."
While the process remains the same as it has always been, Volpi and many of its customers and consumers find ways to use the products in innovative fashion. From the Roltini product to use as ingredients in a recipe, the use of the traditionally created meats continues to evolve.
"A lot of consumers will not buy the sliced prosciutto, they might buy it chopped and add it to a recipe," Pasetti says. "So, there are innovative ways of using the products even though they're made traditionally."
Volpi's foodservice customers often look for the specialty meats to add flavor and uniqueness to their recipes. The guanciale, for example, is made from the jowl and tastes different than salamis and other products made from different parts of the animal.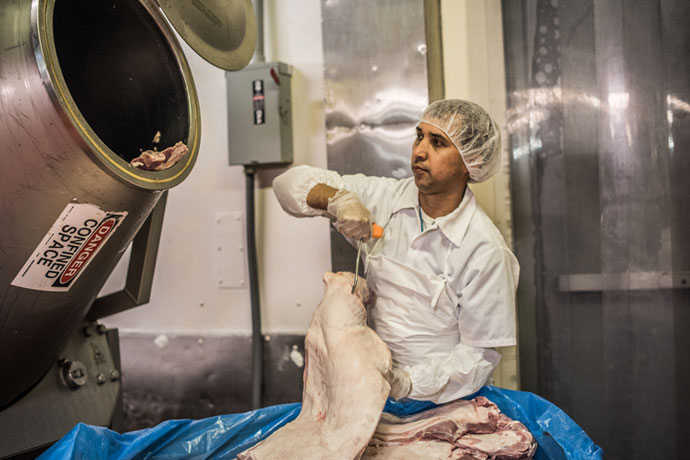 "It adds a deeper flavor to their recipes," Depke says. "There's not that much in the market and we provide that along with bresaola and some other unique items that they can't find anywhere else. That helps us in the foodservice sector."
Another assurance Volpi relies on for its traditional products comes from the consistency of the pork it uses. That consistency comes from the company's suppliers and the long-standing relationships it has built with them. The predictability of raw material heavily influences the end product, so having transparency with suppliers is vital.
"You're investing a lot in the product for a long period of time and you're dehydrating it," Pasetti says. "You're taking an expensive raw material and then you're removing all the moisture from it and then in many situations you're slicing it very thin so the consumer can enjoy it. It's not something you want to mess around with just getting the cheapest cut."
Pasetti gives the example of sourcing heritage pork for a line of prosciutto a few years ago. The company's leaders met with the farmers and harvesters, and followed the hogs to the kill plant to make sure the harvester understood the cuts necessary for Volpi to create the best possible yield and process flow for the product.
"In 117 years, we've made our share of mistakes. The important thing for us is that we've learned from them and don't repeat them."
"I'd say that was probably the first supplier change in a number years," Pasetti says.
Depke adds, "And with a product like prosciutto, the only ingredients are pork and salt. So, we don't have any room to really mess up half of that equation. We want to make sure that we're leveraging those partnerships and keeping them strong."
Partnerships with producers are crucial when considering the true nature of Volpi's processes. According to Pasetti, older animals work better for what the company does. In the conventional pork market, where volume often rules, Volpi's supplier relationships become even more important when asking a producer to hold a hog an additional six to eight weeks.
The next 100 years
With 117 years in the business, Volpi has seen many changes in the market and made plenty of strategic adjustments along the way. The company always has and always will focus on the Volpi brand, but outside demands and seemingly legitimate opportunities will always present distractions that a processor with the kind of longevity Volpi has must deal with.
"In 117 years, we've made our share of mistakes. The important thing for us is that we've learned from them and don't repeat them," Pasetti says. "You kind of know when your strategy is not working, or you know you're not staying true to yourselves. That friction starts rising and you must course correct. So, the sooner you course correct, the better off you are."
Volpi has continually grown over its long history and intends keep growing.
"We want to be here in another 100 years, so we always try to have that long view when it comes to making decisions and moving forward," Pasetti says. "We may not take as much advantage in the short term as we could, but that's because we're in it for the long game."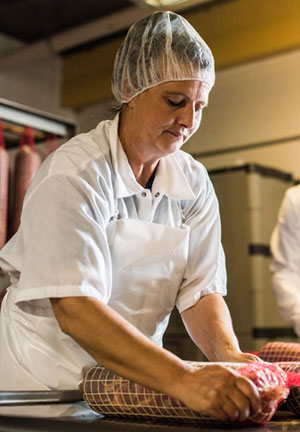 The company typically operates one production shift per day except for further processing, which runs two with sanitation shifts after production. The company became SQF quality code certified about seven years ago instilling the quality Pasetti felt necessary to add to the betterment of Volpi and ensure its future. Also, Volpi engages technology to ensure its long future in the industry.
About 18 months ago, the business incorporated the operational efficiency software Redzone. It allows the whole company to communicate overall equipment efficiency (OEE) and, along with the compliance module, aids in quality, employee communication and engagement.
Like most companies with the kind of long-term success Volpi has, employees are given a large portion of the credit. Both Pasetti and Depke cite employee work ethic and strong company culture as major factors for over a century of success.
"I think that whether it's the line worker or our COO, they're all contributing 100 percent to the success of the company," Pasetti says.
Depke credits the St. Louis location and access to first-generation immigrants looking to fulfill their dreams of a better life. She recently sat on a panel with a group of managers and production employees at which an area manager declared, "This is my American dream."
"How cool is it to be able to have someone go up there in front of a group of people and say, 'this company has made this possible for me,'" Depke says.
Like the executive management and ownership, many of the employees at Volpi are generational, another factor that contributes to the success of the company.
"Everyone connects on some level and strives to make the company better and sustain it for their next generation," Depke says.