From the consumer's kitchen to the meat department back room, similar behaviors are affecting the look of the modern meat case. Chief among those is the ongoing desire for convenience.
Convenience takes many forms, from labor to merchandising to usage, depending on the priority of those making, selling or buying the product. Accordingly, case-ready meat and poultry packaging is taking more forms as well, with items like modified atmosphere packaging (MAP) trays, chub packages and brick packages, among others.
For retailers, offering a greater assortment of case-ready meat and poultry products helps from a labor standpoint, as the number of in-store butchers continues to decline. Having a mix of items makes the department appealing and allows a store to focus on customer service or, in some cases, on a premium meat counter. "Butchers in that talented position are getting older and there aren't enough following in their footsteps. But retailers are realizing that they just can't let butchers go – they need an expert in that department," points out Rick Stein, vice president of fresh foods for the Food Marketing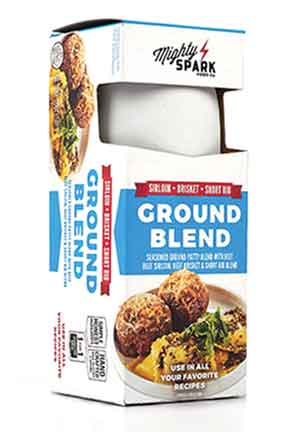 Institute (FMI).
As a result, Stein says, many retailers have butchers and meat experts on hand to help consumers navigate the case and at the same time, create custom cuts that are a store signature. "So, as a retailer, you may have a case-ready program and a counter with custom cuts," he explains.
For shoppers, case-ready products meet their own need for convenience in one form or another. Case-ready products with longer shelf life, for example, give users more flexibility on when they prepare items stored in their home refrigerators. Case-ready products that are pre-seasoned, pre-marinated or that have a fixed weight make preparation and cooking simpler, at a time when people are busier than ever and often make last-minute decisions on what to make for meals.
Case-ready meat and poultry items, when compared to the full-service case and when consistent in weight and price, also make the shopping experience more convenient. "One thing that helps us is the self-service aspect – we enable that in the self-service case," says Lenny Lebovich, founder and CEO of PRE Brands LLC, a Chicago-based producer of case-ready grass-fed beef, including steaks, patties and ground beef.
Research matters
Although consumer acceptance was once seen as a barrier to the success of certain case-ready packages even a few years ago, people are becoming more familiar with products that are not sold in the traditional tray and overwrap style.
According to the Power of Meat 2018 study published by FMI, prepared by 210 Analytics LLC, and supported by Sealed Air's Food Care Division, the number of consumers who believe case ready is better than meat cut or packaged in store grew from 9 percent in 2008 to 25 percent in 2018. Familiarity breeds acceptance: the report shows that the higher the share bought from the meat case, the higher the perception of quality.
Other research supports case-ready trends. A recent report from Toronto-based Technavio projects that the market for fresh meat packaging will have a compound annual growth rate of more than 3 percent through 2022, noting that case-ready fresh meat has continued to grow around the world since 2010.
Stein agrees that acceptance is increasing for case-ready products like vacuum-packaged beef. "When consumers first saw case-ready meat, they resisted it because it didn't look 'right' to them. But when retailers opened the package and within seconds it oxidized and had the normal color, their opinion changed. There was an education of consumers, who are moving into a trust of case-ready," he observes.
Those who produce case-ready beef agree that education – along with demonstrations and sampling – have moved the needle in acceptance. "We invest in relationships at the store level with meat managers and merchandisers, and do everything we can to educate people," Lebovich says.
Cooking lessons
In addition to teaching consumers about meat appearance in modified atmosphere and other types of case-ready packaging, those who produce case-ready meats are providing more information on packages to meet consumers' demand to know more about how to prepare and cook products. "The issue now, especially with younger consumers, is a thirst for information and that has to do with knowing the different types of meat, the ways to cook those types of meat and doing it in an easy fashion. You're starting to see innovations in that area, in the way that companies do case-ready meats," Stein reports.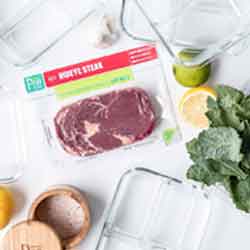 PRE Brands strives to make preparation quick and easy for its customers, with a consistent weight and price of the product and on-package information. "We're always going to refine from our learning, and we did make changes in our packaging style based on feedback from consumers. For example, we've changed some of the preparation instructions," Lebovich says. Consumers also wanted a bigger window to see the meat, he says, and like the fact that the product is propped up in the meat case, so they can better find it when shopping.
Labels on case-ready products also increasingly share the "story" of the product, especially in the organic and natural segments. "Consumers are thirsty for transparency and the origins of where food comes from, asking things like, 'Was the animal treated well?' or 'Does this align with my social and cultural beliefs?'" Stein says.
There are several examples of case-ready meats that have shared such stories on their packages. Laura's Lean Beef, for instance, has long made a name for itself with its on-package transparency. Around the holidays, Cargill and its Honeysuckle White brand used blockchain technology to allow consumers to access information about the farm on which the turkey was raised. Such capabilities will only expand with the growing use and effectiveness of blockchain technologies.
Other brands are investing in eye-catching packaging to catch the shopper's eye at the point of sale. In late 2018, Perdue launched a modern package design for its case-ready fresh chicken, with vibrant colors and illustrations and verbiage about no-antibiotics-ever, 100 percent vegetarian fed and no animal by-products, aimed at the millennial generation.
A new twist
One brand doing case ready differently is Mighty Spark Food Co., Minneapolis, which produces a line of case-ready meats with enticing graphics and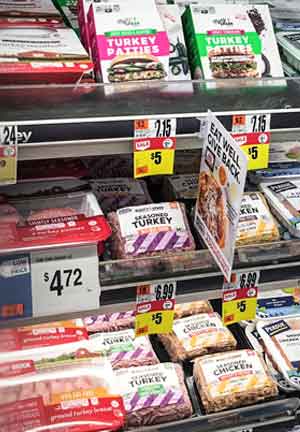 visuals. Items include a Jalapeño & Queso Fresco Turkey Patty and a Sweet Thai-style ground chicken packaged in an upright chub encased in a secondary package. "We know it's important to grab consumers' attention at shelf within seconds, so our packaging has to stand out in the sea of sameness in the meat aisle," says Kristy Welker, public relations director.
The product has been well received. "We're growing quickly, both in terms of new retailers and new items. We recently launched at Target, which brings a huge boost for awareness to Mighty Spark. It gets us more in front of our core consumer – someone who is time strapped but still wants a healthy and easy meal for their family and who also wants to give back," Welker says.
To that point, in addition to its innovative packaging, Mighty Spark speaks to socially conscious consumers, that for every product purchased, a meal is donated to someone in need. The company estimates that more than 3 million meals have been donated to date, according to Welker.
Beyond traditional red meat and poultry products, variety meat brands are penetrating the meat case with more case-ready products. It's a way for them to break through and for retailers to add variety without extra labor on their end. Examples include brick packages of ground bison from the Great Range brand to a line of case-ready variety meats from Tyson Fresh Meats.