Detection technology systems are not a one-size-fits-all proposition for meat and poultry processors.
A major shift in mindsets and in applications is changing the way meat processors think about detection technologies. Previously, detection was done for diligence, to meet a customer's specifications. Increasingly, however, processors are utilizing data provided by X-ray systems in a variety of ways, saying things like, "Yes, we are getting rejects in the line, but why are we getting rejects in the first place?"
More are realizing that detection systems placed at certain points of vulnerability on a processor's line can reduce the threat of product recalls and protect their brand and their assets.
Production line optimization with increased product traceability is another motivator. Couple that with stringent food safety regulations and increased consumer awareness of product recalls, and processors should be continually improving and enhancing their detection and inspection systems to ensure a reliable and safe product.
Meat carton inspections have historically been done in the Asia-Pacific region and in South America, but there has been a recent and significant increase in the number of North American meat processors that are inspecting cartons, including almost all the major industry players.
Production line status and efficiency – integration into a facility's SCADA software or management platform is becoming more critical. – Chris Young, Anritsu Infivis
Steve Dowd, regional sales manager, US, for Eagle Product Inspection, Lutz, Florida, says heading into 2019, the company has seen a major uptick in meat carton inspections, which could be attributed to greater overall diligence or, in the case of exports, to ensure that there aren't defects that may lead to product bans.
"As more processors deploy X-ray inspection for meat cartons, we're also continually refining our technologies," Dowd says. "Eagle recently improved its carton inspection capability to achieve detection at higher speeds, boosting rates from 150 fpm to 250 fpm."
Chris Young, business development manager for Anritsu Infivis, Elk Grove Village, Illinois, says data management is a current driver at all food production facilities to aid in two main areas – traceability and quick access of the product's journey from farm to fork. 
"Specifically, for detection systems, being able to easily reference data that the product in question was properly inspected and the inspection system passed all of its CCP checks," he says. "Production line status and efficiency – integration into a facility's SCADA software or management platform is becoming more critical." 
Metal Detection
The industry has seen its share of recalls lately due to metal found in meat, such as CTI Foods LLC, based in Owingsville, Kentucky, recalling 29,000 lbs. of Jimmy Dean sausage links in December because of the possibility of metal pieces, according to the US Dept. of Agriculture; and R. L. Zeigler Co. recalling 11,664 lbs. of poultry and meat sausage that same month due to concerns that its products may also contain pieces of metal.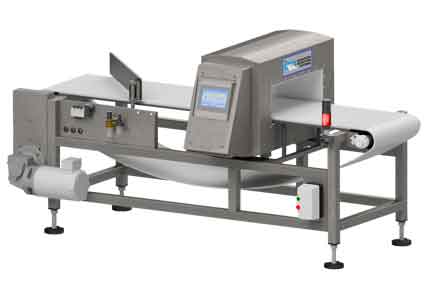 David Smith, sales manager for Advanced Detection Systems, Dings Co. Magnetic Group, Milwaukee, says food processors intent on improving the value of their metal detector investment have become more focused on documenting their metal detector usage. 
"Accurate documentation of metal detector usage is in step with the increased scrutiny being applied by current and future food safety requirements," he says. "Recent technology advances have improved detection levels in highly conductive products which have been considered tough applications for metal detectors. For processors of salted, moist and fresh product, an investment in the most recent metal detector technology available has value."
The company's ProScan Max III conveyor and pipeline systems has been a solid solution throughout theindustry.
The metal detection industry is continuing to try and improve detection capabilities while driving down false reject rates through the use of simultaneous dual or multi-frequency operation, Young says, explaining that this technology was developed about 15 years ago and has continued to improve and add value to customers.
Dowd says that until recently, many processing plants have only installed metal detection systems at the end of their lines, but he expects that to change in 2019, as there has been a buzz about a major processor looking to add X-ray instead of the conventional metal detection systems.
"Compared to metal detectors, Eagle's X-ray systems provide greater value and ROI because they perform more functions than metal detection," he says. "X-ray machines can inspect for metal and a variety of other contaminants, like plastic, bone, rubber, stone and other foreign bodies and also conduct product integrity checks, such as mass, weight and component count."
Making A Difference
One of Eagle's solutions for meat carton inspection is the Pack 720 PRO with Material Discrimination X-ray (MDX) that inspects all cartons of bone-in and boneless meats on a single production line according to their unique specifications.
"The machine creates an easy-to-read image that distinguishes harmful contaminants from good product, even if they share similar physical characteristics and densities like carton meat or bone," Dowd says. "Versatility and efficiency are built into the system; by scanning a bar code, products with different inspection requirements can run on the same line."
Detecting Foreign Matter
In addition to refining technologies, Eagle has upgraded and introduced new X-ray systems for better detecting foreign matter, including the EPX100 for small- and mid-sized processors.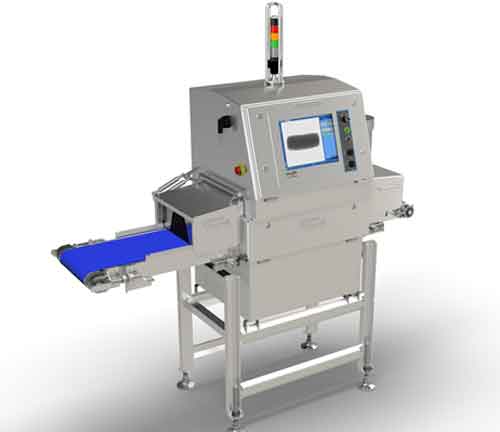 "More recently, we've launched the Eagle Pack 240 HC, a new hygienic X-ray system with a small footprint for the inspection of ground meat and poultry chub packages," Dowd says. "X-ray inspection is used in chubs to find aluminum clips that may have gotten into the product, for example. The Pack 240 HC can also be used to determine weight and mass, which are additional benefits for product quality and consistency."
Most in the industry agree that bone detection can be tricky. Young says bone detection varies slightly per poultry or non-poultry meat products, however the trend continues to be more implementation of X-ray systems throughout the industry. 
"The two main drivers are the ability to detect bone normally on the raw side or before further processing and as well the desire to detect down to 0.8mm SS, Stainless Steel, on the final product side," he says. "The ability to detect 0.8mm SS aids in eliminating the need for having to put product on hold for further rework or re-inspection."
Dowd says Eagle has made advances in bone detection with the newly enhanced Material Discrimination X-ray (MDX) technology, which helps identify hard-to-find bone and other contaminants.
"It's a global standard for meat inspection, and MDX is a patented software algorithm that uses differential X-ray energy absorbance to discriminate between organic and inorganic materials," he says. "MDX technology allows traditionally hard-to-find contaminants, especially bone, to be identified in busy images which helps meat and poultry processors deliver a quality assured product."
A look ahead
In the years to come, Dowd believes there will be an increase in the use of detection systems in the US, as there are many opportunities to ensure safety and quality through detection, along with greater traceability that is important for consumers as well as meat and poultry processors.
"If you look at Japan, for instance, that could tell you where detection in the US might be in the next several years," he says. "Consumers there are more aware of food production and processing, traceability is more comprehensive, and lines run at speeds optimized for detection. Product is literally tracked from farm to fork in Japan, and I think it will shift more in that direction in the US."
Smith expects continued development of metal detector operating features in the future that make it easier for food processors to control and document their metal detector usage. 
"These features allow food processors to document the use of correct metal detector settings, detection events, absence of false trips and the identity of employees accessing metal detector settings," he says. "These features will allow food processors to capture and maintain the detailed metal detector records auditors expect to see."
As processors seek to ramp up efficiencies, they can't – and won't – do things the way they were done in the past. They will look for solutions to tie it all together, spanning safety, quality, speed, efficiency and traceability.
"As food companies raise their quality standards, they are pushing/forcing their meat suppliers to raise their game," Young says. "It is not uncommon to have discussions with meat suppliers that are getting pressure from their customers to increase their detection capabilities."