Within the Lone Star State, a partnership between Dean & Peeler Meatworks of Poth, Texas, and Houston-based Martin Preferred Foods is raising the profile of local farmers and ranchers. The partnership, part of Martin Preferred Foods' Local Program, is capitalizing on consumers' desire for local by raising awareness and distribution of Texas specialty goods.
Founded in 1944 and celebrating its 75th anniversary under the leadership of the family's third generation, Martin Preferred Foods is a long-time purveyor of protein and specialty products and the first company in Texas to offer its customers fresh chicken parts of choice. The company is constantly on the lookout for innovative ways to serve its fine dining, hotel, supermarket, country club, retail, regional and national foodservice customers through unique partnerships that add value to commodity products.
This includes introducing its foodservice customers to Dean & Peeler Black Label USDA-certified beef. The partnership between the two companies began when Dean & Peeler went looking for a distribution channel for their Black Label and Choice and higher premium labels. After an initial meeting, the two family-owned businesses discovered many commonalities including a commitment to local and a desire to build customer relationships on trust, quality and commitment.
"Our synergies are what makes the partnership work," says Jeff Tapick, CEO and president of Martin Preferred Foods. "Dean & Peeler is a part of the local economy and a part of the neighborhood in Houston."
Founded in July 2014, Dean & Peeler is a family-owned-and-operated ranch that's one of the only operations in the country that's locally and vertically integrated. The Floresville, Texas-based ranch, owned by Dustin Dean and Jason Peeler is known throughout the state for its ability to breed a steak that achieves consistency of size, shape, weight, marbling and tenderness worthy of fine-dining menus in Dallas, Austin, Houston, San Antonio and Fort Worth.
With so much attention to detail, it didn't take long for Martin Preferred Foods' new and existing customers to discover what makes the Dean & Peeler Black Label product so special. Many customers conducted blind cuttings pitting the Dean & Peeler product against major beef alternatives. Over and over, the Dean & Peeler product came out on top, generating lots of customer praise, according to Tapick.
Customer satisfaction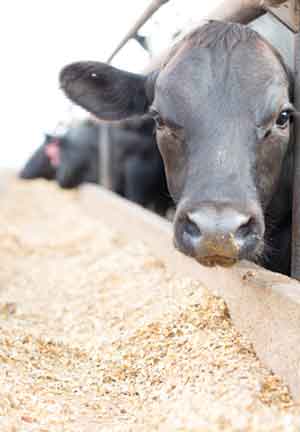 Such approval is of little surprise to Dean & Peeler who set out to create beef for beef connoisseurs. Both Dean and Peeler are heavily involved in state and local cattleman's associations, focusing on select animals with high-quality Angus-based genetics and the management of individual animal health and nutrition needs. The breeding system created by Dean & Peeler also provides a solution to a long-time frustration of foodservice chefs.
"Foodservice wants to know what they're going to get when they open up a box, including knowing the yield, how long to cook it, and that the tenderness, marbling and flavor will be the same every single time," Dean says. "By effectively maintaining a high level of control from the birth of the calf to the product on the plate, including genetics, nutrition, management and fabrication, consumers and foodservice get the same product every time."
Tapick shares his own theory of what makes the Dean & Peeler product stand out, citing the ranch as one of the only establishments in the US with the ability to claim animals from calf to slaughter. With no underperforming animals, Dean & Peeler create consistency of product.
Inconsistencies in beef are typically higher than that of poultry and pork products. With greater land resources for cattle and dozens of breeds, crosses and composites creating more noise and variability, ranchers often do things their own way when it comes to production practices. In contrast, most pork and poultry breeders do things similarly and only work with two to three breeds, according to Dean.
"Beef is the Wild West," Dean continues. "We wanted to create a beef production system that was as close as possible to pork and poultry from a consistency standpoint. Others have tried to create a better system, but we've created a consistent product from birth to marketing on a decent scale looking at volume using animal husbandry practices designed to eliminate variability in animal production."
Dean & Peeler oversee all cattle from birth to harvest. The animals eat a 100 percent locally sourced vegetarian diet with ingredients gathered within a 150-mile radius of their Texas ranch. In a nod to hyper-locality, the cattle spend 90 percent of their life just 35 miles from the San Antonio-based Alamo landmark.
The production system used by Dean & Peeler is also unique with efficiencies not often seen in larger producers. Dean & Peeler process beef at one of two plants, including Tejas Premium Meats of which they have no ownership. Each week, cattle are slaughtered and fabricated accordingly to the weekly order from Martin Preferred Foods, meaning Dean & Peeler never have to keep a large warehouse of product. Through this exclusive agreement, they can offer custom arrangements, something often not possible if a customer works with multiple purveyors. Because of this, Dean & Peeler can make safe projections knowing the supply for months to come.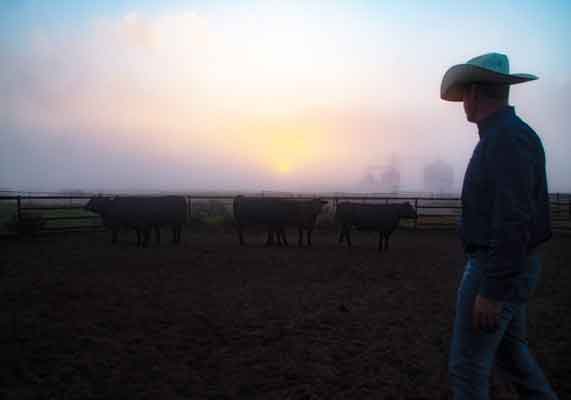 "With this level of exclusivity, we can make sure clients won't be shorted product and can closely monitor accounts," Dean says. "This is another problem we've been able to circumvent through this partnership. Chefs do not have to work with an account whose product is sold out. They will know for sure we can supply the product they need."
Such demand is a good problem to have, but limited supply means Martin Preferred Foods is selective about who to approach and judicious when taking the product to market. Focusing on a 9:1 ratio of hamburger to ribeye, the partners maintain balance with full-animal utilization.
"We will never stop learning how to do this right," Dean says. "We've tried to build a program with considerable volume from birth to marketing, and we're writing the playbook as we go."
Beyond providing high-quality beef, the partnership also offers its customers a way to discover the appeal of local by getting to know the product and its team through visits to the ranch, discovering for themselves local is more than its origin story. To maintain its uniqueness and authenticity, Martin Preferred Foods plans to contain the scale at a pace that allows the partners to keep learning while growing judiciously as they share their collective story of sourcing local through a local supplier with new and existing customers.
"People like to know the story of where their food comes from," Tapick concludes. "When you're able to trace food back to its origin you've closed the loop. It's great to find and celebrate the identity of local and hyper-local products as Texans, San Antonians or Houstonians. I believe local is an important focus for all products and this is the new normal. Local is not a trend."