The consumer's hunger for bone-in meats has posed a challenge to processors looking for the perfect packaging material.
Processors may not always be able to offer packages that suit every customer to a "T", but there are packaging materials and formats suitable for T-bone steaks – and other bone-in cuts of meat and poultry.
Despite the popularity of boneless products that seemed to permeate the meat case for several years, there has been a renewed consumer hunger for bone-in meats, attributed to interest in steakhouses and, from cooking websites, social media pages and TV shows, a focus on the flavor that bones lend to recipes. "There is a trend for bone-in flavor that we're seeing in more items like fresh Frenched items and pre-cooked ribs, plus interest in things like bone broth," says Shawn Harris, director of marketing, fresh red meat, for the Cryovac division of Sealed Air Corp., Charlotte, North Carolina.
Harris cites the rise of the Tomahawk ribeye, also known as the Cowboy cut, as one example of a high-value cut that requires a strong package to ensure its premium quality. "Some of the plants are dedicating even more space and time to that product," he says.
The pork industry, too, has touted the flavor and premium profile of premium bone-in cuts, including a Tomahawk bone-in chop cut from the middle of the loin through the rib.
Examples of new bone-in products for retail are evident across the industry, from Agri-Beef's new Seal Fresh case-ready line under the Double R Ranch brand to Smithfield's new bone-in ham steaks.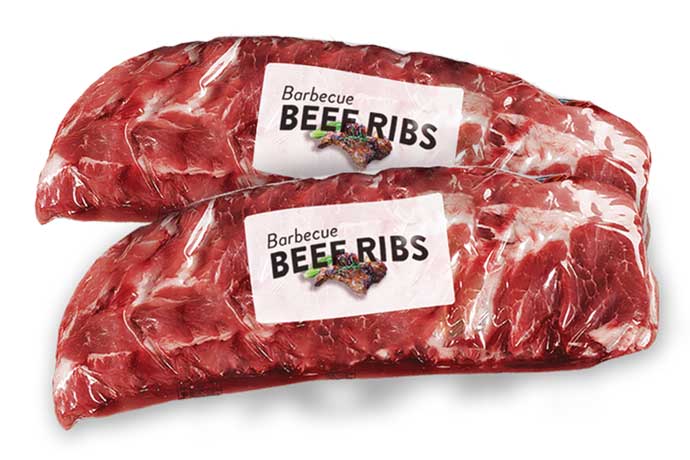 On a timely basis, as processors, retailers and foodservice operators ramp up for the holidays this month, they are making room for more bone-in products. Standing rib roasts, rack of lamb and whole turkeys are all holiday staples and are all bone-in products that require high-integrity packaging that's appealing at the point of sale. In addition, some processors are already preparing for the 2019 grilling season, with items like pork ribs.
Hard truths
Bone-in products, by their nature, present challenges to processors. Packaging for bone-in items must be strong enough to prevent punctures that can lead to product spoilage and subsequent recalls. Additionally, as the foodservice and retail industries grapple with ongoing labor issues, packaging for bone-in products must be as convenient for the user as it is sturdy for product safety and quality.
Packaging suppliers have worked on new materials, formats and equipment for producers of bone-in cuts looking to optimize their products and processes. "In the last couple years, we have introduced our Optidure packaging line that is designed for high abuse bone-in products that combines outstanding gloss and clarity with an enhanced sealability for applications where a patchless boneguard bag is enough abuse," Harris reports. In addition, he says, clear patches are more in demand as processors are seeking to enhance the visual graphics of packages.
Such clarity for the user was also a driver for bone-in packaging features offered by Transcontinental Inc. (TC Transcontinental), Chicago, Illinois. "The ability to clearly see the product is a key selling feature for brand owners who want their product to be the product of choice for the consumer. Our ClearShield patchless technology allows the customer to fully see the meat without an ugly patch covering the delicious visual appearance of the meat," says spokeswoman Rebecca Casey. Ten-color printing on both the front and back of the bag allows processors and retailers to highlight their brands and provide clean and clear labeling as well as cooking instructions, she notes.
Eye appeal, along with a less-messy experience for the end user and a potential reduction in packaging material for sustainability reasons, is impacting other types of bone-in packages. UK-based Advanta, for example, has developed a skin pack aluminum poultry tray-and-film combination, which extends shelf life in a convenient format of a chicken-shaped foil tray that can be used for both storage and cooking. "Consumer demand for convenience and retailers' requirements for longer shelf lives have refocused the priorities of poultry food packaging," says Miguel Campos, export sales manager. "Generally speaking, today's consumers don't want to touch the chicken before it is cooked. With Advanta's new project, they don't have this problem. A tray that allows poultry to be cooked directly in the packaging it comes in makes cooking a fuss-free process – it's all about convenience."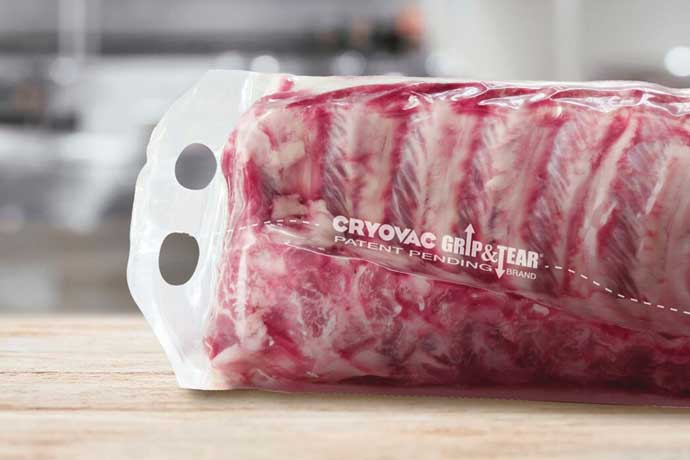 Similarly, aesthetics and convenience were the reasons behind a new tray package – also developed by Advanta – for the Kingsford brand of ribs produced by CBQ, a division of Carl Buddig & Co., Homewood, Illinois. The smooth-wall aluminum trays replace a previous plastic bag that had a shorter shelf life and messier experience for the consumer. The precooked ribs vacuum packaged in the new tray have a shelf life of 145 days.
In addition to package appearance and functionality, keeping up with processors' own operational priorities is spurring some upgrades or changes in bone-in packaging. Cryovac has its longstanding TBG bag for bone-in packaging, according to Harris. "The TBG bag enables bone-in patch protection to be placed exactly where it is needed while leaving the open end of the bag unpatched to be able to run at speeds and at the same sealing parameters as unpatched bags. That allows processors to run their vacuum packaging machines with bone-in and boneless products simultaneously," he explains.
Meanwhile, with growth in products like pork butts and picnic cuts, TC Transcontinental's ClearShield helps processors reduce rework, says Casey, who points out that producers of bone-in products are increasingly looking for targeted solutions. "We're able to recommend to our customers a variety of specifications, so that we are able to provide the perfect combination of optics, shrink, barrier and puncture resistance for the specific cut and presentation or destination. For example, retail St. Louis ribs require the best possible optics, while a two-piece full bone in pork loin needs maximum puncture resistance," she remarks. Also enhancing versatility is an inline, offline bagger machine that allows processors to create their own ClearShield bags on demand, either directly on the packaging line or in an offline area.