High pressure processing (HPP) is a technology that is increasingly used by meat and poultry processors to extend shelf life and enhance food safety.
As more meat and poultry processing companies move toward automating their processing lines, providers of a growing technology in the industry are taking steps to ensure it can be part of this process.
High pressure processing (HPP) is growing in meat, poultry and food processing for two major reasons. The processing technique is an addition to food safety, playing a growing role in ensuring pathogens are destroyed in poultry, meat and other food products. HPP also helps extend the shelf life of food products.
HPP is a cold pasteurization technique by which products, often sealed in their final packages, are put into a large vessel and subjected to a high level of pressure, up to 87,000 lbs. per square inch, higher pressure than in the deepest part of Earth's oceans. The pressure is transmitted by water in pressure vessels, most of which are about the size of a large school bus.
West Liberty Foods, based in West Liberty, Iowa, uses high pressure processing. The company is a co-op owned by the Iowa Turkey Growers Cooperative. It manufactures lunch meat, converting and enhancing turkey, chicken, pork and beef to lunch meats. It is a major supplier to foodservice and is a co-packer of retail and private label lunch meats. The company has four processing plants, two in Iowa, one in Illinois and one in Utah. The company has six HPP units at its plants, all from Hiperbaric USA, based in Miami. The company has used the process for the past seven years.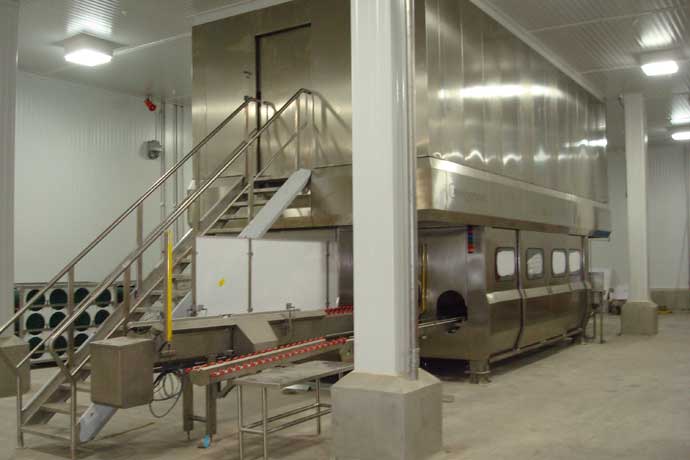 Why HPP? "Our biggest reason is our customers want it," says Joe Swanson, vice president of operations at West Liberty Foods. "It takes the risk out of manufacturing products – customers want the risk out. It's not a 100 percent magic bullet, but it does reduce food safety risk significantly," he says. "It also lengthens shelf life and sustainability of products," he says. Benefits include fewer anti-microbial ingredients in meat and poultry, less salt, less nitrates and nitrites.
Because HPP is a batch process – often products are put into the HPP systems at the very end of the lines. Integration into the processing lines happens, but it's not easy. "The products come off our slicing lines," Swanson explains. "Then our HPP tubes are packed with the products. After the HPP process, then final boxing, the products go into cold storage for distribution." He says HPP can tie into plant automation processes to a certain extent, but he hopes that tie-in can be expanded in the future. "Expanding HPP into the automation process is what we're working on for the future."
As far as the amount of time being added to processing and throughput, Swanson estimates, "It might add 12 to 24 hours to our slicing operations." The footprint of HPP systems in plants is big, he adds, because of the size of the systems.
Applegate Farms LLC, a processor in Bridgewater, New Jersey, also uses HPP extensively, relying on systems manufactured by JBT/Avure Technologies Inc., in Middletown, Ohio. Applegate is a subsidiary of Hormel Foods but is operated as an independent brand that specializes in organic and natural prepared meats.
Applegate primarily uses high pressure pasteurization for its ready-to-eat, refrigerated foods, as they pose the greatest risk for pathogens, says Chad Clem, Applegate director of research and development. It's helpful to Applegate because the company is committed to providing clean food with no artificial preservatives or ingredients. "HPP helps us deliver on that promise without compromising food safety or taste," he says. The company has very specific time and pressure requirements for all the products that go through HPP, including restricting how long a product can be in package before HPP.
The company uses HPP on many of its fully cooked refrigerated products, mostly at its main distribution center and cold storage facility in Allentown, Pennsylvania. HPP also takes place at two co-manufacturing facilities. While cycle time is less than 10 minutes, additional time is needed for drying, then quality evaluation before re-boxing and palletizing. Lightweight items in bulky packaging have lower throughputs than dense items in vacuum packages, since throughput is based on product volume that can fit into HPP caddies, he says.
Clem also notes that syncing production of processing and HPP into an automated process isn't happening yet for them, "because of the stop-and-go cyclical nature of HPP and the continuous process of Applegate production lines. In manufacturing plants where HPP takes place on site, the goods are finished and then moved through HPP later. Varying shapes and sizes of products are also an obstacle to automation. They require manual loading and unloading," Clem says.
Gaining control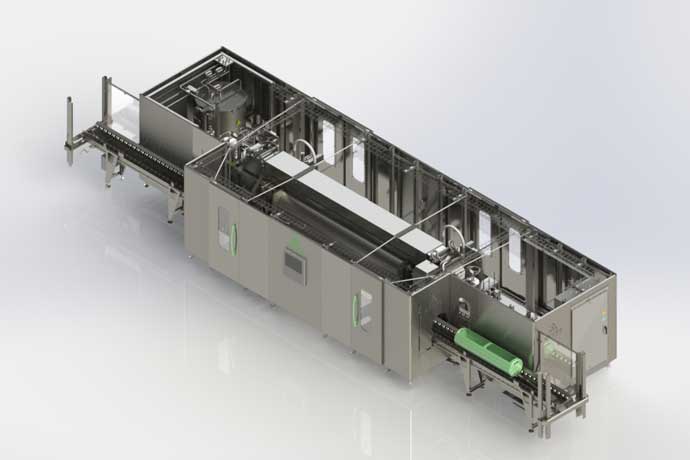 A new HPP system from JBT/Avure Technologies gives food processors more control over the size of the machinery in the plant, says Lisa Wessels, marketing director for the company. She's referring to the AV-M. It enables food and beverage producers to buy the machine size fitting current production needs and as the company grows, the machine expands to keep up with increased production – without the expense or floor space of adding a second machine.
"Where the products go after HPP depends on a lot of factors," she says. "Meat or poultry could go onto a conveyor and then to a case packer for final pack-off. If a company doesn't have its own HPP system, the products could go to a 'toller,' a company that has HPP machines and does high pressure processing for companies without their own machines," Wessels says.
According to Wessels, HPP is becoming part of automated processing lines at plants for poultry, meat and other food products. Tom Stanforth, a product manager for Avure, says, "In general, we're trying to automate our (HPP) processes. One way we're doing this is by trying to make it easier to load and unload the (HPP) baskets, where the food products go when going through the process."
He explains how this is done, by using conveyors to feed the food products from the processing lines to the HPP baskets. "This is a semi-automatic process," he says.
Wessels says the machine size depends on available space, but also the capacity the processor needs. "We size them right, but we also consider company growth," she says. "Clear label, no preservatives, extending shelf life, meaning less food thrown away, and food safety – killing pathogens – those are the benefits of HPP."
Roberto Peregrina, company director for Hiperbaric USA, says its HPP units are integrated into processing lines, based on a custom HPP solution for each of its customers. "A conveyor system ties into production lines of our customer, which is integrated into the HPP system," Peregrina says. "We engineer and design these systems in-house."
Since some processors have fully-automated production lines, there is a demand for integration of HPP. "But since HPP does so much product at a time, we tie into the automation often with conveyors," he says.
Vinicio Serment, Hiperbaric's applications manager, says the greatest benefit of high pressure processing is food safety for the consumer. "HPP comes at the end of the product line, after packaging. So, it prevents the growth of pathogens and any contamination. It also stops spoilage, and can extend shelf life, depending on the product, from 25 to 90 days. And by reducing the need for salt and preservatives in products, by helping to achieve clean labels in meat, poultry and other food products. HPP definitely accomplishes what consumers want from their food today," he says.