Back in 1961, Henry Schmidt added an attachment to his home in the booming steelmaking community of Steelton, Pennsylvania, located just outside of Harrisburg, the state capital. He designed it as a facility to make German-Hungarian sausages and included a small storefront to sell his product to the large population of Eastern Europeans who lived in the community and made the steel.
His fresh and smoked Old World-style sausages proved popular and soon his entire family became involved in working in the very small shop. He passed the business down to his daughter Mary Ann in 1975 and things continued as usual for this popular meat business.
Henry's grandsons Don and Doug Jorich assisted their mother in the family business before taking over management roles in Schmidt'sSausage.
"We grew up in that shop, doing everything the same way that our grandfather had done it," Don recalls.
"To say it was a difficult place to get to would be an understatement. We were in the hill part of town, which is virtually all hills. When the weather got bad, many customers couldn't get to the store."
Six years ago, the brothers found a nearby location on busy Eisenhower Boulevard, about a mile from the heavily traveled Pennsylvania Turnpike. They constructed a 3,000-sq.-ft. block building with a smokehouse in the rear and plenty of parking.
Customer loyalty
Over the years since, they've added about 20 new products to the original lineup of specialty meats...and the lifelong customers from Steelton, now depressed from the closing of most steel production, followed them to the new location.
"There is a lot of traffic going by our shop," Don adds. "But the thing that impresses me the most is the way even fourth generation customers continue to support us. Many come in and ask what their father or grandfather used to buy.
"It meant a lot to us that they remembered the flavors and tastes their families enjoyed for years and wanted to capture that style of eating once again. We still use the original recipes and most everything is made by hand. Customers love to look over the display cases and see us hand-making the sausage in natural casings. There is a feeling that we're not hiding anything, and they take comfort from having the ability to see it being made before their eyes."
Schmidt's Sausage signature items remain their mild and hot, fresh and smoked sausages. The business operates under the Pennsylvania Dept. of Agriculture retail inspection program and the meats are cold smoked using cherry and other hardwoods that deliver a very uniqueflavor.
"Being so close to the turnpike exit, we have customers who come in repeatedly from Baltimore, Virginia and Philadelphia to load up coolers," Don says. "They tell us they just can't find this kind of product in the big cities. They keep coming back and then buy more for their friends or other relatives.
"We like to call it our word-of-mouth advertising. But the reality is that it's the taste-in-their-mouth that helps sell what we make here."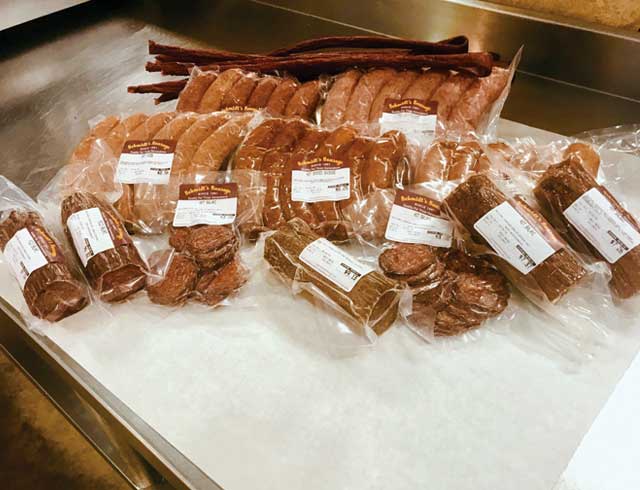 Small shop, big variety
The small shop offers plenty of variety, featuring as many as a dozen different flavors and styles of grillers, including honey, apple, chicken, turkey, sweet barbecue and sweet and hot choices. There are also holiday blends to suit the season, fresh and smoked Polish kielbasa and Italian sausages. Their bacons are cold smoked and develop little shrinkage when cooked. Among the brat choices are beer, Wisconsin cheese, country and Philly Cheese offerings.
Only fresh hams are sold for the holidays and the website schmidtssausage.com lists their soppressata, capicola and salami specialty items. The family business features plenty of dried products like snack sticks, dried sausage and even sourheads (whole heads of cabbages pickled in brine).
Through the summer months the shop offers freshly cooked roast beef and pulled pork sandwiches for takeout. Although they do a few print flyers for promotion, their emphasis is on supporting local sports teams, churches and other charities through donations.
True to their heritage the Jorich brothers seasonally whip up what one might call Eastern European "soul foods" like pigs in a blanket, seasoned beef, pork and rice wrapped in cooked cabbage leaves. Does it help business? Put it this way, Schmidt's sells thousands of them during the holiday season. They also sell a locally produced pasta sauce and baked nut rolls from a local bakery. In short, they haven't forgotten their roots. They also sell plenty of their own homemade sauerkraut. They buy locally raised cabbages and love it when customers boast that it turns orange when the shop's sausages are cooked with it.
It is no exaggeration to hear banter in local taverns, clubs, workplaces or at events when someone will say they are going to Schmidt's Sausages and their friends ask them to "pick up a few pounds of their sausage for me."
Don says they plan on keeping automation down to a minimum, reminding everyone that the heart of their products lies as much in the traditional recipes as it does in the hand-crafting of their meats.
Schmidt's relies heavily on social media, not so much on what they send out, but through what they get back in reviews from satisfied customers.
Some call the shop a place where their sausage-making is a religion. Others tout that the retail store is a reinforcer and reminder of their culture and heritage. It's advertising that you can't buy – it has been earned.
It is a rare thing in a family-owned business to see employees giving testimonials to customers about the quality of their products. Indeed, when counter personnel hand over a package of sausage to a shopper they gleam back like they've just been presented with the Lombardi trophy and say thank you.
Maybe it's more than just traditionally made quality meats, or an ultra-clean store, or friendly and knowledgeable sales folk that keep customers coming back and bringing new ones with them. Could be it's the trust they have in the product.