Today's menus at deli shops – both at independents and chains – are bringing savvy innovation, which is driving growth in sales.
Much of this is achieved by following the latest trends in deli meats through conversations in the foodservice industry, working with third parties who analyze future trends, and examining food around the world to explore how those influences all play a role. In 2018, clean all-natural products, regional offerings and artisanal products are drawing the attention and dollars of customers.
Jonathan Whalley, education coordinator for the International Dairy Deli Bakery Association (IDDBA), says there is a strong opportunity to drive sales in higher-end meats by incorporating those items in prepared food programs such as sandwiches and pizza.
"While turkey, ham and beef continue to be strong sellers, the growth potential continues to rest in specialty Italian and Spanish meats," he says. "These items appeal to consumer interest in craft meats, unique flavors and the stories behind the products and their makers."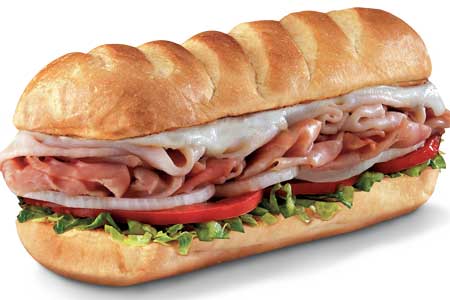 Jay Miller, director of product development for Firehouse Subs, a fast-casual restaurant chain of 1,135 franchise restaurants in 44 states, says the Jacksonville, Florida-based company is always following consumer trends to provide a menu that will appeal to the masses.
"Our focus is about providing guests with full-flavored, high-quality meats, presented in distinctive ways," he says. "For example, this year, we introduced the 'limited time only' Pastrami Reuben sub – our reinvented version of the classic sandwich, which highlighted USDA Choice pastrami instead of corned beef and sweet, tangy coleslaw in the place of sauerkraut." And because many of its guests are seeking lighter options, smoked turkey currently is its most popular meat.
Will Eudy, executive chef at McAlister's Deli, which has 400 restaurants in 28 states, notes while the company keeps its eye on the trends and plays with them when appropriate, since guests are drawn more to approachable offerings, all trends need to be evaluated on a level of comfort they will bring.
"What we're seeing is lower-fat options, like chicken and turkey, are gaining more interest with our guests," he says. "The one exception to this is with bacon. Our guests want bacon on everything and a lot of it. Ham, while holding steady with our guests in our current offerings, doesn't hold a high level of interest when added to a new sandwich, which shows the strength or affinity toward chicken or turkey."
Carving out an identity
Firehouse Subs' menu is directed and approved by its founders – Chris Sorensen and Robin Sorensen – former firefighters who strive to authentically connect with guests and their communities.
"We distinguish ourselves by serving hot, steamed subs piled high with generous portions of premium meats and cheeses, paired with distinctive gourmet ingredients on a toasted sub roll," Miller says. "A portion of every guest purchase is donated to the non-profit Firehouse Subs Public Safety Foundation to support the purchase of life-saving equipment for local first responders."
"There is really a trend in the urban environment for people who want to eat more interesting foods, but also cleaner and healthier foods." - Florian Phahler 
McAlister's Deli works a minimum of one year in advance on its menu, and it's engrained in its development path to be forward thinking.
"Not only do we play with flavors, but the most important component is to actually test and learn," Eudy says. "We have an incredibly detailed testing process to ensure we deliver on the flavor and quality our guest wants."
Sourcing specifics
Most in the industry agree organic and clean label deli meats are on the rise because they appeal to multiple consumer demands, including health and wellness, improved animal welfare, innovative flavor profiles and the local movement. Ronnie Dragoon, owner of Ben's Kosher Delicatessen Restaurant & Caterers, with six locations spread throughout New York State and one in Boca Raton, Florida, notes millennials are particularly interested in this.
"All our poultry comes from Empire, the premier Kosher poultry supplier in the world, where the chickens and turkeys are humanely raised and are vegetarian-fed without antibiotics and no added growth hormones," he says. "All of its beef is Kosher-certified, adding another layer of inspection."
Florian Pfahler, managing partner of Hannah's Bretzel, an organic restaurant chain with eight shops throughout Chicagoland, says its clean meat ingredients are what distinguishes the company in the marketplace.
"There is really a trend in the urban environment for people who want to eat more interesting foods, but also cleaner and healthier foods," he says. "Last year we introduced bresaola, a Northern Italian pure beef that is extremely flavorful and fits this trend of transparency and authenticity."
Flavored meats – those with dry or wet rubs on the outside – are gaining traction in some deli shops. Eudy says he's noticing a lot more in the marketplace and it's a trend he's following, but one that he notes has to deliver on flavor in a way that makes sense.
"I'm also seeing some vendors add flavor internally, an internal garnish basically, which delivers on flavor but can be off-putting to a guest," he says. "For example, black pepper turkey would have specks of black pepper visible in the slices of meat, or Cajun chicken has a strand of a pink hue in the slices, all not very appetizing to our typical guest."
At Firehouse Subs, Miller notes its USDA Choice brisket, smoked by its supplier for up to 16 hours, has always been a guest favorite and continues to increase in sales.
Customer conscious
The biggest concerns from guests at Firehouse Subs stem from variety, value and portability, which has inspired the company to provide additional menu choices that satisfy a wide range of tastes, budgets and dining options.
"Our hot specialty subs will always come in many wonderful flavor and size opportunities, which guests can customize to their liking anytime," Miller says. "Additionally, our brand is evolving to meet our guests' increasing requests to provide more prompt and portable food experiences. Ensuring our brand is prepared to accommodate the shift to off-premise dining is a growing priority in all aspects of our business."
Younger customers, Dragoon believes, are concerned about being health-conscious and not interested in ordering the typical Kosher/Jewish fare. To meet this demand, his deli shops expanded its menu to include garden fresh salads.
Meat of the matter
For many foodservice operators, cost considerations are critical in the formula of deciding what ingredients to use and what meats to include on the menu.
Still, Miller shares that Firehouse Subs' brand founders have always focused on quality first.
"As our brand has grown, we have been able to leverage our purchasing power to continue providing the premium ingredients our guests have come to enjoy and expect," he says. "Ultimately, our commitment to quality is a core brand value and something we refuse to compromise. The benefit, of course, is our guests love our product, which, in our opinion, is the best return on investment."
When considering costs, McAlister's Deli examines not just the individual ingredient cost but that of the finished product. If ingredients are deemed premium by the guest, Eudy says they are usually willing to spend a little more money on that item.
"In regard to the ROI of a product, there are multiple components to determine if it's successful outside of the dollar value," Eudy says. "Is it a menu item that will bring guests in more frequently? Is it building upon a category our guests want us to deliver on? We look at these and many other variables when we go through our testing process to ensure the item checks most of our boxes and presents the best possible addition."
By Keith Loria | meatpoultry@sosland.com