Meat alternative prototypes were abundant at IFT18, the Institute of Food Technologists' annual meeting and exposition held July 14-18 in Chicago. During an education session on the topic, Lu Ann Williams, director of innovation at Innova Market Insights, The Netherlands, explained how meat substitutes and meat alternatives are changing the food industry.

"It's really not about the meat department anymore," she said. "It's about the protein department."

This evolution presents meat processors with an opportunity to include alternatives featuring plant protein in their product mix, much like many dairy product manufacturers now offer non-dairy fluid and cultured options.
Williams gave Innova Market Insights data showing the market is growing. Innova tracked about 100 new products launched globally in 2007 that were meat substitutes. The number was more than 500 in 2015.


Innova Market Insights conducted a consumer study in 2017 on the category. The research firm contacted people who already were eating meat substitutes and meat alternatives, asking them if they were increasing or decreasing their intake of such products. In the US, 44 percent said increasing. The percentages were higher in China (74 percent), Mexico (65 percent), the United Kingdom (54 percent) and Germany (53 percent). When asked why they were increasing consumption, the top-three responses were: the products are healthier, there's more variety in the market these days and plant-based products are more sustainable and planet friendly than meat.

Williams gave beet and carrot fritters and sweet potato falafel as examples of meat alternatives. Plant-based burgers and sausages were examples of meat substitutes.
Boulder Brands, a recent acquisition of Conagra Brands Inc., Chicago, recently rolled out Gardein Skillet Meals, a line of frozen vegan meal solutions for two. The chef-created recipes marry Gardein's signature meatless proteins with a variety of crisp vegetables, grains and pastas in flavorful sauces that can be prepared in just minutes. Asian Style Chick'n Fried Rice is chick'n bites, broccoli, peppers and edamame in an Asian-style sauce. Chick'n Fiesta is a south-of-the-border medley of veggies, beans and spices combined with chick'n bites. Chick'n Florentino is a meatless version of a classic Italian favorite — chick'n bites, broccoli and spinach in a creamy roasted garlic and lemon sauce. Italian Style Rigatoni n' Saus'age combines pasta, peppers and onions with new Gardein Italian saus'age bites and a rich marinara sauce.
"Consumers today want healthier, sustainable options that fit into their busy schedules," said Andy Judd, vice president of marketing at Boulder Brands. "As the very first multi-serve meals available in the frozen meatless category, our new Skillet Meals are outrageously delicious and can be prepared in minutes, making meal time a rewarding experience no matter how brief."
The Kellogg Co., Battle Creek, Michigan, is growing its veggie burger brand, MorningStar Farms, with grill-friendly vegan options. The Veggie Lovers variety contains 10 vegetables, grains and seeds, including onions, carrots and mushrooms, for a variety of grilled plant flavor with each bite. The Meat Lovers offering infuses juicy plant protein with flame-grilled flavor to deliver an eating experience that tastes just like meat. Both burgers feature 27 grams of protein, the most of any MorningStar Farms burger yet. The 4-oz. burgers are sold frozen in boxes of eight.
At an April 19 conference on the future of food hosted by the Association for Corporate Growth, Chicago, Seth Goldman, co-founder of Honest Tea and executive chairman of Beyond Meat, El Segundo, California, compared the similarities of the "tad sweet" ready-to-drink brewed tea he developed in 1998 and the meat alternatives he currently is involved with.
"It's the undoing and redoing of food," he said. "With Beyond Meat, we rebuild the structure of meat from plant materials.
"On a good day, 5 percent of shoppers are vegan," Goldman said. "They shop frozen for their meat alternatives. If we want to build this business, we need to appeal to the 95 percent of non-vegan shoppers. This is why our products can be found in the refrigerated meat department."
He explained that this merchandising approach was not well received by some vegetarians who feel like shopping the meat department is "like going into Death Valley."
"Some retailers will dual merchandise," he said. "But we believe our future is in the meat department."
Introduced in 2016, the Beyond Burger looks, cooks and tastes like ground beef but is made from plants, with no bioengineered ingredients, soy or gluten, according to Beyond Meat. It is currently sold in more than 5,000 stores and served in nearly 4,000 restaurants, hotels and foodservice outlets.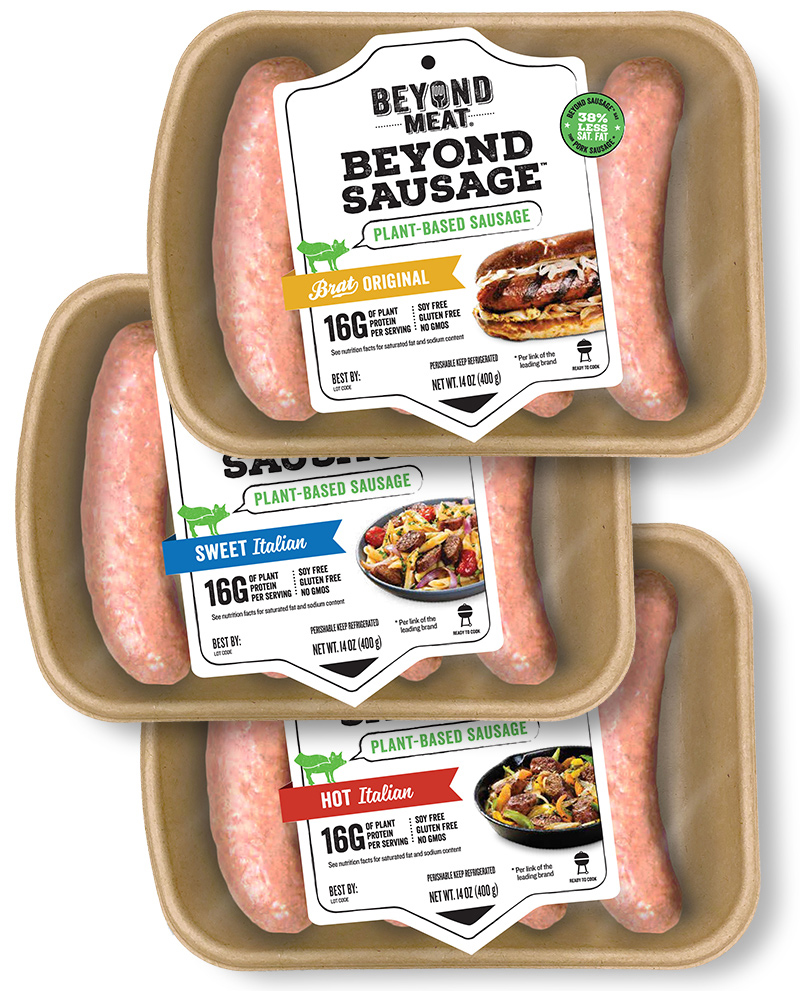 The company is currently rolling out nationwide Beyond Sausage, a plant-based alternative that the company says looks and cooks like pork sausage in Original Bratwurst, Hot Italian and Sweet Italian varieties. With more protein and less fat than traditional links, Beyond Sausage is made with pea, fava bean and rice protein with trace amounts of beet for color, coconut oil for juiciness and an algae-based casing. Like the company's Beyond Burger, Beyond Sausage features a proprietary approach to braiding and binding proteins, fats, minerals and water to recreate the architecture of meat.
In December 2017, Beyond Meat announced the close of a $55 million fundraising round led by Cleveland Avenue LLC, a venture capital firm founded by former McDonald's Corp., CEO Don Thompson, with additional investment from Tyson Foods Inc., Springdale, Arkansas. The company said it plans to use the funding to more than triple its production footprint, support research and development and expand sales and distribution.
Another vegan protein player, this one developing seafood alternatives, provided attendees a sneak peek at its products, which are slated to enter the market in the first quarter of 2019, upon completion of a production facility in Ohio. Good Catch is all about seafood without sacrifice, according to Eric Schnell, co-founder and co-CEO.
The Good Catch line up will include everything from fish-free tuna and burgers to crab-free cakes, all produced with nutritious, sustainable ingredients.
"The recipes are based on six varieties of beans," he said.